Students get humanism boost at Chapman Conference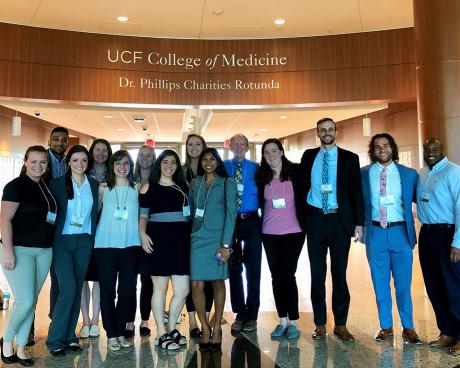 ×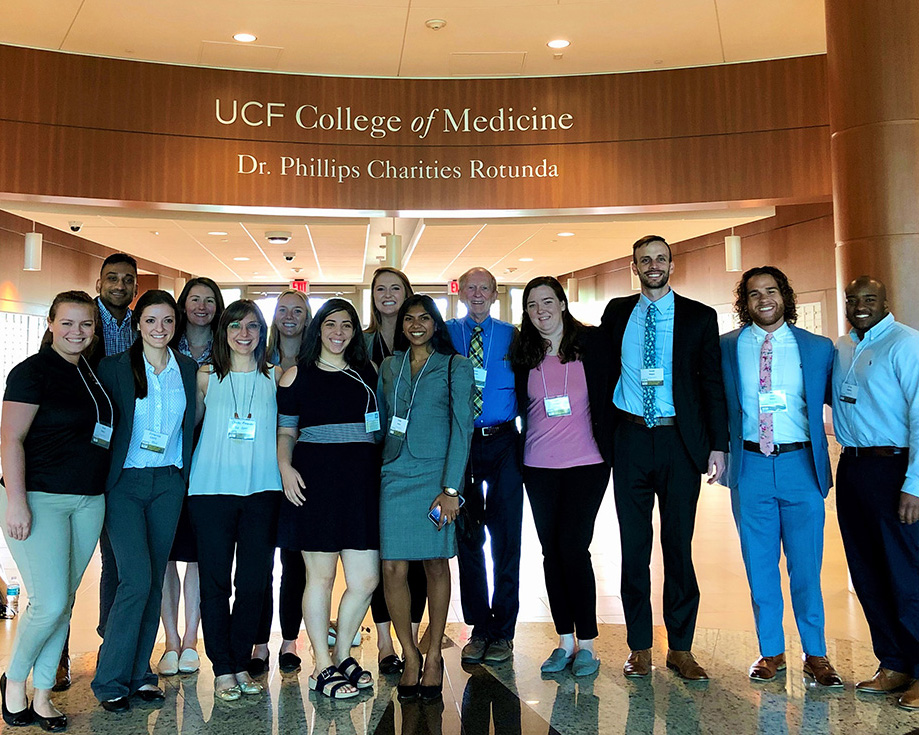 Oct. 29, 2019
Among the 118 participants at the Fourth Annual Chapman Conference on Oct. 26 were 14 students from the FSU College of Medicine. The theme at the gathering, hosted by the University of Central Florida, was "Compassion-Fueled Initiatives and Innovations." 
Through continuous gifts from the Jules B. Chapman, M.D. and Annie Lou Chapman Private Foundation, various Florida medical schools foster humanistic qualities such as compassion and empathy in their students. At FSU, the Chapman Community Health Program (CCHP) is a student-run outreach program designed to serve the underserved populations of Tallahassee while incorporating clinical experience with community service for medical students. The program has focused on Maryland Oaks Crossing, a transitional housing community serving mostly single parents, individuals with disabilities, and military veterans.
At the conference, College of Medicine students Blaire Cote and Shelby Ploucher represented the CCHP on a panel with representatives from each medical school's student-run clinic. 
"It was very beneficial to network with the leaders of other student clinics," Ploucher said. "The opportunity to share the work that CCHP has done in Tallahassee was a rewarding and reaffirming experience."
Ploucher was the lead author of a poster on display there. It outlined the lessons CCHP had learned at Maryland Oaks, such as: "CCHP exemplifies how patient-centered care is larger than just clinical care – it involves the surrounding environment, education, physical health and behavioral health…. A cornerstone of CCHP's success has been the long-term, reliable and positive presence in the community … evident in the positive feedback from residents and the high rates of participation in CCHP events."
Ploucher said the College of Medicine students were inspired at the conference by the outreach being done throughout the state.
"We are excited about the future possibilities and potential of the Chapman Community Health Program," she said.
Pictured here, first row, from left: Blake Meyer (Class of '23), Amanda Getz ('22), faculty member/alumna Christie Alexander (M.D. '05), Gabby Cintron ('22), Vinita Akula ('22). Second row:  Arjith (AJ) Rathakrishnan ('21), Shelby Ploucher ('22), Casey Mason ('20), Blaire Cote ('22), faculty sponsor Robert Watson, M.D., Sarah Crawford ('23), JP (Gerald) Megna ('21), Jason Rivera ('21) and Je'Coy Hawley ('22).
Not pictured: Ian Motie and Alejandro Gonzalez (both Class of '21).
"It was gratifying and inspirational to see students from Florida's medical schools so excited about their outreach activities and service to those less fortunate, and sharing their ideas," said Watson, who is also trustee of the Chapman foundation.