Salma Eisheikh article published in 'in-Training'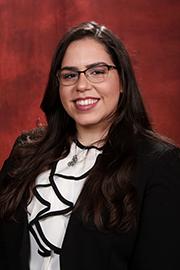 ×
Salma Eisheikh (M.D. Class of 2025) shared how a patient helped remind her of the value of listening, as well as the trust that patients place in their health-care providers. Her first-person article, "Purpose," was published in in-Training, the online peer-reviewed publication for medical students.
Eisheikh, a student at the Sarasota Regional Campus, is a native of Cairo, Egypt. She earned her undergraduate degree at Florida State University, majoring in clinical professions. Her parents instilled in her from an early age the importance of continuous growth and education, most importantly using her knowledge to help the less fortunate.
Living in Egypt during the revolution and seeing volunteer doctors risk their lives to help wounded protesters influenced Elsheikh to consider medicine as a career. After moving to the United States, she volunteered at hospitals and as an undergrad, she was an emergency responder with the FSU Medical Response Unit. Going on her first call and helping a patient solidified her choice of a medical career.