Medical, PA students take part in disaster medicine training
×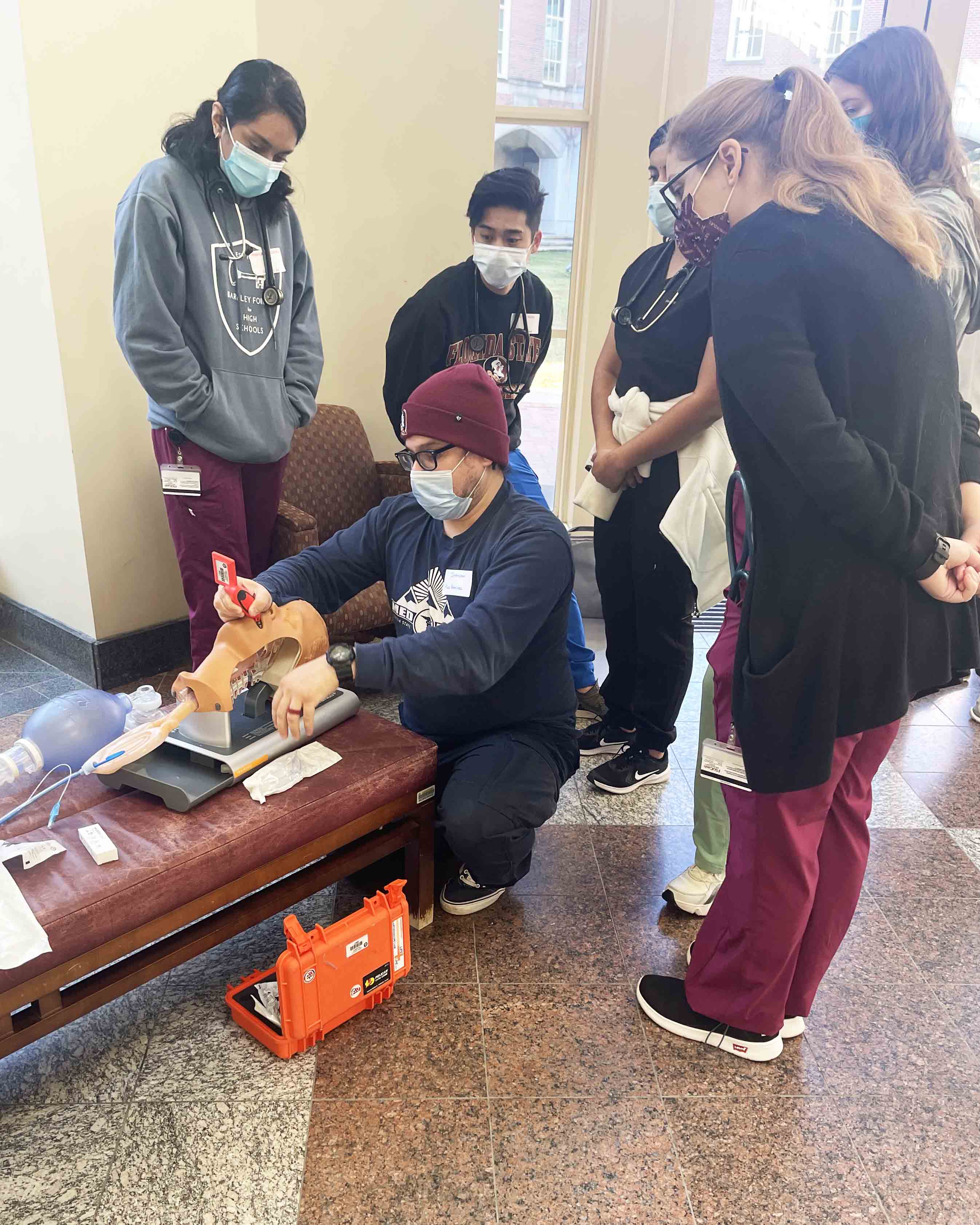 On a recent Saturday morning, 48 medical and PA  students  gathered at the College of Medicine  for an immersive, five-hour course in disaster medicine.
The 2021 Disaster Preparedness Day event, co-hosted by the Emergency Medicine Interest Group (EMIG), the Military and Veteran Medicine Interest Group and the Wilderness Medicine Interest Group, was two years in the making after the COVID-19 pandemic forced the cancellation of the annual event in March 2020.
"We took all of the work that the previous [planning] board did and wanted to make it a little bit bigger," said Cristina Sanchez, a second-year medical student and president of EMIG, who played a leading role in the collaborative event with community health-care professionals.
Volunteers from Leon County EMS, including field operations supervisor/training manager Steve Suarez, paramedics from Tallahassee Memorial HealthCare and surrounding counties, an ER nurse and College of Medicine professors served as instructors. FSU students with the Medical Response Unit also volunteered.
"We wanted to teach students the interprofessional and community aspects when it comes to disaster medicine," Sanchez said. "In medical school, they learn how to become a doctor or a physician assistant.
When they get out, it's kind of difficult to understand all of the different careers in the health-care professions. We wanted these professionals to come in and teach their skills and what they do out in the field in an emergency setting."
The day began with John Bastin, assistant professor and principal faculty with FSU's School of Physician Assistant Practice, explaining disaster medicine, what it looks like in the field and how it differs from the hospital setting. Bastin served as a disaster medical specialist with FEMA's urban search and rescue.
From there, the 35 medical students and 13 PA students were split into five groups and rotated through simulated and time-sensitive mass casualty scenarios for active shooter and hurricane emergencies, stationed throughout the atrium and courtyard.
"We chose those scenarios since Tallahassee has been affected by both," Sanchez said.
The training session concluded with a tour of a Leon County EMS ambulance, where students got a firsthand look at the bridge between onsite emergency medicine and the hospital.
"By talking to the paramedics and an ER nurse, our goal was to teach what goes on in their minds – in a moving ambulance – and how they have to make life-changing decisions in this setting," Sanchez said. "As students, we're not taught how to take that into consideration when a patient gets to us. Our goal was to make stronger physicians and stronger PAs by understanding what other health-care workers have to do prior to getting [patients to the hospital]."
Each of the participating students was asked to complete a survey following the event, and Sanchez said the feedback was quite positive.
"It was great to see how the community members – the health professionals – were teaching the students and how the students were receiving the feedback as it was happening." 
"This event is important to the College of Medicine and the community for a variety of reasons, not the least of which is a team and community approach to disaster events," said associate professor Stephen Quintero, M.D., the EMIG advisor and also an instructor for the event. "Students were able to understand the various components involved to improve outcomes, including not only communication, but supply chain and personnel roles."