Making their voices heard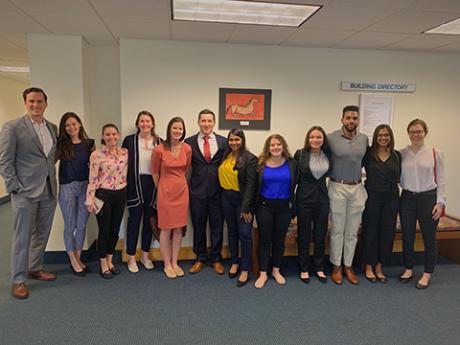 ×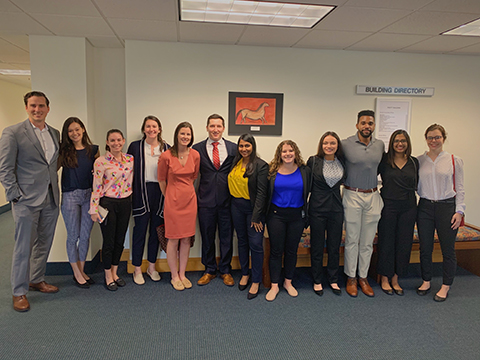 Proximity to the Capitol isn't a requirement for medical students to share opinions with lawmakers, but it doesn't hurt. About a dozen FSU medical students recently made the short trek from the central campus to appear before Florida legislators considering a bill that would expand the scope of care provided by advanced practice registered nurses (APRN).
Senate Bill 1676 would create the Patient Access to Primary Care Pilot Program, which would allow some APRN to provide certain medical care independent of licensed physicians. That would be part of a 10-year pilot program to assess effectiveness. The program would authorize APRN to work in health-profession shortage areas of Florida.
FSU medical students who received an email update from Capital Medical Society decided to visit the Capitol and express opposition to the bill.
"We are a group of students who mobilized based on our like-minded stance on the issue within a short timeframe to make sure that our voices were heard," said second-year medical student Dan Schaefer. "We're not affiliated with any particular interest group, just concerned medical students willing to take time out of our rigorous studies to fight for patient safety as well as our profession."
Schaefer said the students oppose the bill because they believe data show APRNs "order more costly referrals than physicians and APRNs already have the opportunity to work within a physician-led health-care team in rural and underserved areas."
The students informed the committee hearing the bill that the best way to increase the number of physicians in Florida is by increasing the number of graduate medical education (GME) positions in the state – because physicians are more likely to practice in the state where they trained after medical school.
"Although our stance is in line with all of the major and minor physician lobbying groups in the state of Florida, including the FMA as part of the Florida Patient Protection Coalition, we were only representing ourselves, our future patients, and our future profession," Schaefer said.
"We were happy to be heard by the committee and to have our views written into the record. It was also great that the committee was especially receptive to having medical students speak."
Schaefer said the small group of "fast-acting students" is ready to speak out again in the future.
In addition to Schaefer, FSU medical students who appeared before the committee include: Aariha Ali, Garrett Barr, Lauren Angnardo, Elora Friar, Shelby Ploucher, Katherine Oliver, Colleen McFarland, Anna Hayward, Priya Chattopadhyay, Shemar Crawford and Robin Landy.