FSU College of Medicine's SIGN identified as highly engaged chapter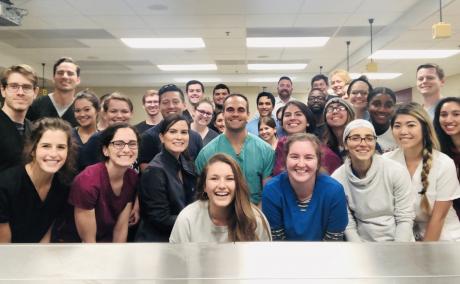 ×
January 2020
The American Academy of Neurology (AAN) has identified the College of Medicine's Student Interest Group in Neurology (SIGN) as one of five highly engaged chapters in the nation. The student group has been asked to participate in the AAN's new pilot program called the "SIGN Shadow-Me Program."
The program's goal is to promote mentorship opportunities between current medical students and undergraduates who are interested in pursuing a career in health care. It was created by the AAN's Pipeline Subcommittee.
As part of the program, SIGN is hosting an event in the College of Medicine atrium on Wednesday, Feb. 12 from 6 to 7 p.m. Undergraduate students, medical students and neurology faculty members will gather for an informal evening to foster relationships that can serve as an opportunity for mentorship.
 "Access to mentors in medicine can be difficult to find and even more intimidating to approach," said Christy Soares, a second-year medical student, member of the AAN Pipeline Subcommittee's Mentorship Work Group and outgoing member of FSU's SIGN executive board. "Our first SIGN Shadow-Me event will provide the avenue for undergraduate students to ask any questions they may have regarding the long road to medicine. Meanwhile, medical students will have the same opportunity to speak with neurology faculty. Our hope is to increase access to mentors."
Current SIGN executive board president and first-year medical student, Hayden Greene, has worked with Soares to coordinate the upcoming event.
"I feel honored to help start this program here at the College of Medicine," Greene said. "When I first started my journey to medical school, I know I would have really benefited from having a medical student mentor— a peer who knew the ins and outs of applying, what it takes in terms of personal development and insight into life as a medical student. I'm excited to be able to bring this opportunity to aspiring medical students."
 As one of five pilot programs, FSU's SIGN executive board has been invited to present its experience at the American Academy of Neurology's Annual Meeting in Toronto this year. 
When the AAN's mentorship work group discussed piloting the SIGN Shadow-Me mentorship program in fall of 2019, they sought out SIGN Chapters that have a history of engagement in the future of neurological education. FSU's SIGN chapter was raised as one of those chapters.
The AAN Mentorship Work Group Soares serves on includes neurologists from all over the U.S.
"The fact that they singled out FSU's SIGN chapter as one of five in the nation is a big moment for us and is creating connections that will benefit our students and continue to amplify the reputation of the college," said Soares.
Photo caption: William Clifton, M.D., a neurosurgeon from the Mayo Clinic, joined SIGN for an event in November 2019 where he gave a lecture and led a skills lab with Associate Professor Gregg Stanwood. The well-attended event gave students a glimpse into clinical neurosurgery.