Women's Health Day brings light-hearted approach to serious topics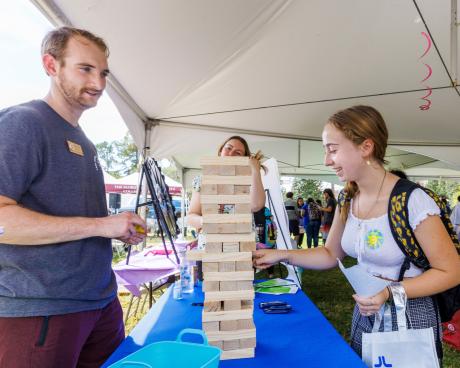 ×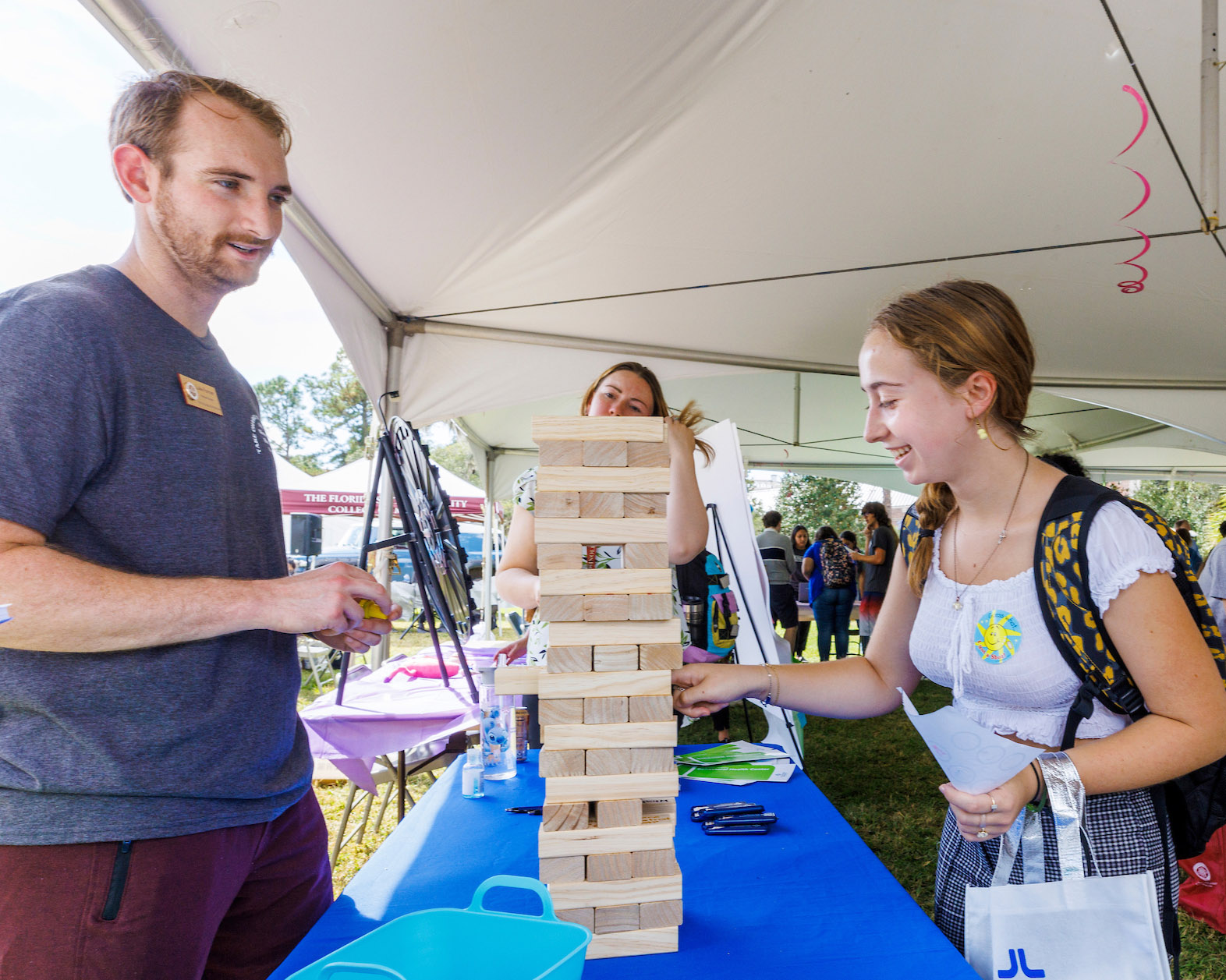 With music, games, prizes and lots of laughter, the festive atmosphere belied the serious nature of the subject matter.
FSU Women's Health Day, focusing on women but welcoming everyone to Landis Green on Monday, Oct. 17, featured information booths dedicated to five health aspects undergraduate women identified in a survey as topics they'd like to learn more about: physical, clinical, mental, sexual and financial.
Sponsored by the Florida State University College of Medicine and its chapter of the American Medical Women's Association (AMWA), the daylong event was envisioned, organized and staffed by College of Medicine students and faculty, as well as the campus and community partners they recruited. Intended to be fun, it was definitely not your grandmother's health fair.
Delaney Rahl, a second-year medical student, and a group of friends conducted an FSU Health Day as undergrads in 2018 that attracted more than 500 participants. Joining AMWA gave her the resources and support to create another event, this one with a focus on women.
"Our mission is to support the holistic health and wellness of our own FSU community, especially as most students find themselves independent from home for the first time," said Rahl, executive director and founder of FSU Women's Health Day. "We want to address the sexual safety of our students, as well as their financial health."
More than 750 people signed in for the event, a credit to second-year medical student Tamara Raymond, who was its director of marketing and outreach. "She was integral to our team in getting the word out," Rahl said.
Tallahassee Memorial HealthCare's Behavioral Health Center had a giant Jenga-type game with questions related to mental health. Rosie Ramirez, a student in the Bridge to Clinical Medicine master's program, gingerly drew out a wooden plank, breathing a sigh of relief when the tower held. Her question: "What can you do to end the stigma of seeking mental health treatment?" Her answer: "Talk about it!" Prizes included permanent drinking straws in protective cases, bottles of hand sanitizer and containers of Band-aids.
Andrea Plagge, a physician with University Health Services, said some of the students who visited the Wheel of Contraception were "quite knowledgeable." Others, not so much. 
Brady Culpepper, president of the AMWA chapter and co-director of the sexual health presentations, joined Assistant Professor of Geriatrics Casey Rust (M.D., Class of 2016) at the Jeopardy!-style cardboard screen to test participants' general knowledge of health.
"Everyone is having fun and turnout has been great," said Culpepper, who served as Rahl's right hand in planning the event.
Natalee Singleton from North Florida Women's Care was educating participants about a variety of topics related to sexual health.
"I've been talking to people about birth control and breast self-exams, including handing out these waterproof shower cards that show how to examine your breasts," she said.
Mya Frazier and Joseph Ward from Neighborhood Medical Center were distributing toothbrushes and condoms. They also had a large van nearby if anyone wanted HIV testing.
"We're also telling them about free food distribution," Ward said.
Graduate students and alumni from the Jim Moran College of Entrepreneurship and the College of Business shared tips on starting a business, living within a budget, investing, and saving money by cooking at home. The student group Unconquered by Debt offered free advice about living within your means, and FSU Campus Recreation's Amada Blakes shared listings of all the free classes available.
"There is literally a free class you can take every day," she said.
Free blood-pressure screenings and flu shots administered by College of Nursing students were also available, as were EKGs provided by Who We Play For, a non-profit started by an FSU student to screen for heart conditions. The group raised $8,000 to provide more than 300 EKGs at the event.
There was also an opportunity to sign up to volunteer with the Alzheimer's Project, Big Bend Hospice or Big Brother/Big Sisters, because research has shown that helping others improves your own mental health.



Contact Audrey Post at audrey.post@med.fsu.edu