Summer Research Fellowships provide growth opportunities
Pairing predominantly first-year College of Medicine students with faculty mentors across a wide range of clinical, biomedical and behavioral research topics, the Summer Research Fellowship Program has funded 280 fellows since its 2005 inception.
The College of Medicine encourages its students to explore research opportunities as an expansion of their scholarly work, through which they can refine their scientific and clinical interests.
"The research experience provides these fellows with a real connection to the scientific work that underlies many of the treatments that they are learning about in their medical training," said Judy Delp, professor of Biomedical Sciences, who served as a mentor to Anil Patel this summer.  "I also think that this research experience will make these students better consumers of the scientific literature in the future because they have been exposed to real-world experimental design and the intricacies [and] challenges that are involved in production of a research manuscript."
The program, which includes a $4,000 stipend, attracts students with varying degrees of research experience. Twenty-five students from the M.D. Class of 2024 participated this summer. Some, delving into research for the first time, join ongoing laboratory research projects. 
Others, like Stephanie Hsiang, are expanding their research knowledge. She participated in language cognition research as an undergrad at Stanford and worked full-time in a cancer research lab while pursuing her master's in psychology at Pepperdine. Her summer research project, however, was born through an independent study as a graduate student.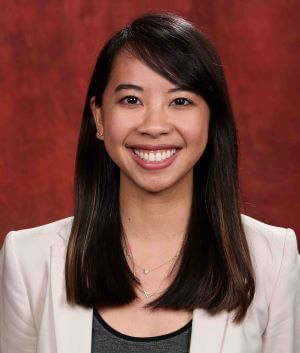 "I learned from those research experiences that it's not just a boring thing you have on your resume," said Hsiang. "It can really move something forward and really is the driver in terms of how we can develop new things and figure out what we should be doing next."  
Hsiang brought her research proposal – Medical Provider Experiences with Sexual Assault in Asian-American Communities – to Professor of Family Medicine and Rural Health Suzanne Harrison, who happily signed on as her mentor. They connected, in part, through a small group that Harrison led discussing trauma-informed care.
"Every couple of years I will do something and almost always choosing where the students are coming to me with topics that are related to women's health, related to violence and abuse in some capacity and trying to investigate something that we think we know but we don't quite have proof," Harrison said.
"It's so timely, given where we are in the country…really making sure that our providers understand what trauma-informed care is and understand what it means to be culturally competent. And looking at what training opportunities have been available, I just thought it was a tremendous idea."
As an Asian-American, Hsiang is especially invested in her research.
"Training more providers in cultural-competent care and what are the specific aspects of it that are useful and helps survivors and patients overall; those are the kind of specifics that drive me personally," Hsiang said. "I can directly see the benefit of it, knowing people who are in this category."
While many of Hsiang's classmates will present their findings at the Oct. 25 Summer Research Poster Session and Oct. 28 Grand Rounds, her research is not completed.
"This is not a project I want to be a short-term project," Harrison said. "I was pretty clear with Stephanie about that right from the beginning. This is too big to do in a summer…This is a deep topic that can go in so many different directions and it's going to take her awhile to get all of her data, because she's going to have to interview people and we don't have any money to pay them."
Like Hsiang, Jessica Costero's  project was rooted in a passion for the topic – Determinants of COVID-19 Vaccine Uptake in an Agricultural Community – and included the development and submittal of the requisite Institutional Review Board (IRB) application.
A South Florida native from a "very Hispanic family," Costero wanted, "to see how I could take my interest in medicine and community and see how that fits in the integration of things."
That brought her to the Immokalee Health Education Site, which provides medical educational opportunities and health-care services, much of which is centered around the migrant farming community. There she teamed with College of Medicine Associate Professor Javier Rosado, who served as Costero's mentor.
"Our research is what I would call kind of a hybrid-type research: applied and community-based," Rosado said, explaining the work being done at The FSU Center for Child Stress & Health. "We focus a lot on implementation science, which is basically taking all of this research evidence that's been collected…and then implementing it into real world settings."
Costero immersed herself in the Immokalee migrant community through her participation alongside physicians in the Summer Clinical Practicum (SCP), before launching into her research project, which focused on immigrants from Mexico and Guatemala and their hesitancy toward the COVID-19 vaccine.
"She's come across some really unique things," Rosado said of Costero. "Some people were saying they don't want the vaccine because they're afraid that it's not actually the vaccine; that
there's something else in it. That comes from reports from Mexico where there have been documented cases where people paid for supposedly the COVID vaccine but they're being injected with a saline solution.
"Immigrant families who hear that happening to their family members, or in their towns back home, they have that fear now."
That information was immediately shared with the doctors treating immigrant families in Immokalee; who could address those fears directly. 
Costero described her interviews with immigrant families as "eye-opening."
"Being able to hear their stories in terms of what was health care like before you got here? Or how has their life, when their partner has to leave for a few months, what are they stuck with? What are the aspects they have to face and what are the real underlying problems in health care and public health?" she said.
"It's really a lot to think about and I think it has really affected me research-wise, but also how I want to be a physician in the future and what kind of doctor I want to be."
2021 Summer Research Fellowship Awards
(listed alphabetically)
Benjamin Behers
"African-American Dementia Caregiver Strategy Inventory: Descriptive analysis and initial psychometric evaluation."
Mentor: Robert Glueckauf
Sheena Chege
"Childhood Trauma and Depressive Symptoms in Rural Migrant Adolescents."
Mentor: Jean Mesidor
Jessica Costero
"Determinants of COVID-19 Vaccine Uptake in an Agricultural Community."
Mentor: Javier Rosado
Rida Darji
"Neuroendocrine Substrates of Dysregulated Sleep and Mood."
Mentor: Gregg Stanwood
Nora Gillen
"Kappa Opioid Receptor Signaling and Fragile X Syndrome."
Mentor: Pradeep Bhide
Timothy Guerriero
"DNA Damage Response Kinetics in Cells that are Migrating Through Constrictions."
Mentor: Jerome Irianto
Matthew Harris
"Patient Characteristics and Medication Usage Associated with Emergency Department Visits and Hospitalizations for Iatrogenic Hypoglycemia in Patients with Diabetes: A More Inclusive Analysis."
Mentor: Tyra Dark
Brooke Hartenstein
"Predicting Freezing of Gait Episodes in Patients with Parkinson's Disease using Wearable Inertial Sensors and Artificial Intelligence Technology."
Mentor: Charles G. Maitland
Stephanie Hsiang
"Medical Provider Experiences with Sexual Assault in Asian-American Communities."
Mentor: Suzanne Harrison
Abigail Huetteman
"The Function of Cin8 in Chromosome Bipolar Attachment and Tension Generation."
Mentor: Yanchang Wang
Jared Jones
"Comparison of Diabetics and Non-Diabetics Recovery Time and Complication Rates following Ankle Surgery."
Mentor: Aaron Guyer
Spencer Kortum
"The Deleterious Impact of Exercise Intensity vs. Exercise Duration on Cardiac Function in Arrhythmogenic Cardiomyopathy."
Mentor: Stephen Chelko
Colleen Leu
"Targeting Myocardial Inflammation in Arrhythmogenic Cardiomyopathy."
Mentor: Stephen Chelko
Brittany Long
"A Systematic Literature Review: Examining the Growing Demand for Surgical Care in Rural Communities and Novel Approaches to Achieving a Sustainable Surgical Workforce."
Mentor: Michael Sweeney
Charles Maggitas
"Role of Adiponectin in Aerobic Exercise-Induced Cardiac Remodeling."
Mentor: Judy Delp
Ariadna Mercouffer
"Evaluating the Impact of Opioid Prevention Activities on Florida Providers."
Mentor: Samantha Goldfarb
Sheyla Moliner
"The Role of Cardiometabolic Dysregulation Between Adverse Childhood Experiences and Cognitive Functioning in Late-Life."
Mentor: Julia Sheffler
Priscilla Morelli
"Outcome Improvement in Extremely Premature Infant Laparotomies for Intestinal Perforations Performed in the NICU Compared to the OR."
Mentor: Marc Levy
Cuneyt Ozkardes
"Effect of Insurance Type on Preventive Service Delivery."
Mentor: Jeffrey Harman
Joseph Brandon Parker
"Symfoil-4P Buried Water Molecules Study."
Mentor: Michael Blaber
Anil Patel
"Association Between Improvements in Physiological Outcomes and Self-Reported Daily Physical Activity in Patients with Peripheral Arterial Disease Undergoing Muscle Stretch Training."
Mentor: Judy Delp
Kayla Schusterman
"Identification of Vestibular Dysfunction in the Examination of the 'Dizzy Patient.'"
Mentor: Charles G. Maitland
Nicholas Thomas
"The Impact of Anticoagulants for Post-Operative Thromboprophylaxis in Older Adults After High-Energy Hip and Lower Extremity Fractures."
Mentor: Hank Hutchinson
Yordan Urrutia
"Formulation and Testing of a Synthetic Subcutaneous Fluid Used for Engineered Cell Growth in a Subcutaneous Tissue Model."
Mentor: Cesar Rodriguez
Hongyu Zhang
"Extracellular Vesicles-Based Therapy for Treating and/or Preventing SARS-CoV-2 Virus Infection."
Mentor: Zucai Suo