Reunion highlight: Four inducted into Medical Alumni Hall of Fame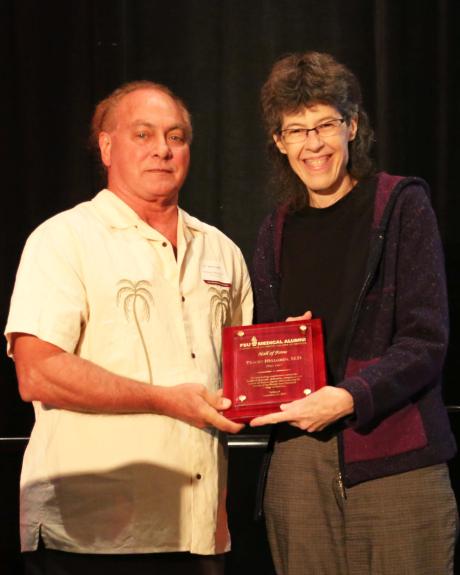 ×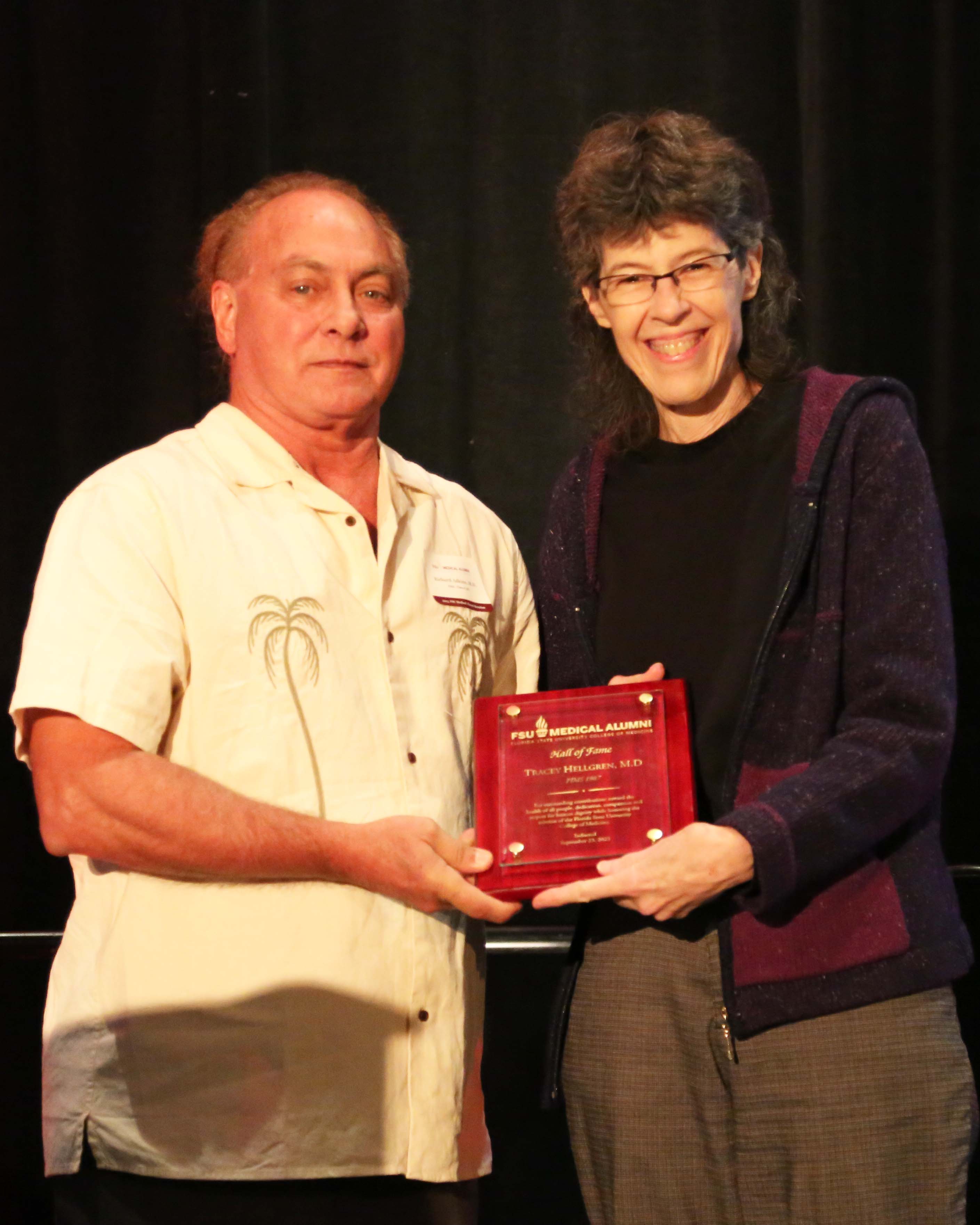 For the second consecutive year, the Florida State University College of Medicine Alumni Reunion was held in Orlando, with the induction of the 10th Medical Alumni Hall of Fame class serving as the centerpiece of the three-day event at the Rosen Shingle Creek Resort.
Myron Rolle (M.D. Class of 2017), a senior neurosurgical resident at Harvard Medical School, delivered the keynote address at the Saturday, Sept. 23, ceremony.

"My journey started a lot like yours," said Rolle, a former FSU football standout, Rhodes Scholar and NFL Draft choice. "It meant a lot to be matured and to be influenced by my time at Florida State University, at the College of Medicine; learning all of the same things you learned, putting in the same hours you did to try and achieve success and become a better leader, a better thinker, a better clinician and a better servant for my patients and your patients."
The four-member 2023 Hall of Fame class excels in the area of service, both to their patients and also the College of Medicine, where each has an active role in educating the next generation of health-care providers.
Doctors Laura Davis (M.D., 2013), Tracey Hellgren (PIMS,  1987), Jada Leahy (M.D., 2009) and Zita Magloire (M.D., 2011) share a wide range of similarities, beyond just being outstanding physicians and women.

WATCH THE CEREMONY
Each has an abiding connection to the area she currently serves, with three of them "coming home" and one "staying home" after residency. One took over the practice of her regional campus preceptor after working alongside him for a year. Another took over the hometown practice of the physician who delivered her. And still another joined one of her preceptors in practice. Three of them delivered the keynote address at a White Coat Ceremony. All of them are living the College of Medicine's mission in the areas they serve, while ensuring the next generation of physicians and physician assistants get the same patient-centered education they received.
Davis, a family physician with Tallahassee Memorial HealthCare (TMH) Physician Partners, Blountstown – her hometown – is seven years into treating the rural population Calhoun County.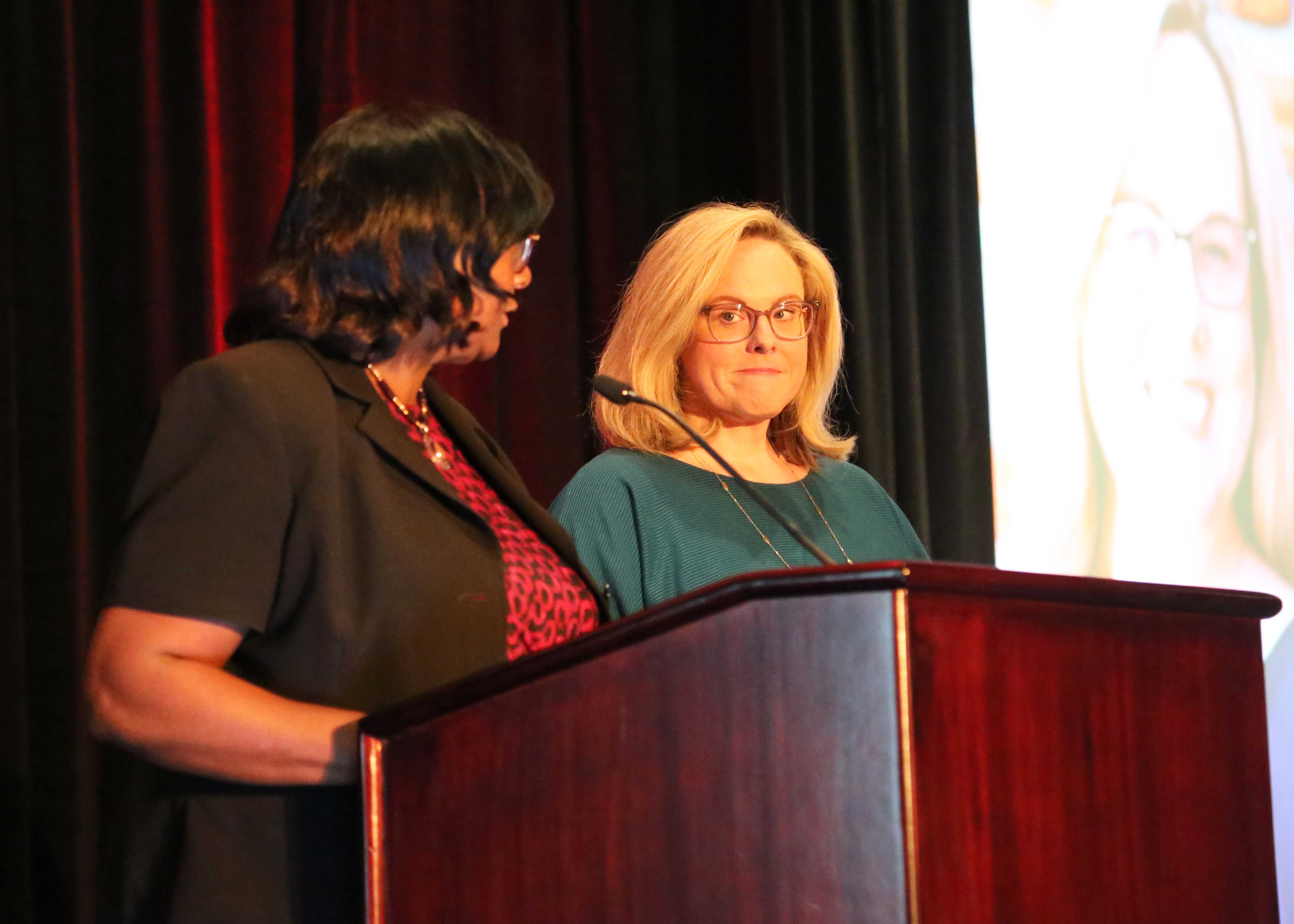 One of her biggest challenges remains getting people who "once changed her diapers" comfortable with her as their physician. Davis has conquered that while taking over the practice of the physician who delivered her.
"This is such a great honor," Davis said, explaining how the College of Medicine changed her life. "FSU is family and I'm going to get choked up just talking about it. Where else can you just call your dean? I called Dean Fogarty I don't know how many times. Or DVD [the late Dr. Daniel Van Durme] would call or send a text to just say, "How's residency going"' Where do you get that opportunity? And I love that now I get to refer college students who move to Orlando to friends of mine that are GYN's here… That's kind of cool. Not everybody gets to do that in medical school. So, I say, thank you."

Hellgren has been a fixture on the Tallahassee medical front for more than 30 years. After a year in the PIMS program and graduating from the University of Florida College of Medicine, she completed her family medicine residency at TMH and hasn't left. Thirty years in, she is the medical director at FSU PrimaryHealth, succeeding Van Durme, who lured her back to FSU in 2019. An assistant professor in the Department of Family Medicine and Rural Health who regularly volunteers to take on medical students for clinical rounds, Hellgren is a teacher at heart who is equally compassionate in how she treats her patients and students.
She credits the approach she has with patients and students to a lesson from an instructor as a second-year medical student.
"If I'm going to teach you anything, you're going to learn how to talk to people, you're going to take a history and you're going to do a physical and you're going to touch people," she said, recounting her UF professor's words. "That will get you further than anything else that you do for people. Thirty years later, that's what I do now and that's what I teach my students.
"It's been a great journey and it's going to keep going."
Leahy, who graduated from high school in Pensacola, spent her final two years of FSU medical education at the Pensacola Regional Campus. Following a decade of  service in the United States Navy as a surgeon, including a final deployment at Naval Hospital Pensacola, she closed the circle by staying home. While practicing with The Surgery Group, she has transitioned from College of Medicine preceptor to the first alumna serving as the surgery clerkship director at the regional campus.

Dr. Robert Rubey, her surgery preceptor in Pensacola, with whom she later practiced, was a leading influence on her career. She survived a near tragic accident when she was younger, which left her with an often-fatal C-2 hangman's fracture.
"Sometimes God whispers and sometimes He yells," Leahy told the captive audience. "My neurosurgeon was instrumental in pointing me in this direction. He said, 'Girl, you're not supposed to be here. You're either going to cure cancer or become the first woman president.' I thought, 'Well, not too many people like the president … so I think I will treat cancer.' I got to pursue that career being a general surgeon." 
As for the chance to lead others, Leahy added: "Mentoring the students and educating them and coaching them provides so much value in our lives."

Magloire, a family physician and obstetrician serving the underserved at Cairo (Ga.) Medical Care, might have ended up elsewhere after completing her undergraduate degree at Mississippi State University if not for some advice from her mom.
"She told me there was something special about the [FSU] College of Medicine," Magloire shared from the podium. "I can't believe how right she was."
Excelling as a leader, researcher, student and clinician, the Bridge program graduate was welcomed into the Gold Humanism Honor Society and received the Mission Award in her final year at the College of Medicine. After completing her residency at the University of Kansas, Wichita, she came back to rural southwest Georgia, joining a former preceptor at the practice where she is now a partner.

The homecoming of sorts for the Tallahassee native included a visit with Van Durme over coffee because he wanted to "see how it was going."

It was Van Durme who convinced her to become clerkship faculty for the Tallahassee Regional Campus in 2014, and authored Magloire's Hall of Fame nomination shortly before the motorcycle accident that ultimately took his life. His nomination closed with this sentence:

"She is truly a poster child for the FSU College of Medicine."

Magloire brought the night to a close with a moving tribute to the man.
"I never got to thank him for his thoughtfulness and guidance and support over the years, however, every day is an opportunity to honor his memory by how we treat, not just our patients, but our colleagues and our staff, and most importantly the ones that we love," she said. "So, thank you, DVD, and all of the staff at the College of Medicine who have made such an amazing impact on my life and every life we touch through the healing hands of medicine."
Photos: On the cover, Dr. Zita Magloire accepts her Medical Alumni Hall of Fame plaque from interim dean, Dr. Alma Littles and is joined by Alumni Board chair, Dr. Ric Adkins. Top: Dr. Tracey Hellgren is all smiles as she is joined by fellow PIMS graduate Adkins, who presented her with a Hall of Fame plaque. (photos by Sofia Estavillo)


Contact Robert Thomas, robert.thomas@med.fsu.edu