Research funding at all-time high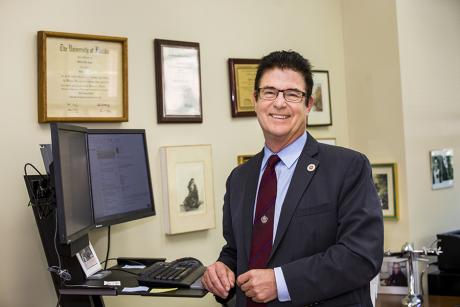 ×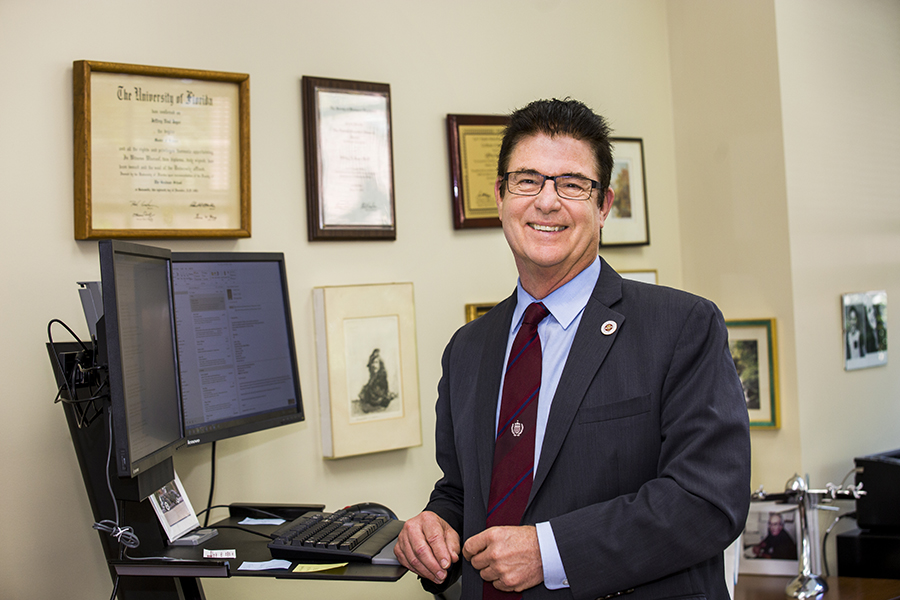 April 2022
Envisioned and primarily funded to focus on producing primary-care providers who are responsive to the greatest needs in Florida's communities, the FSU College of Medicine is also generating research supporting those goals.
In the quarter ending March 31, the College of Medicine research hit an all-time high with $150 million in total funding. About two-thirds of the funding is from the National Institutes of Health (NIH), considered a benchmark in the success of a medical school's research efforts.
"The total represents a 20% increase in total award dollars compared to the same quarter a year ago and includes a 10% increase in the total number of awards received," said Jeffrey Joyce, senior associate dean for research and graduate programs at the College of Medicine.
The uptick continues a four-year trend of increased extramural research productivity. During that time, the medical school's research funding has doubled. Not only are more faculty submitting grant proposals, but also their success rate in obtaining funding is about 10% higher than the national average.
"Research is a vital component of the College of Medicine's mission, both for the original knowledge it uncovers and for the opportunities it presents to students to participate in the research process," said FSU Interim Vice President for Research Mark Riley. "Our faculty's research runs from understanding the most basic building blocks of our bodies to building the better health-care programs of the future — all of it work that leads to better outcomes for humankind." 
Some of the active funded research projects at the College of Medicine:
Distinguished Endowed Professor Sylvie Naar, who directs the Center for Translational Behavioral Science, received $12.8 million from NIH to develop a diverse community of early-career researchers committed to improving mental health and chronic disease prevention and management.

Distinguished Research Professor Amy Wetherby and the FSU Autism Institute are working on a study funded by an $11.3 million grant from the National Institute of Mental Health (within the NIH). The five-year project aims to demonstrate the therapeutic value and model for widely implementing a completely virtual early intervention for toddlers with autism spectrum disorder.

Naar received $6.5 million from the NIH to look at slowing the spread of HIV in young adults, the only demographic where infection rates are rising.

Professor of Behavioral Sciences Angelina Sutin is working with a $3.8 million NIH National Institute on Aging grant to better understand why people with a Latino background have a 50% greater risk of developing Alzheimer's disease than non-Latino whites.

Naar also received the NIH Director's Transformative Research Award, a $3.1 million grant to address racial inequities in the health-care system.

Biomedical Sciences Professor Mohamed Kabbaj has a $3 million grant from the NIH to study prairie voles, one of the few mammalian species that are monogamous. That makes the small rodents excellent models for studying the effects of acute and social isolation, as well as partner separation. Like humans, they can display anxiety and depression-like behaviors.

Sutin is wrapping up a five-year study with $2.8 million in NIH funding to identify prenatal and childhood neighborhood risk factors contributing to the development of personality traits most consequential for healthy aging.

Professor of Biomedical Sciences Yi Ren has three projects with $2.8 million in NIH and National Science Foundation funding for better understanding the role macrophage, a type of white blood cell, plays in the aftermath of neural injuries, where the secondary damage is often worse than the initial trauma.

Biomedical Sciences Associate Professor Yuan Wang was awarded a $2 million, five-year grant from the NIH to identify the origin of the synaptic dysfunction responsible for a variety of neurodevelopmental conditions, including ADHD, autism and cerebral palsy.
"The College of Medicine is now in its third decade of growth and development and I'm proud of our outstanding investigators who are competing at the highest levels for grant support for projects that complement our mission to serve our local communities and advance the science to support those communities," said College of Medicine Dean John P. Fogarty.
(photo: Jeffrey Joyce, senior associate dean for research and graduate programs.)