Renaissance man: Memories of Dr. Daniel Van Durme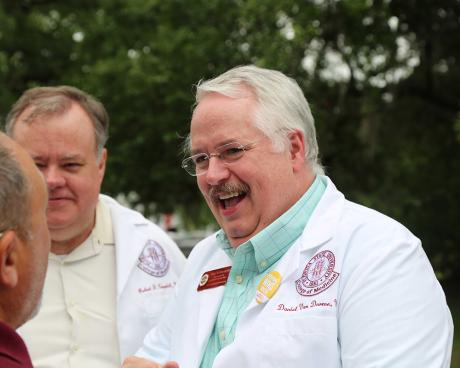 ×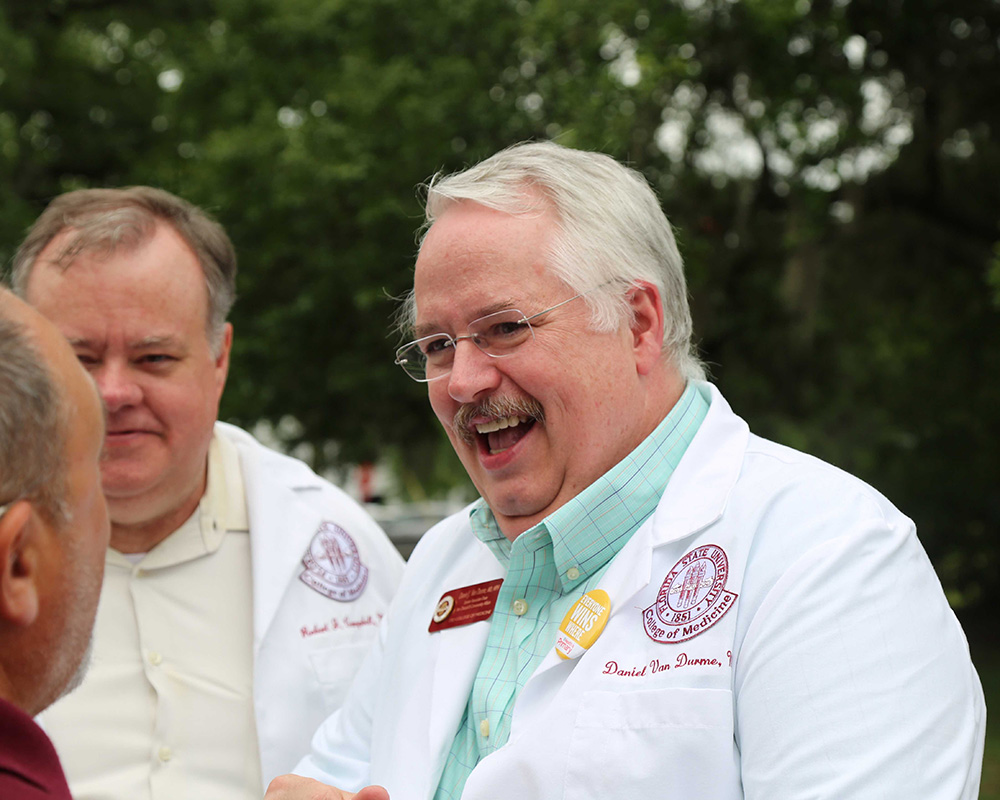 Daniel Van Durme, M.D., Memorial Scholarship Fund  
 
The May 30 death of Senior Associate Dean Daniel Van Durme will have wide-ranging implications for the College of Medicine, considering his many leadership, teaching and administrative roles. For now, the focus is more on the personal, and the impact of his personality.

"He was a great person, wonderful human being and doctor," said Interim Dean Alma Littles. "He and I have been friends and colleagues for almost 40 years, since we were residents. Our children grew up in the Florida Academy of Family Physicians together. I helped recruit him to FSU. He will be missed in so many ways and so many places and by so many people."

With a voice often as subtle as a tuba, DVD (as he was known to most) had a playful personality and larger-than-life presence that was hard to miss. The quiet moments weren't as obvious.

"He would always bring a bag of granola bars for the students, just in case they hadn't had breakfast yet," said Assistant Professor of Biomedical Sciences Jerome Irianto, who shared teaching duties with Van Durme during an early-morning class over the past three years.

Ben Smith, associate dean and director of the School of Physician Practice, recalled walking into the College of Medicine atrium after 8 p.m. a few years ago.
"In a corner, I saw DVD conversing -- with DVD's known enthusiastic style -- with a student," Smith said. "From my observations, I know that the student and DVD were both benefitting from the interaction."

"I remember watching DVD on one of my early trips with him to Nicaragua and how engaged he was in every aspect of the Los Cedros community and how organized he was — including floor plans of the clinic with details as to where the tables, the pharmacy, the medications, the triage table were to be placed," said Jon Appelbaum, chair of the Department of Clinical Sciences. "He even indicated how many chairs to place in the waiting area.   He also had some very detailed instructions on how inventory was to be done — before and after clinic."

Van Durme suffered fatal injuries when he was struck while riding his motorcycle to a meeting at FSU PrimaryHealth, the primary care center he played a central role in developing. For years, Van Durme met with neighborhood and community leaders to identify the best spot for a teaching clinic that would serve patients who did not always have access to care.

"Dan was clearly my 'go to' for many initiatives in the past decade with an incredible optimism and work ethic," said College of Medicine Dean Emeritus John P. Fogarty.
 
On Tuesday, and for the first time in more than a decade, Van Durme did not give the traditional "welcome to the profession" speech delivered to new medical students during orientation.

He arrived from the University of South Florida College of Medicine in 2004 as chair of the Department of Family Medicine and Rural Health. By then, he had already been a team doctor for the USF football team and for the Tampa Bay Lightning, which awarded him a championship ring after winning the Stanley Cup.

As the college's chief medical officer, he was a leader in FSU's response to the COVID pandemic and frequently shared his knowledge through local, state and national media appearances.

He led numerous students on trips to Ghana as the faculty advisor to Students Interested in Global Health, and he had firsthand stories about tropical diseases to avoid from his many trips abroad. He later founded the medical mission at Los Cedros in Nicaragua, which he commonly visited at least twice a year -- students and other FSU faculty and volunteers in tow -- before political violence ended those trips a few years ago.

Van Durme won numerous teaching awards, both at USF and FSU, while being actively involved in many extracurricular service-learning experiences to foster the development of thoughtful and compassionate new physicians and physician assistants. He was the founding (and current) faculty advisor of the FSU Chapman Chapter of the Gold Humanism Honor Society, which recognizes students who model the humanistic side of medicine.
 
Van Durme's interests extended far beyond medicine. He was a woodworker, gardener and student of literature and cinema who also brewed his own beer, including a "Sweet Georgia Brown Nut Brown Ale" to honor former Harlem Globetrotter Meadowlark Lemon after his death in 2015.
 
A past president of the Florida Academy of Family Physicians, Van Durme at FSU developed Family Medicine Scholars to produce specialty leaders of the future. He also served as the first director of the college's rural health program in Marianna, intended to help produce more physicians who will care for patients in rural areas and small towns.
 
He mentored thousands of family physicians during his careers at USF and FSU.

"We will be forever grateful for his steady leadership, wise counsel and compassion for the campus community," said Kyle Clark, FSU senior vice president for finance and administration. "Our hearts go out to Dr. Van Durme's family, colleagues, students and all those whose lives he touched."
                                                                                                                       ♦ ♦ ♦ ♦ ♦ ♦ 

In less than 72 hours, the notice of Van Durme's death on the College of Medicine's Facebook page generated nearly 70,000 impressions and more than 15,000 post engagements. Some excerpts of those comments from former students are below, along with a poem written by Ken Brummel-Smith, the founding chair of the Department of Geriatrics, who is now retired and living in California.
Rachel Bixler James (M.D., 2011)
He was an incredible mentor for so many and the kind of family doctor to emulate. He showed me that my interest in derm could thrive in the family medicine world. He helped with efforts from FSU COM when my area needed relief after Hurricane Michael. He displayed kindness while showing that he truly cared about the WHOLE person, not just the task at hand. And seemed to have a blast while doing it! He was an incredible mentor to look up to. This one was of the last times I saw him in person, but certainly not the last time I asked for advice. He was one of those professors you could continue to learn from long after graduation-and continued to answer when you sent questions! I certainly valued his wisdom. I truly hope he knows how many young physicians he inspired to be better.
Elizabeth Brooks Dickens (M.D., 2010)
His passion for family medicine inspired me to choose this specialty and my time with family medicine scholars only solidified that. Always someone I could call for advice. He will be deeply missed by all but has left a legacy that will live on in all of us! 
Rich Rodriguez (M.D., 2009)
I'll never forget the quote he had hanging in his office:

"One of the essential qualities of the clinician is interest in humanity, for the secret of the care of the patient is in caring for the patient."

Dr. Van Durme embodied that and the spirit of the FSU College of Medicine. We are all better persons and better physicians for having known him and learned from him. 
Naomi Salz Flock (M.D., 2014)
Absolutely devastating news. I hope he knew how many people he truly touched. He had his own brand. If I close my eyes I can hear his voice – that specific cadence and intonation that made even a mundane lesson fascinating. I wouldn't be the doctor or person I am if I hadn't have known him and I wish I would have told him that. My heart breaks for his family and FSUCOM family. Legend. 
Allison Poimboeuf Ferrara (M.D., 2012)
What a heartbreaking loss for all that knew him and those lives yet to be touched by him. He was an incredible person, physician, and educator. His energy and passion for his calling is an inspiration for us all. I remember fondly a bonfire at his house early in our first year where I connected with my now husband as we learned about home brewed beer — a hobby he too picked up! DVD knew no strangers and welcomed us all as his family. He will be deeply missed. 
Jessica Warrick Imrisek (M.D., 2019)
My interview with him for medical school admission was amazing. So much energy and excitement. I knew that FSU COM was going to be where I wanted to go after the 30 mInutes I spent with DVD. He was infectious and inspirational. My daughter still remembers him and is her favorite aspect of my medical education. My husband recounts us being invited to his house, drinking his homemade beer and gardening techniques that we tried to replicate but failed. He will always be remembered and a true inspiration to many. He was a true advocate for more family medicine trainees, even though I only wanted to do pediatrics. He advocated that family medicine was the best specialty. DVD is a healer, a teacher, a mentor and enthusiast for helping others. A true inspiration that will be missed immensely by his trainees and I'm sure his family. Undoubtedly an amazing human being. DVD you are already missed. I hope to make you proud and for the chance you gave me to make a difference. 
Lexie Mannix  (M.D., 2014)
There are no words to express what a huge loss this is for FSU COM and the world. A remarkable man, physician and mentor to all.

DVD interviewed me for medical school, and without him and his belief in me, I truly believe I wouldn't be here today. He shaped the lives of so many, and I'm honored to have been one of those lives he impacted.

So many moments to mention, but some of my favorites were in Nicaragua and at his house for Family Medical Scholars events. I'm forever grateful for these moments and the lessons I learned.
Greg Peters (M.D., 2011)
There is likely no greater legend in the history of FSU College of Medicine than DVD. It seemed like he was involved in every single aspect of each student's first two-year experience. He might have sponsored or co-sponsored every single club, and whenever another speaker wasn't available, he always filled in with his vast breadth of knowledge on what seems like everything. He was a true Renaissance man. He taught me how to write prescriptions and multitask while volunteering at Neighborhood Health Services, taught me everything I know about Sports Medicine while volunteering at high school football games on Friday nights, and taught me Wilderness Medicine through lectures and while camping along the Suwannee River and at Torreya State Park. He hosted all the medical students for campfires at his home and served on countless international mission trips with so many students, including a Mission trip to Nicaragua with my wife. We even happened to see him in Alaska. I'll never forget his Stanley Cup ring, which he won as a vital member of the Tampa Bay Lightning medical team, stories about tropical diseases such as the Chikungunya he acquired while on an international mission trip, or his devotion to his family. He always emphasized the College of Medicine's mission statement every single day since its founding. The College of Medicine would not be what it is without DVD. He will be so greatly missed.

By Ken Brummel-Smith
A Fanatic For Life
Dan was a force.
Loud, booming voice,
A big man, with a big presence
Ever emphatic in his speaking.
His spirit in a room was always felt.
He loved to teach.
Loved it, maybe more than anything else,
Except, perhaps, his wife.
When with a student
He was always focused,
Attentive to the nth degree.
He spoke in a characteristic manner.
Sentences would always end with an emphasis on the last word.
Diction tight, even a little chopped,
The sound of the letters accentuated
To highlight his point.
He treasured the science of medicine.
An ardent proponent of depending on evidence,
Yet also an adept storyteller.
He loved the opportunity to demonstrate his teaching
Through a story of a past patient, student or resident.
And always a mentor.
Bringing students to his back yard,
Big barbecues under the pine trees,
Shepherding students to Mexico or Panama,
Fostering a young faculty member's growth,
Advising deans, department chairs, state and national organization leaders.
He and I shared similar roles
In the structure of a medical school.
But he taught me,
At the ripe age of 68,
How to tie my shoes
In a new way.
The Daniel Van Durme, M.D., Memorial Scholarship Fund has been established to honor his memory and enumerable contributions to the College of Medicine.
https://give.fsu.edu/VanDurme