PA and M.D. students receive NHSC scholarships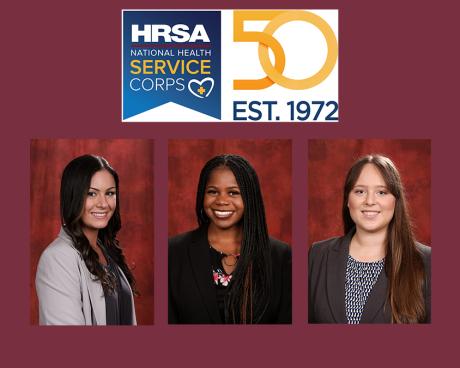 ×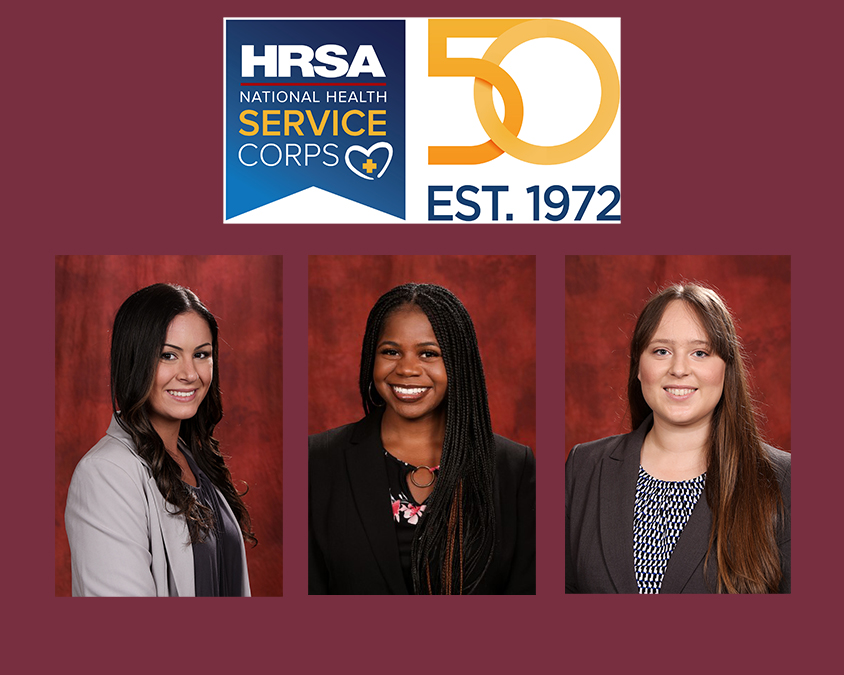 Driven to provide primary health care to underserved populations like those around them when they were growing up, medical student Kiana Reaves, and physician assistant student Kirsti Harris were recently awarded National Health Service Corps (NHSC) scholarships.
So, too, was first-year medical student Bonnie Wilt, who embraced the college's mission  as an undergraduate in the Interdisciplinary Medical Sciences program and chose to pursue an NHSC scholarship after working as a medical assistant at a Crawfordville urgent care facility. 
Funded through the Health Resources and Service Administration, the NHSC program covers tuition, required fees, reasonable educational costs and a monthly stiped in exchange for practicing in urban, rural and tribal communities designated as a Health Professional Shortage Area (HPSA).
Reaves, a first-year medical student who came through the College of Medicine's Bridge to Clinical Medicine master's program, hails from Miami's Liberty City. Harris, a member of the School of Physician Assistant Practice Class of 2023, is from the Panhandle town of Marianna.
The stark contrast in hometowns – though both are designated HPSAs – is one of the few areas where Reaves and Harris have dissimilar backgrounds. Each earned psychology degrees as undergraduates – Reaves from Florida A&M University and Harris from Florida State University – and has been inspired to pursue a career in medicine by parents in health and mental health fields.
 "I was really excited to know that [the NHSC] views psychiatry as primary care, because I always have, and my family always has," said Reaves, whose parents work at the South Florida State Hospital in Pembroke Pines. Tanya Barnes-Reaves is a nurse manager at the psychiatric facility, while Anthony Reaves is a chaplain. 
As an undergrad, Reaves also volunteered at a mental health clinic near her home, where she was able to shadow physicians.
"There's a stigma out there, especially in the African-American community, that I never really noticed because my parents were always forthcoming, maybe because they worked in the setting," she said. "That really sparked my interest and showed me that people in my community really benefitted from the services."
As a physician, Reaves wants to combine psychiatry with her other primary health interest – internal medicine – "so I can treat the whole patient."
Harris' mother, Susan, is a nurse consultant at the Agency for Health Care Administration (AHCA), which is primarily responsible for Florida's estimated $25.2 billion Medicaid program. Her father, Ausband Harris, is a mental health counselor at the Graceville Correctional Facility.
"[Psychiatry] was always something that was interesting," said Harris, who is equally interested in working in pediatrics. "In the last few years, there has been a lot more focus on [mental health]. I feel like with pediatrics, especially, it hasn't really evolved very much. Older people are seeking more care, but with children, it's still not a huge focus… I hope that I can incorporate those together."
Harris pointed out the challenges associated with health care services in rural Jackson County.
"If you were going to see a therapist, you had to drive an hour [to Tallahassee or Dothan, Ala.]," she said. "My pediatrician was in Dothan, so anytime I got sick as a kid my mom would have to take off a full day of work to go to the doctor…
"I've seen way too many instances in Marianna where if people had access to better health care, the outcomes would have been a lot different."
Focused on becoming a physician, Reaves began looking into medical school scholarships as an undergraduate. That's when she discovered the NHSC website, which she bookmarked in her phone for a later date.
"Knowing that only 10% of the applicants got it made me a little nervous, but it was perfect for me," she said. "I knew I wanted to serve the underserved."
With the help and support of Anthony Speights, senior associate dean for Interdisciplinary Medical Sciences and director of the Bridge program, and Elizabeth Foster, associate dean of Interdisciplinary Medical Sciences, she completed her application. "The hard part was making sure you stood out," Reaves said. "Everyone applying wanted to serve the underserved, so to show my passion was the hardest part."
Harris initially wanted to follow in her mother's footsteps and become a nurse.  During her two years at Chipola College, she began to see herself playing a different role and made her way to FSU, where she learned about behavioral health PAs in one of her classes.
"What really made me fall in love with it was when I took Ben Smith's undergraduate class that was all about the PA profession and how to apply to PA school," Harris said. "He made the whole thing sound amazing. That's when I decided, 'That's what I'm going to do.' "
Smith even wrote Harris' letter of recommendation to PA school.
"I didn't know he had so much to do with the PA program," Harris said of Smith, who at the time was associate dean of the School of Physician Assistant Practice and is now the interim program director. "I thought he was just teaching the class. Then, in my first class in PA school, he was my professor."
Wilt began volunteering at a local hospital in her hometown of Melbourne after her biology teacher suggested she pursue a career in medicine. There she saw how patient care contributes to a person's health and well-being. Her compassion for others later grew as a grocery store cashier. Engaging with customers she described as "strangers in my community" she learned that many struggled to afford food and housing, and often did not receive the health care they deserved.
Her desire to become a family physician began after her time as a medical assistant. 
"In this rural setting a lack of access to primary care was not unusual," Wilt said. "Living an hour away from the closest hospital imparted a burden of transportation on patients, and many patients were not regularly seen by a physician for checkups.
"While the challenges of primary care in an underserved area were very evident, I began to see the rewarding aspects of embracing the value of community in a small town. I grew in my ability to serve patients and knew that working as a primary care physician in areas of need would make me a better caregiver."
As NHSC scholarship recipients, Reaves, Wilt and Harris are required to serve in HPSAs equal to the number of years their scholarship covered. Reaves and Wilt's required service will span four years following the completion of their residency programs. Harris' service requirement is two years and will begin when she completes her 12-month clinical education at the Pensacola Regional Campus and passes the Physician Assistant National Certifying Exam.
"I made it through undergrad without having to take out any loans," Harris said. "This is my first time taking out loans and it's scary… It's definitely taken a lot of burden off.  It's going to make it easier just to practice and focus on that, and not have to worry about paying off a loan the rest of my life."
FSU College of Medicine NHSC Scholars
Class of 2010 – Tanya Anim, Brittany (Foulkes) Crenshaw
Class of 2011 – Komal D'Souza
Class of 2014 – Alyson (Lewis) Sanchious, Brett Thomas
Class of 2017 – Paulin Gotrace
Class of 2019 – Acton Pifer, Tiffany Smith-Sutton
Class of 2020 – Eric Walker
Class of 2023 – Cylena Stewart
Class of 2024 – Sheena Chege
Class of 2025 – Savannah Calleson
Class of 2026 – Kiana Reaves
Class of 2026 – Bonnie Wilt
FSU School of Physician Assistant Practice NHSC Scholars
Class of 2019 – Daniela Salazar
Class of 2022 – Janique Tang How
Class of 2022 – Michelle Shepherd
Class of 2023 – Kirsti Harris
 
Contact Robert Thomas at robert.thomas@med.fsu.edu