'Patient-Teacher' Moya moved students with her MS story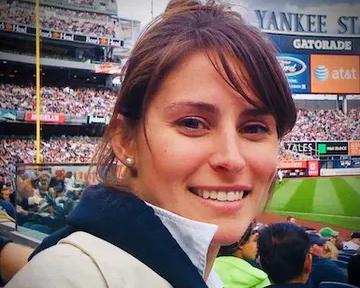 ×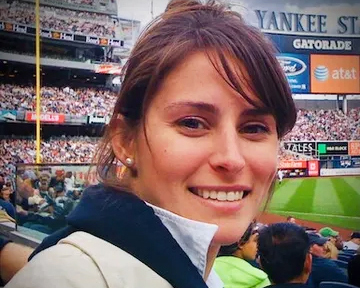 "People will forget what you said, people will forget what you did, but people will never forget how you made them feel."  – Maya Angelou

Gregg Stanwood uses the quote to illustrate the impact patients have when they share their stories each fall with second-year medical students in the neuroscience course.
"As an educator, you can tell students that this is important, but they have to take you on faith," said Stanwood, associate professor of biomedical sciences at Florida State University's College of Medicine. "If they hear it coming from a patient who's in front of them, who they connect with in some way – because they're bringing their authentic selves into this classroom to expose themselves and tell their story – a lot of intimacy is achieved when it works well.
"It can really open hearts and give students a completely different way to think about what they're doing, and I believe for most of our students, those are the reasons they choose to go into medicine."
Elizabeth "Liz" Moya was one of the patients who shared stories over the last six years. Moya, who earned two degrees from FSU and enjoyed a distinguished, 20-year career in public service at the state Capitol, was diagnosed with multiple sclerosis (MS) in 2008.
"She embodied charisma, strength and empowerment while sharing her story," said Brooke Hartenstein (M.D. '24), who initially met Moya prior to medical school while working in the office of Dr. Gerry Maitland. "She never let her disease stop her from seeking the most out of life, starting a family, or being vulnerable enough to share her story and struggles with students.
"She truly impacted the way that I view life obstacles and shared valuable insight into the impact good doctors can make supporting and listening to their patients."
Moya last shared the progress of her disease with the class in late August of 2022, before she was diagnosed with breast cancer and subsequently pulmonary fibrosis. The combination claimed her life on Feb. 21, one day after her 42nd birthday.
She leaves behind her husband Chris, their 12-year-old twins, Samantha and Jake, stepdaughter Aidyn and hundreds of students, past and present, who were inspired by her candor and determination to live a full life.
The neuroscience course faculty will host Moya's family to commemorate and celebrate her contributions to the program Monday, May 1 at 12 noon in room 1200 at the college. Students, faculty and staff are encouraged to attend. Those unable to attend are invited to join via Zoom and share messages of appreciation and support.
Moya's MS diagnosis led her to Maitland, professor of neuro-ophthalmology and neurology at the college who served as one of her physicians. Maitland invited Moya's participation in the education of medical students, annually steering her presentation before the class.
"It's an opportunity to let students hear firsthand what the patient experiences with respect to their disease, its impact on their families, their lives – everything from economics to social – and then to see the physical signs that are part of the disease," Maitland said.
A polished public speaker in her professional life, Moya took command of the room. 
"She really had the capacity to put people into a comfort zone where it was no longer a lecture, it was a conversation," Maitland said.  "A good lecturer will make you think that you're the only person in the room and are talking one-on-one. She had the capacity to do that, to make it very personalized."
Chris Moya remembers his wife discussing the initial invitation to speak to medical students:
"I was like, 'That's great. What are you going to share?'"
To which she replied: "I'm going to share all of it. I'm going to be brutally honest about the symptoms, the diagnosis, what it's been like."
"She had a very strong sense of mission," he added.
That authenticity resonated with the students.
Like Hartenstein, Kayla Schusterman engaged with Moya in Maitland's office before Moya presented virtually to the class of second-year students, the result of COVID restrictions.
"She's a small thing on a screen but such a big personality in that she was really great, not only meeting us on multiple sclerosis, but just telling us about the impact on her life," said Schusterman, who used to run into Moya at a local park where their sons played in the same baseball league. "It was really wonderful to see somebody who had enough grit and the power to overcome, who can access resources and the different accommodations and medical devices she needed to really do life the same as the rest of us. It was amazing to see.
"She was just a really beautiful speaker and a powerful woman, apart from having MS, just looking up to her as a force to be reckoned with."
Beyond the inspiration drawn from Moya's presentations, her presence as she battled the neurodegenerative disease had a visceral effect on the class.
"In medical school, you learn about all of these zebras – things you feel like you'll never see," Schusterman said. "To put a story and a person and a life to a disorder, giving a disease context is amazing for education, because a lot of those symptoms cannot be captured on a page. When you hear and see how those symptoms impact a life, it makes a huge difference."
Stanwood described Moya as the star of the course, often moving students to tears.
"We would always try to bring her in early in the course because one of our focuses in these patient interviews was to promote the idea to the students that this isn't just about treating a disease, this is about treating a unique person and a unique family," he said. "Liz had a remarkable and frank way of interacting with people in all aspects of her life, and she brought it into the classroom. She truly was a 'Patient-Teacher.'"
Contact Robert Thomas at robert.thomas@med.fsu.edu