PA program increasing access to care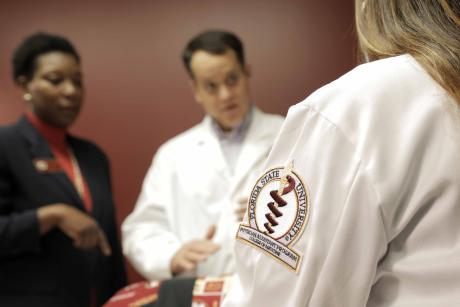 ×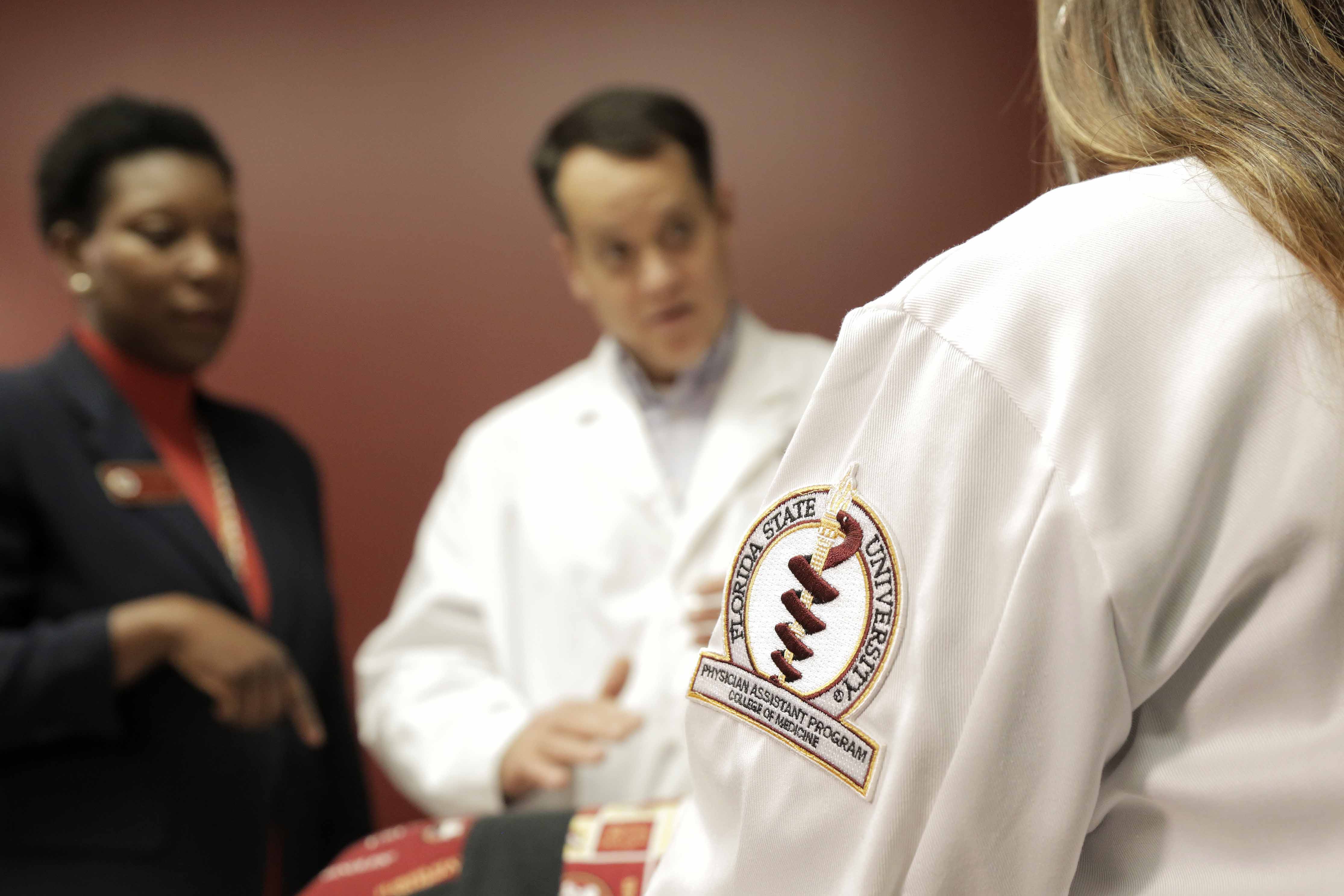 October 2022
Students, graduates and leaders from the Florida State University School of Physician Assistant Practice agree that the final 12 months of the 27-month program is what sets it apart.
"It was probably the biggest thing that attracted me to FSU," said Karli Moretti, who will graduate in December after completing her clinical rotations at the Fort Pierce Regional Campus. "I loved that model. It was so encouraging and exciting, that totally new transition into a different area."
Modeled after the College of Medicine's community-based M.D. program, the PA school sends its students into Florida communities for hands-on clinical rotations where they are immersed in patient care for a full year.
"It is unforgettable," said Bryan Seiple (PA, '20), who practices pulmonary and critical care medicine for Tallahassee Pulmonary Clinic. "We went from 15 months in the classroom to my very first [clinical] rotation was six weeks of general surgery; a complete sink-or-swim kind of field. It was exciting and nerve-wracking all at the same time.
"I was lucky enough to be in a surgical group where a good friend of mine was in the same program and his surgeon was a partner with my surgeon. Even though we didn't do surgery together, we both had a sounding board to talk to each other."
The collaborative element of the clinical experience for FSU PA students is an integral part of their training. It includes six-week rotations through emergency medicine, family medicine, general surgery, geriatrics, internal medicine, pediatrics, behavioral and mental health, women's health and an elective.
"The most unique thing, and it's really hard for PA students right now to recognize, is how they're really side-by-side with the medical students," said Megan Verdoni, the PA program's interim clinical education director and senior associate clinical education director at the Sarasota Regional Campus.
Verdoni, in her 20th year as an emergency medicine PA, understands the value of the collaboration. She identified the Wednesday afternoon didactic sessions in Doctoring 3 as one of the key components of the final 12 months.
"You're in a classroom with [third-year medical] students, so you're really getting a chance to know the medical students and you're seeing the medical school side of education, not just the PA side of education," she said. "That really provides a better relationship, not only for the PA understanding the physician part, but for the physician to better understand the PA."
That carries over into the clinical rotations, where once again, the PA students are paired opposite medical students.
"You find yourself learning from both physicians and advanced practice providers," said Holly Daniel (PA, '19), now caring for patients at Digestive Disease Associates in Gainesville. "This interprofessional, team-based approach gives you a plethora of diverse perspectives and thought processes to grow as a medical practitioner."
"When you think about what really matters in your career, it's really all about relationships," Verdoni said. "That's how we all advance in our careers…I think that's kind of the hidden secret that we have; that we're really able to foster those relationships early."
That's especially true for the physician assistant, who practices medicine as part of a team with physicians, surgeons, nurse practitioners, pharmacists and a variety of other health-care workers.
According to the U.S. Bureau of Labor Statistics' occupational outlook handbook, employment for physician assistants is projected to grow 28% by 2031, more than five times faster than any other health-care occupation.
Increased demand for health-care services, especially for elderly, underserved and rural populations is at the root of the need for more PAs. While PAs can provide some of the same services as physicians, their training can be completed in a fraction of the time it takes to produce a practicing M.D.
"The FSU PA program lives and breathes the mission of the FSU College of Medicine every day," said Ben Smith, interim program director and associate dean for the School of Physician Assistant Practice. "The mission attracts students with a passion and mindset for that mission, and their experience in the program magnifies and enhances that in a very palpable and tangible way as they prepare to become clinically practicing PAs".
Upon completion of the seven-semester program, graduates receive a Master of Science in Physician Assistant Practice. They are required to pass the Physician Assistant National Certifying Exam (PANCE) before entering practice (98.6% of FSU PA graduates across the first three classes have been successful).
Brandon Rosario, a member of the PA Class of 2022, has gained a better grasp of "what my profession is all about" as he nears the completion of his clinical training at the Orlando Regional Campus.
"I see we are all partners together – the physician, the PA, the nurse practitioner, the pharmacist. I'm in my internal medicine rotation now and I see how we all play an integral part in one-patient care. We have so many different people involved in the process to have the best outcome for an individual.
"I see [PAs] filling the gap. I work in this outpatient clinic 20 to 30 minutes outside of Orlando and the patients have been telling me that they have not been able to get a specialty follow-up or a consult. The reason they were able to come in was they had more access to an advanced care provider like a nurse practitioner or a PA. We're providing more accessibility to care because appointments for doctors can be filled up for months in advance, because they're highly specialized. We're an extender, to help relieve that burden and also provide quality care to individuals."
Expanding access is what attracted Monique Colley. She's a 36-year-old Army veteran and mother of two in the PA Class of 2023.
"Prior to joining the military, I didn't know about the PA profession," Colley said. "I learned about it as a medical laboratory specialist in the military, so I had a lot of experience calling in critical values to providers – physicians, nurse practitioners and PAs. The opportunity was offered in the military – they have a program called IPAP [Interservice Physician Assistant Program] – and I shadowed some physician assistants and got to see the work they were doing. It just drew me in.
"Seeing patients come into the lab, and not being able to follow their story or check up on them made me wonder what happened to them, or what became of their situation. That just made me want to further my education."
Colley, a George Washington University graduate, grew up in a military home and later worked with active duty, retired military and their dependents. She is keenly aware of the health-care needs among underserved, military and lower socioeconomic populations.
"My focus is just to give back; to be a voice or an advocate for those who don't feel like they have a voice," she said. "The mission of the College of Medicine is basically taking care of people that I care about and care about their well-being. It's almost as though I'm being a mom to them, as well. It just goes in line with my own core values."
Colley's classmate, George Torres, was drawn to the PA profession as a Florida State undergraduate who often sat with patients and their families while volunteering at a hospice. He's excited to start his clinical training year in January at the Tallahassee Regional Campus.
"I knew that I would have to be in class for a while, but personally I knew I would learn better in the clinical setting, getting back to what I love and what I know how to do, which is to be with patients and apply critical thinking to solve problems," said Torres.
Both Colley and Torres are considering becoming family medicine PAs in Florida, aligning with the school's goal to produce more primary care providers.
"FSU does an excellent job of teaching us to be primary care PAs, and you should know a little bit about everything," said Moretti, who hopes to practice in Tallahassee. "I noticed in my family medicine rotations, the mid-levels – the nurse practitioners and the PAs – would see a lot of the overflow of patients who couldn't necessarily get right in to see the physician and would be booked for an acute visit, like an upper respiratory infection or a cut on the leg.
"That's really amazing…PAs definitely expand that level of care, just being able to be there when you need them. I definitely saw that in my internal and family medicine rotations. That's kind of the whole point, whole goal, of our profession."
In his recently completed institutional effectiveness report, Smith estimated that approximately 70% of FSU PA graduates are practicing in Florida, and 32% are practicing in a primary care specialty. Nationally, about 24% of PAs do primary care, according to the 2021 National Commission on Certification of Physician Assistants (NCCPA).
"Working together as a team – students, faculty and staff – the College of Medicine is making a difference in the health-care delivery system in Florida," Smith said.