PA Call Back Days: A time for presentations and assessment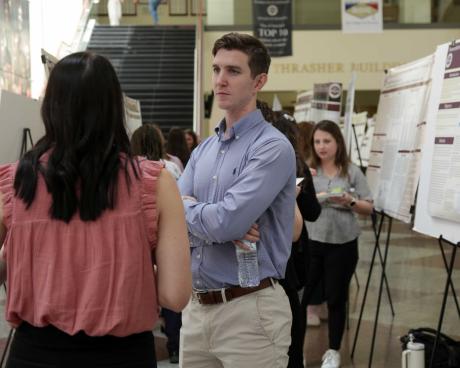 ×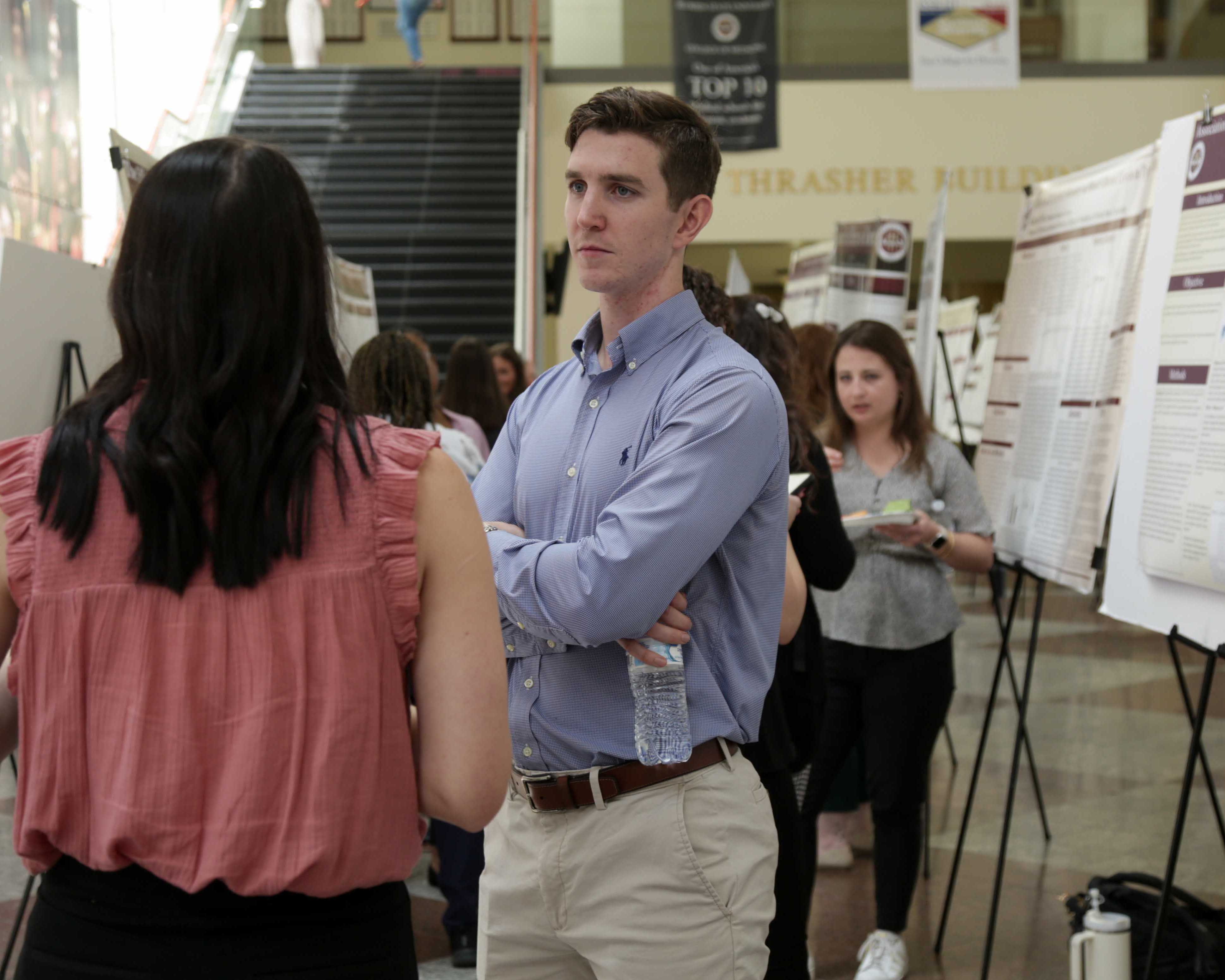 On one hand, FSU College of Medicine School of Physician Assistant Practice students have a reason to celebrate Call Back Days each July, when they return to Tallahassee's central campus from their respective regional campuses.
This week marked the reunion of the 59-member Class of 2023 for the first time since January, when they began their clinical training rotations at their assigned outposts. The next time they reconvene will mark the culmination of their 27-month, seven-semester education. Graduation is set for Dec. 9 at  Opperman Music Hall.
With four clinical rotations standing between the PA Class of 2023 and graduation, assessment and evaluation are at the core of the intensive three-day gathering, which began with Monday's presentation of scholarly work in the Durell Peaden Auditorium.
"Keeping up with the rapidly advancing field of medical science requires skill and comfort when applying evidence-based medicine principles to practice," explained Ben Smith, director of the School of Physician Assistant Practice and associate dean.  "The FSU PA program curriculum and experience prepares students for their careers as clinicians using evidence-based medicine."
As a requirement of assistant professor Charles Saunders' Evidence-Based Research III course, all 59 students were required to summarize their scholarly research of a clinical topic of their choosing in the form of a poster; all were on display in College of Medicine atrium.
Six students – representing the best-in-class – were selected to make oral and visual presentations before their classmates and faculty and answer questions from the audience.
Stephen Lowmiller said he enjoyed "digging into the research" of the topic he presented: Artificial Intelligence in Diagnostic Radiology.
"I'm interested in interventional radiology," said Lowmiller, who is completing his clinical studies at the Tallahassee Regional Campus. "I have a friend who is a retired radiologist and he mentioned to me a couple years ago that when he retired he thought AI (Artificial Intelligence) would take over the jobs in a couple of years…
  
"I think he could be right in specific scenarios. For instance, the chest X-ray is a two-dimensional image and there aren't multiple images lined up in a row like a CT scan. So, it's much easier to train a program to find pathology on this image, unlike an MRI or a CT scan."
Lowmiller said while AI in diagnostic radiology could be especially beneficial in an emergency room setting for X-rays and EKG's, use of those tools would still require the confirmation of a radiologist, electrophysiologist or a cardiologist.
"Nowhere do we actually rely on AI alone," he added.
The remaining five presenters dived into a wide range of interesting and timely topics:
•    Riley Remer (Fort Pierce):  Burnout among health-care workers
•    Sydney Cox (Sarasota):  Social and environmental influences on perinatal outcomes
•    Fallon Browning (Orlando):  Association of H. pylori infection and development of gastric cancer
•    Brent Summers (Tallahassee): What is the trajectory of aducanumab for the treatment of Alzheimer's disease?
•    Molly Williams (Daytona Beach):  Exogenous hormone use and risk of malignancies
Following the collective group's poster session, the PA students closed the day with a geriatrics session, graduation details and an alumni relations presentation.
Tuesday proved to be the most intensive day of the week as the students worked their way through an alphabet soup of essential evaluation and assessment, taking the formative OSCE and PACKRAT examinations.
OSCE, or Objective Structured Clinical Examination, requires students to practice and demonstrate their clinical skills in a standardized medical scenario. Following an evaluation of their performances – and prior to their departure on Wednesday – the students reviewed and were provided feedback on their OSCE performance.  
PACKRAT, or Physician Assistant Clinical Knowledge Rating and Assessment Tool, is a 225-question, multiple-choice exam that is scored. It is designed to mimic the PANCE (Physician Assistant National Certifying Examination), which is required following the completion of the PA program, in order to practice.
Based on their OSCE and PACKRAT performances, the students are armed with essential information on areas where they need to improve as they return to their respective regional campuses to complete their final four clinical rotations prior to graduation.
Contact Bob Thomas at robert.thomas@med.fsu.edu.
Photo at top: Stephen Lowmiller discusses his poster. (Photo by Sofia Estavillo, FSU College of Medicine) 
Spotlight photo on Home page: Physician Assistant Class of 2023 researchers, from left, Joseph Schergen, George Torres, Stephen Lowmiller, Brent Summers and Calvin Yann (Photo by Audrey Post, FSU College of Medicine)