Our alumni are wrestling with COVID-19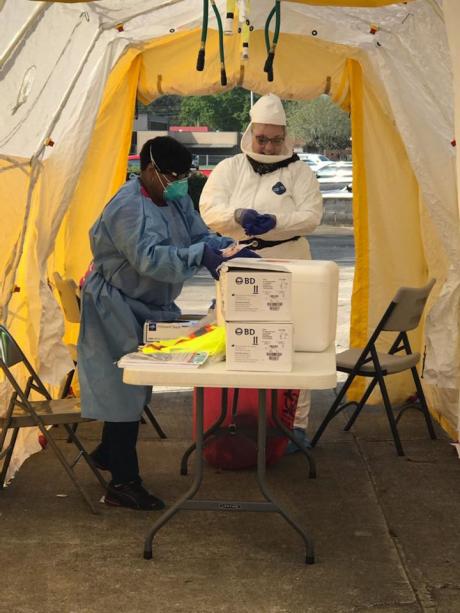 ×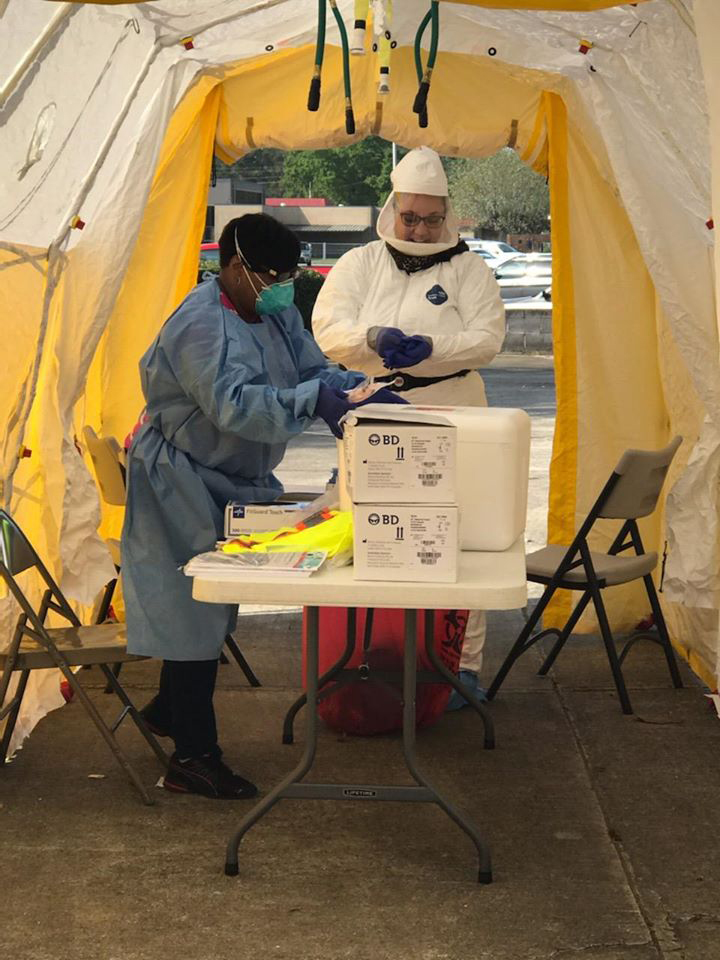 "There is a loneliness in the rooms of these COVID-positive patients like no other. No friends or family at the bedside. Even my own in-room interactions are limited to try and minimize my own potential as a walking vector. But some folks get better. And with much deliberation, discussion and diligence by provider and family alike, there are instances that we can get these patients home safely."
That description of life in a coronavirus hot spot comes from alumnus Jonny Salud (M.D. '15), a hospitalist at the University of Washington Medical Center. Like medical professionals throughout the world, Salud and other College of Medicine alumni are confronting a landscape reshaped by a historic pandemic.
A number of alumni have reached out to current students regarding their experiences. In addition, we reached out to our alumni in COVID-19 hot spots for a brief glimpse of how their lives have changed. Their words alternately reflect adrenaline, pride, fear and exhaustion.
"I am currently attending on our relatively new COVID-19 hospitalist service, dedicated to patients admitted to our hospital with confirmed coronavirus," Salud explained. "The day-to-day has evolved over the course of the past month or so from near-daily video teleconference meetings among our group preparing for the influx of coronavirus, to now having two dedicated teams for COVID-19(+) patients in addition to our business-as-usual general medicine teams. We fortunately have not run into any shortages of [personal protective equipment] thus far, whether in the ED or on the floor, though the anxiety of that inevitability still runs rampant.
"The clinical trajectory of these patients is unnervingly variable, though my colleagues and I remain on highest alert as stable patients approach day 8-12 of their symptoms, a window where respiratory failure can emerge. Aside from scrambling to stay current with evidence on treatments like hydroxychloroquine and remdesivir, much of our day is troubleshooting ways to communicate with our patients. Coming from FSU COM, where patient-centeredness carries a high premium, it is very difficult to care for patients like you usually would. With a rumbling HEPA filter and the layers of PPE, the 6 feet between me and my hearing-impaired geriatric patient can feel like miles. And I think that remains the toughest part for me.
"We are existing in uncharted territory that grows more complex in the most unpredictable ways. We're showing up, we're crying, we're laughing, we're thinking twice about going home to our families at night. This will be one of the toughest chapters of our profession. It will test our honor, grace and compassion. And despite the fear and anxiety I wrestle with every day, I can't be prouder to be a doctor and an FSU COM alumnus right now."
 Another alumnus, Myron Rolle (M.D. '17), was interviewed on "Fox and Friends." Well-known as a former FSU safety, Rhodes Scholar and NFL player, Rolle is now in the Neurological Surgery Residency Program at Harvard Medical School-Massachusetts General Hospital in Boston. These days, his neurosurgery floor has been transformed into a space for COVID-19 patients only.
"I would say to the public: Adhere to what the health-care professionals and the politicians are saying right now," he told his interviewer. "Have lifestyle/behavior modifications. Stay at home. Physical distance right now. Do your part. Play an active role. I know I mentor a lot of young student athletes at Florida State, and sometimes we feel sort of invincible when we're young, that nothing can hit us. But we have to understand there's a buy-in that needs to happen, a collective buy-in from everyone to flatten this curve, slow it down, give the epidemiologists, nurses, scientists, doctors, pharmacists, all of these people time to mitigate, find therapies, find vaccinations, find ways for us to get over this. Because we will."
In Washington, D.C., Ashley Lucke (M.D. '11) – a fetal neurology fellow at Children's National Medical Center in Washington, D.C. – was feeling less upbeat when she posted a recent Facebook reply for everyone who'd been asking how things were going.
"It's not that I don't appreciate your question," she wrote. "It's just getting harder to answer. My colleagues are having to intubate the people they used to eat lunch with, doctors and nurses are carrying a lot of emotional burden watching patients die alone in isolation or having nightmares about infecting their own families. It's crazy times, and coming onto [Facebook] at night might be making it worse for me, to be honest…. I need to conserve whatever mental strength I have left for the next few months of fighting COVID … so I'm going to take a [Facebook] break for a while."
Here are accounts from other College of Medicine alumni on the front lines.
MOVING QUICKLY TO SOLVE PROBLEMS:

"I recently co-authored a

paper

published in the Journal of the National Comprehensive Cancer Network on our center's approach to cancer care during the COVID-19 pandemic," wrote Brittany McCreery (M.D. '13, MBA), director of medical staff practice at Seattle Cancer Care Alliance. "Our article features the fundamentals of setting up an incident command, which is broadly applicable to all hospitals and health systems, and how that structure facilitates rapid decision-making regarding care delivery in a crisis. If there is a silver lining to this time in health care, it is that we have seen interdisciplinary groups quickly spring into action and execute plans efficiently and effectively, supported by our incident command organizational structure. In four weeks we have tackled projects that would ordinarily take months, if not years, to complete. We rapidly set up patient and staff testing facilities including drive-up stations, took our telehealth program from its infancy to a full-scale enterprise-wide implementation, expanded our infusion center's hours of operation, and established a new acute clinical evaluation service to keep our patients out of the emergency department. The vast majority of this work was done without the need for relaxation of a single regulatory requirement or an emergency waiver."

 
'ACCEPT THE CHALLENGE': "While New York City is certainly no stranger to citywide tragedy, over the past two months the health care infrastructure here has been pushed to its limits, and now is in a state of emergency," wrote Shawn Shah (M.D. '13), an advanced endoscopy fellow and instructor in medicine at New York-Presbyterian Hospital and Weill Cornell Medical Center. "Among other challenges, testing remains in short supply, personal protective equipment and ventilators are being rationed, and health care staff and support are gravely needed. For those graduating from medical school: We were not prepared, and certainly do not expect anyone to be as they enter the workforce; nevertheless, accept the challenge, and use the oath that you have taken as a guiding light to always advocate and care for patients."

 
THANKS TO FSU: "We have been hit pretty hard with COVID, and my residency has filled in and helped on the front lines from the beginning," wrote Travisha Vaughns (M.D. '18), at Phoebe Putney Memorial Hospital in Albany, Georgia – where an influx of visitors for a funeral apparently ignited the town's surge of cases. "I have not only worked our drive-thru to swab all potential COVID-positive patients in Southwest Georgia, but have also helped start our telemedicine clinics across town. I have helped firsthand make sure that our patients are cared for and that our clinics can continue to care for their patients despite the pandemic. I thank FSU COM for training me so well."

 
CALL IT COURAGE: Mayuri Joshi (M.D. '17), a chief resident for internal medicine at Orlando Health, passed along reassuring words from one of her attending physicians: "Courage is not the absence of fear, but rather the assessment that something else is more important than fear." She went on to say: "There is no doubt that we are afraid, but I'm proud to say that the residents here are all courageous. Of note, I currently have three residents – FSU COM alumni Bryno Gay (M.D. '19), Megan Opferman (M.D. '19) and Chase West (M.D. '18) – who, along with me, are in the forefront and seeing COVID-positive patients along with those who are currently being ruled out. I do know that despite the fear we have prior to entering a patient's room, we do our best to maintain the roots provided during our training. It is truly an honor to be called Doctors and FSU COM alumni. For those entering the field of medicine, the journey ahead is challenging but also rewarding because you can make a difference. You, too, will be courageous!"

 
IT'S STRESSFUL IN OB, TOO: "

T

hose in OB-GYN are more likely placed on the frontlines of birth, rather than death," wrote

Princess Urbina

(M.D. '17), in the Obstetrics and Gynecology Residency Program at George Washington University School of Medicine and Health Services in Washington, D.C. "

Regardless, we too have had to seriously reconsider the details of our daily tasks. Should nurses and providers be donning face shields and masks while they coach patients during pushing? During emergencies, when minutes and even seconds are crucial, should the manner in which we perform stat cesareans be altered? My advice to graduating students would be to always remember the importance of self-care. Residency is physically stressful. We are pushed to the limits of our sleep/wake cycles and are unintentional experts at intermittent fasting. But taking even more of a toll are the extremes of emotion that we can experience. What other profession entails the joy of delivering a baby and the devastation of diagnosing terminal cancer in the same day? This is why resident wellness, true wellness, is so important. You are not expendable."


 
Naturally, our upcoming graduates are tracking COVID-19 carefully. In interviews on Match Day, some of them shared their thoughts:
"[My class has] a wonderful ability to adapt and to be able to creatively think of ways to make situations better. I think there's excitement and there is some nervousness there because you don't know what exactly this pandemic will do. We anticipate that it'll be a lot more work as we see more cases, potentially. But it's almost exciting because this allows us to kind of get on the front line." (Stephanie Williams, who matched with the FSU/Sarasota Memorial internal medicine residency program)


 

"Emergency medicine is all about uncharted waters. It's about dealing with the unknown. Of course, there are reasons to be concerned, but this is kind of what my job is for!" (Michael Tandlich, who matched in emergency medicine at McGaw/Northwestern in Chicago)


 

"I actually had a master's in public health prior to coming to medical school, and what concerns me the most is our response to the pandemic. Are we really ready to adequately support the health care professionals on the front lines, putting their life on the line for the community?" (Eric Walker, who matched in family medicine at University of Miami/Jackson Memorial)


 

"Everybody I know is trying to be careful and follow the CDC guidelines. It makes me nervous mostly because this is something that we've never faced before, so there are a lot of unknowns: How long will this go on? How bad will it get? But I feel confident that everybody's doing the best that they can." (Olivia Donnelly, who matched in OB-GYN at UF Health/Ascension Sacred Heart in Pensacola)


 

"I hope we get a formal, thorough training – not only so we don't contract it, but so we don't inadvertently spread it to our patients. A lot of residents may be asymptomatic but can pass it along." (Derek Schwabe-Warf, who matched in internal medicine at Rutgers Robert Wood Johnson in New Jersey)


 

"[Faculty member Daniel Van Durme] put it in more perspective when he told us this is not going to just go away in a couple of months; this is something you should look at as the new measles, the new mumps; and it's going to be lingering on until there is a real handle on the situation." (Reema Tawfiq, who matched in internal medicine at Mayo Clinic in Rochester, Minnesota)