Match Day 2022 marked by cheers, tears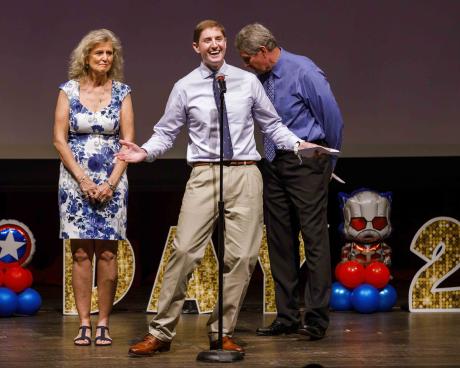 ×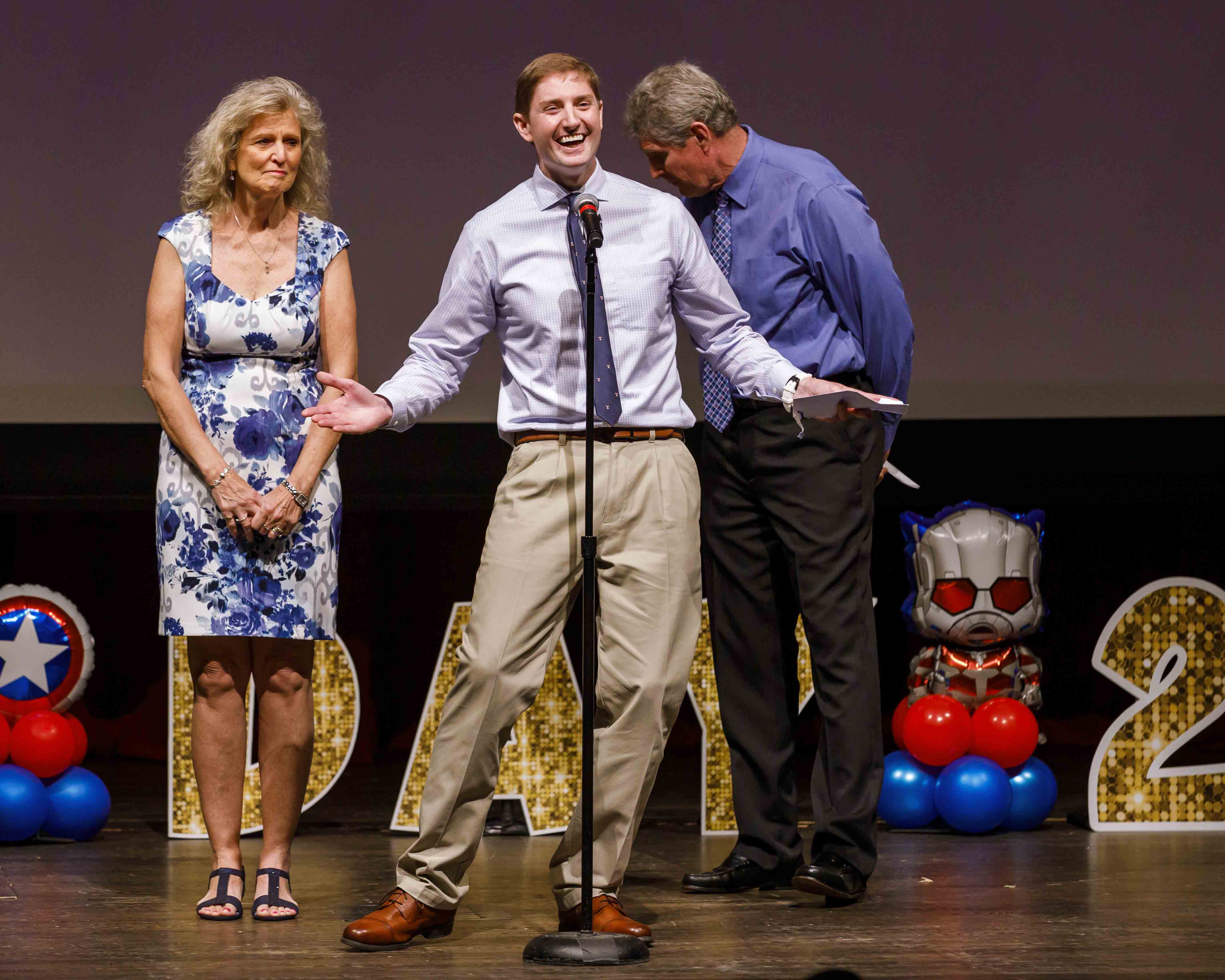 One by one, fourth-year medical students – many accompanied by family – walked to the microphone on the stage of Ruby Diamond Concert Hall on Friday afternoon and shared where they will be headed after graduation to continue their training as medical residents.
Match Day is arguably one of the most important days in a med student's academic career. For Cody Canavan, Match Day 2022 was especially significant.
"Five years ago, I was diagnosed with leukemia. I didn't know if I was ever going to get to walk across the stage," he told the audience of several hundred people. Then he shouted – "But we did it!" – to roaring applause and a standing ovation.
He asked his father, who was his bone marrow transplant donor, to do the honors: Joseph Canavan announced his son was matched in internal medicine at Atrium Health Carolinas Medical Center in Charlotte, N.C.
"OK, now you've got me crying," College of Medicine Dean John P. Fogarty said as the Canavan entourage returned to their seats. October will mark five years that Cody has been cancer-free, at which time he can say he's cured.
Canavan was originally a member of the M.D. Class of 2019. Early in his third year, just after completing his first clinical rotation at the Orlando Regional Campus, he was diagnosed with acute lymphoblastic leukemia, a cancer of the blood and bone marrow that affects white blood cells. While the bone marrow transplant was successful, Canavan remained immuno-compromised until 2020; he then picked up where he left off as part of the M.D. Class of 2022. After his residency in internal medicine, Canavan plans to seek a fellowship in hematology and oncology; he wants to specialize in bone marrow transplants.
On Match Day, students at 155 medical schools across the country learned of their residency matches at the same time. Some FSU students chose to open their envelopes the moment Fogarty told them they could; others opted to wait and open them on the stage, as he had described: "In front of God and everybody." It was the first live Match Day ceremony at FSU since 2019; the past two years were virtual events because of the COVID-19 pandemic.
"These students showed tremendous resilience to complete their clinical education during the time of a worldwide pandemic and are being rewarded by matching with top residency programs across the country," Fogarty said.
"We are very proud of how our students matched. We know they are well prepared to enter their residency programs during this unique and challenging time."
Class President Stenia Accilien, who spent her final two years at the Fort Pierce Regional Campus, opened her envelope on stage.
"OK, I think I will be a neurosurgeon," she chuckled as she announced her match with the University of Arkansas College of Medicine in Little Rock. She is the first female FSU medical student to match in neurosurgery out of 18 graduating classes and 1,720 graduates (including the 119 from the Class of '22 who will graduate in May).
Dr. Alfred Gitu, director of the College of Medicine's family medicine residency program at Lee Health in Fort Myers, announced daughter Shalom Chege's match in Kikuyu for friends and family back in Kenya. He also quoted a proverb that he said loosely translated means "the goodness or health of a plant depends on the kind of soil it grew in," and he added that Shalom wanted to honor those who came before her, particularly her two grandmothers. He then announced in English that she had matched in family medicine at Bon Secours St. Francis Medical Center in Midlothian, Va.
Others paid tribute to their parents, including Bobby Se, who matched in internal medicine at Inova Fairfax Hospital in Fairfax, Va., where he will be "reuniting with my dad." Abigail Thomas, who matched in internal medicine at Wake Forest Baptist Medical Center, said she's "following in my father's footsteps."
Nicholas Torgesen, who matched in emergency medicine, let his young daughter, Lily, announce the location: "Disney World!" she said, with glee. It's actually Orlando Health, but Lily had her own thoughts on that.
Jake Teich, from the Daytona Beach Regional Campus, opened his envelope on stage next to his father. Dad was so excited to learn he had matched in psychiatry at Florida Atlantic University's Schmidt College of Medicine, not far from his hometown of Coral Springs, that he jumped into his son's arms and they both ended up on the floor. They both appeared unscathed from the tumble.
Each year, Match Day has a theme and this year's was The Avengers, with Fogarty and various faculty and staff members portraying the crimefighters. Produced by the College of Medicine's media production team, it was shown in segments between match announcements by each regional campus.
In her remarks as class president near the end of the program, Accilien spoke in her native Creole, translating it into English as, "You reap what you sow."
"I have no doubt we will be unique, impressive and admirable residents," she said.
Contact Audrey Post at audrey.post@med.fsu.edu
College of Medicine Match results