Internal Medicine Residency Program receives initial accreditation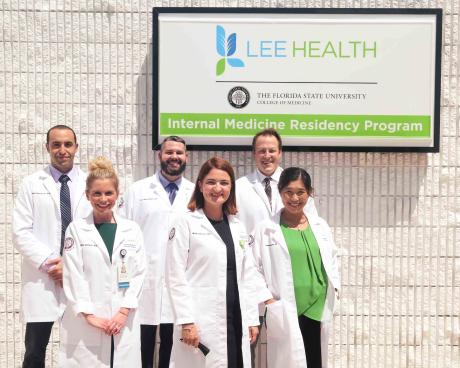 ×
CAPE CORAL, Fla. — The Florida State University College of Medicine Internal Medicine Residency Program at Cape Coral Hospital/Lee Health has received initial accreditation and approval to begin recruiting its first class of residents, who are expected to begin training on July 1, 2022.
 
"Our mission is to graduate capable and efficient internists who are life-long learners, committed to serving others with excellence and compassion along with promoting a healthier future for the community," said founding Program Director Dr. Maja Delibasic. "I'm pretty excited because the feedback has been beyond positive."
 
The Accreditation Council for Graduate Medical Education (ACGME), the sanctioning body of graduate medical education in the U.S. and Canada, made the announcement at its September meeting. The program, which takes three years to complete, is approved to accept 12 residents a year for a total of 36 at full capacity.
 
"The internal medicine program aligns well with the mission of the Florida State University College of Medicine and will help to address physician workforce needs in southwest Florida and throughout the state," said Dr. Joan Younger Meek, the medical school's associate dean for graduate medical education. "Dr. Delibasic's enthusiasm and engagement with the local medical community has been impressive." 
 
FSU College of Medicine is also the academic sponsor of a family medicine residency program at Lee Memorial Hospital in Fort Myers. That program accepted its first residents in 2014.
 
"We are pleased with the track record of success in our current residency program, and are pleased to once again work with Florida State University College of Medicine as we bring a second Graduate Medical Education program to our community," said Dr. Venkat Prasad, chief medical officer, population health and physician services at Lee Health. "The residents of Cape Coral and the surrounding community will be well-served by housing an internal medicine residency program at Cape Coral Hospital. As evidenced by our current family medicine program at Lee Memorial Hospital, physicians who train here, stay here. We are eager to bring additional physicians into our community, which is much needed in a time of physician shortages."
 
Delibasic, who joined the residency program in July, is board-certified in internal medicine and obesity medicine. She previously served as associate director of the internal medicine residency program at Mercy Hospital and Medical Center in Chicago.
 
She and residency program faculty will begin conducting virtual interviews in mid-October. The program received nearly 1,000 applications in its first 24 hours. If pandemic conditions sufficiently improve, the top 25 to 30 candidates will be invited to Cape Coral in late January or early February.
 
The program, based at Cape Coral Hospital and with opportunities for residents to also train and see patients at the nearby Internal Medicine Residency Ambulatory Clinic, will learn who its first class is on Match Day — March 18, 2022. That's the day when the National Resident Matching Program notifies graduating medical students across the U.S. and Canada which residency program they have been accepted into.