Grad Spotlight: Richard Wu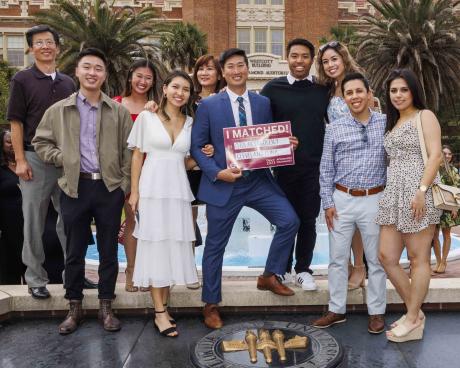 ×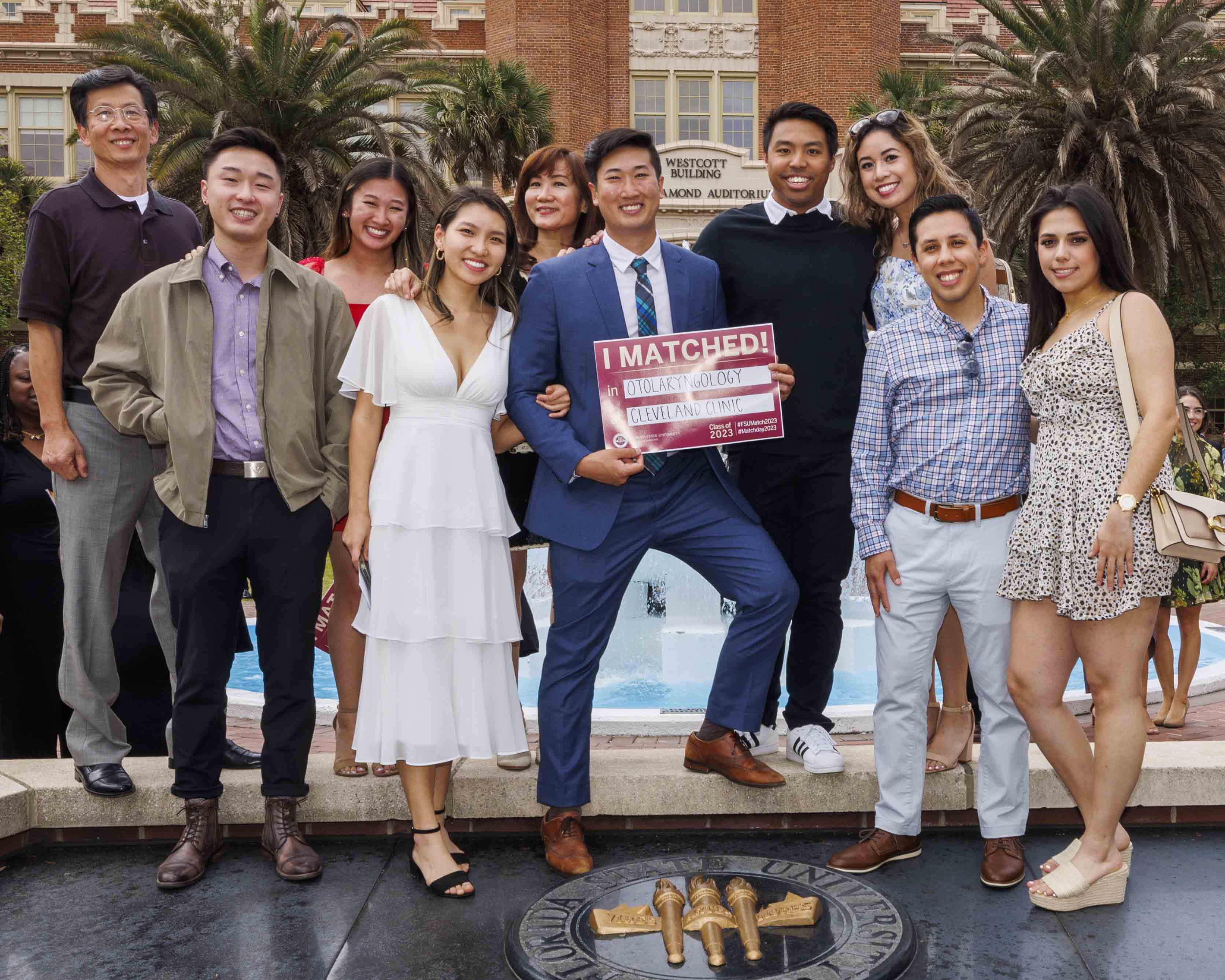 Name: Richard Wu
Hometown: Jacksonville, Fla.
Undergraduate School: Florida State University
Major: Biology
Graduate School: Harvard University's T.H. Chan School of Public Health
Graduate Degree: Master of Public Health
Residency Match: Otolaryngology at the Cleveland Clinic Foundation, Cleveland, Ohio
2023 Grad Questionnaire
What and/or who inspired you to go to medical school, and how?
Growing up, I spent most of my childhood helping at my family's restaurant in a low socioeconomic-status neighborhood in Jacksonville. Believe it or not, it was there that I found many interesting parallels between cooking and being a surgeon. Whether it was perfecting the craft daily or delivering a quality product to someone I was serving, I loved these aspects of the job. The community was also our family's saving grace at times. My parents didn't speak much English, so it was our regulars who helped us get the business going and with settling a lot of our financial issues. Although many of them had extremely kind hearts, they often suffered from many chronic health ailments secondary to health disparities and lack of access to consistent health care. I knew one day I wanted to be in a position where I could give back to these individuals and play a role in combating those health disparities. As physicians, we have a responsibility to give a voice to those who fall victim to the shortcomings of our health-care system.
What did you learn about yourself during your time in medical school that surprised you?
The biggest surprise was my change of heart toward making macro-level changes in health care. Coming into medical school, I had a relatively jaded view of how individual physicians can shape the health-care system as we know it. The brutal uphill battle just to implement small changes felt extremely daunting. I was much more invested in making one-on-one connections with patients and being content with knowing I had a profound impact on the community surrounding my practice. However, by acknowledging my shortcomings in knowledge of health policy and public health and by choosing to take some time off to pursue a Master of Public Health degree, I quickly realized the leverage physicians do have to make the changes I have always believed necessary. Not only do I feel like physicians have the potential for facilitating change, but they also have a responsibility to do so. While I still have every intention of making those one-on-one connections with patients in my community, I am driven to play a leading role in combating our out-of-proportion health-care spending, increasing value in our care and making policy changes in reimbursement models. It truly excites me to one day provide excellent patient care to those in my immediate proximity and through policy endeavors, improve the lives of those I may never have the pleasure of meeting.
What course/professor had the greatest impact on your medical education?
Dr. Eric Laywell's anatomy course during the summer of our first year. As newly minted medical students, we were immediately thrown into 10 weeks of rigorous anatomy lectures and cadaver dissections with some embryology sprinkled in. Our "first patients" were those who willingly donated their bodies for the sake of our education, and I remember thinking how much of a privilege it was to be where I was. My favorite dissections were in the head and neck region. I had no idea this was planting a seed in my mind to pursue a career in otolaryngology. Some of us stayed down in the cadaver lab way past dark and were stained with the smell of formaldehyde, but it was an amazing experience. Many of us bonded through frustration, excitement, or both. Either way, having to finish anatomy before receiving our white coats just made the ceremony that much sweeter. Not only did I finish that block with experiences I will never forget, but also with friendships that will last a lifetime.
What did you learn from having gone through medical school during the COVID-19 pandemic? How did it change you?
The COVID-19 pandemic showed how quickly society can both come together to collaborate on a solution and how fragile it really is. Even as an individual studying medicine, having learned about the family of viruses COVID falls under and how peer-reviewed research is done, I found it difficult at times to decipher what information was factual and what was fabricated. It was also difficult to put aside my biases and see things from the perspective of those I didn't necessarily agree with, family and friends included. I learned so much about how my own implicit biases affected the way I formed impressions of others in day-to-day interactions, as well as in the clinical setting. Initially, I couldn't help being frustrated at patients who did not seem to be making the best decisions for themselves or their families. However, the pandemic taught me just how important it is to shed your own assumptions and understand other points of view. As the pandemic took its course, I found myself having honest conversations with patients, family, and friends about their viewpoints, which ended up teaching me quite a bit. Thankfully, we are now back in a period where we don't have to interact through masks or stay six feet apart. However, if something similar were to occur again, I have learned that my role as a resident or a physician will be to bring people together, despite conflicting stances, while maintaining an open mind.
Given the rigors and stressors of medical education, what diversion did you lean on to get you through?
My coping mechanism is usually to attempt to find a silver lining when times get tough. In medical school, there are countless times when it feels like the material you're told to learn, the hours of sleep you're losing, or the evening plans you end up having to cancel, ultimately will have no long-term benefit. However, when you realize there will be a human life benefitting at some point down the road, that pill gets much easier to swallow. Taking every learning opportunity as a chance to improve in some capacity made medical school very rewarding for me, regardless of whether it was pertinent to my long-term goals.
Obviously, keeping up with hobbies and passions outside of medicine can be difficult in medical school, but it should never be overlooked. Tennis and cooking for others are among my favorite pastimes, so I would make it a goal to set aside at least a few hours every week for these. It is always possible to make time for activities unrelated to medicine. If needed, I would simply give myself a mental health day and put away the textbooks and flashcards until tomorrow.
A Second Opinion
Provided by Nicole Bentze, D.O., dean of the Sarasota Regional Campus
Richard embodies the FSU College of Medicine mission with his professionalism, leadership, and commitment to community. He is truly a role model student and humanitarian. His extensive service and leadership activities during his medical school career are reflected in numerous well-deserved accolades and awards. In 2019, Richard received the Florida State University Academic Leadership Award in recognition of his contributions while serving on the Council on Diversity and Inclusion. In recognition of his stellar academic and clinical performance, he was inducted into both the Gold Humanism Honor Society (2020) and the Alpha Omega Alpha Medical Honor Society (2021).
Richard took a one-year educational leave of absence between his M3 and M4 year to pursue a Master of Public Health degree from the Harvard University T.H. Chan School of Public Health. While there, he served as co-president of the Harvard Chan Student Surgery Society, where he organized club and guest speaker events highlighting the intersection of surgery and public health. He later completed a one-year research fellowship in the Department of Otolaryngology at Thomas Jefferson University in Philadelphia. There, he was able to integrate his expertise to address care disparities in otolaryngology.
Richard excelled during his clinical years at the Sarasota Regional Campus. His engaging personality and collaborative style made him a favorite among faculty, clerkship directors, staff, and fellow students. As the regional dean, I am not only proud of all his success and accomplishments, but also privileged to witness the exemplary physician he has become. I am confident he will excel during his residency in Otolaryngology-Head & Neck Surgery at the Cleveland Clinic in Cleveland, Ohio. As summarized by Dr. Fawn Harrison, Sarasota campus Pediatric Clerkship Director, "Richard is a phenomenal student. He is passionate, extremely bright, and showed patient-centered skills that are rarely seen at this level. Richard is quite talented and will excel even in the most rigorous field of medicine."
Read Richard Wu's student profile
Photo caption: Surrounded by family and friends, Richard Wu celebrates his match in otolaryngology at the Cleveland Clinic with a group photo at the Westcott fountain. (Photo by Bill Lax for the FSU College of Medicine.)