Grad Spotlight: Lauren R. Smiarowski
×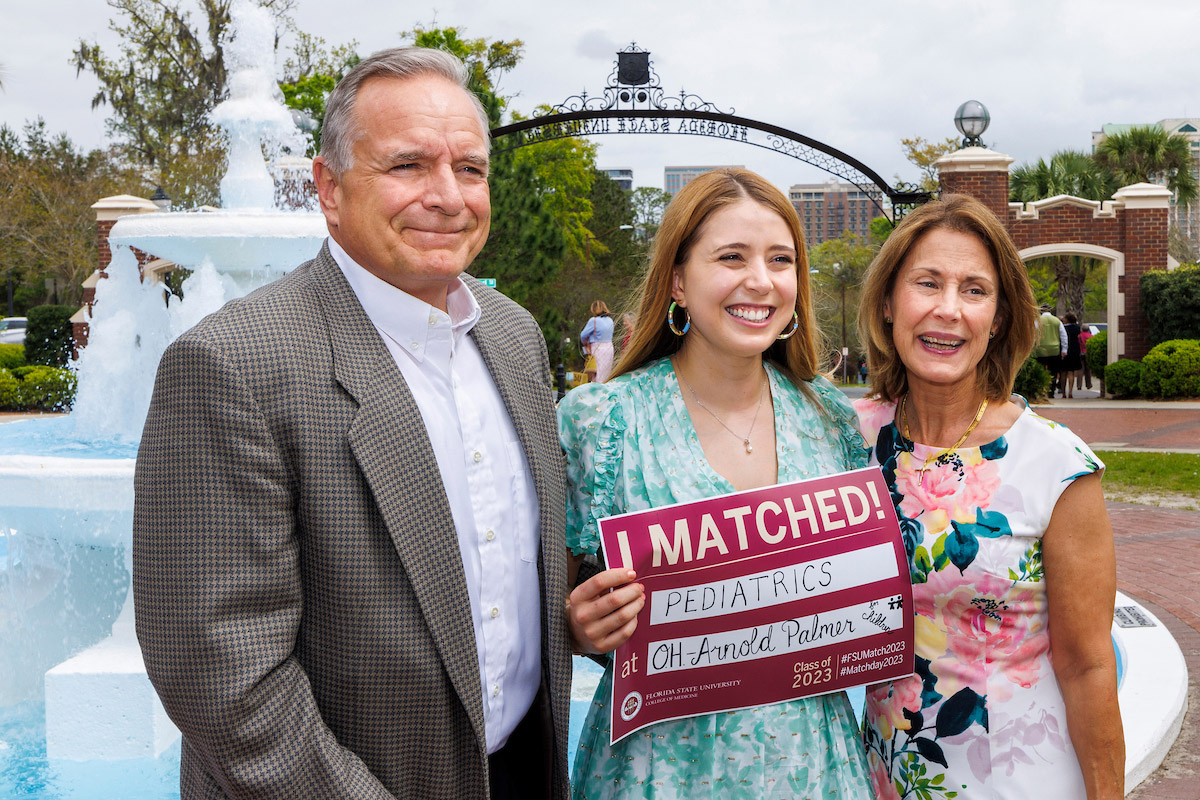 Name: Lauren R. Smiarowski
Hometown: Oviedo, Fla.
Undergraduate School: Florida Atlanta University
Major: Honors Liberal Arts
Graduate School: Rollins College
Degree: Master of Public Health
Residency Match: Pediatrics, Orlando Health Arnold Palmer Hospital for Children, Orlando, Fla.
2023 Grad Questionnaire
What and/or who inspired you to go to medical school, and how?
I would never say going to medical school was expected of me, but as I reflect on my journey to medicine, I come from a long line of physicians. My grandfather was a rural family physician in western New York and, before him, my great-grandfather was also a physician. We recently found my great-grandfathers medical school diploma, which was dated from 1923! We graduated from medical school exactly 100 years apart! I'm so lucky to get to carry on this great profession and join the guild of doctors taking care of patients.
What did you learn about yourself during your time in medical school that surprised you?
One thing that surprised me through medical school about myself was my resiliency. Medical school will throw challenge after challenge at you, whether it be academically, personally, or societally (looking at you, COVID). I had many times throughout the past four years where I felt like "there's no way I can do this" and despite that, I found a way to make it through whatever hurdle was in my way.
What course/professor had the greatest impact on your medical education?
One thing a lot of people don't know about the FSU College of Medicine is the longitudinal curriculum during your third year, where you see patients in a primary care practice every other week. The setting is any sort of primary care, from pediatrics to geriatrics and everything in between. This allows us to make deep connections with not just patients but also with our preceptors. My preceptor, Dr. Jennifer Thielhelm, and her staff were amazing in welcoming me and making me part of their practice. She taught me so much, not only about being an amazing pediatrician but also about being a woman physician and balancing a family in medicine.
What did you learn from having gone through medical school during the COVID-19 pandemic? How did it change you?
Training during a pandemic definitely made our medical school experience unique. We went our separate ways for spring break during our first year and essentially never returned to campus afterward. As a "coffee shop studier" and a very social person, having to spend day-in and day-out studying at home was very difficult for me. We all found a groove in the "new normal" eventually, but not without some trial and error. With the worst of COVID far behind us, it's made me appreciate being able to go out and be with others.
Given the rigors and stressors of medical education, what diversion did you lean on to get you through.
First off, I don't know if anyone in our class could have gotten through the rigors of medical school without our wonderful counseling office at FSU! I also can be found most days of the week staying active in some way whether it be running on my Peloton at home or in a fitness class. Additionally, without the support of my friends and family, I would not be walking across the stage graduation day.
A Second Opinion
Provided by Mark Chaet, M.D., dean of the Orlando Regional Campus
Lauren Smiarowski has been the embodiment of the ideal FSU College of Medicine student, which helped her earn the Orlando Regional Campus Dean's Award. I truly feel that her actions speak directly to our mission! Beyond that, Lauren was a star on every rotation and a kind leader for her student cohort. Most importantly, Lauren is a person that I am proud to say will be a fantastic physician for our community. I am happy to say that her residency program is just down the street from our campus, so we all expect to see her often!
Read Lauren Smiarowski's student profile
Photo caption: Lauren Smiarowski poses for a Match Day photo with her parents, Mike and Ann Smiarowski, on March 17, 2023. (Photo by Colin Hackley for the FSU College of Medicine)