Ph.D. student draws on clinical experience in Africa to improve disease diagnostics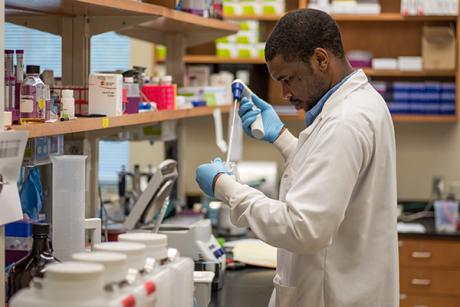 ×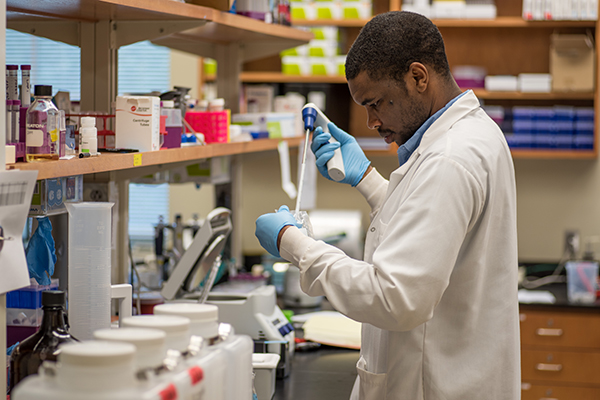 April 2020
In addition to the fourth-year med students who matched into residency programs in late March was a Ph.D. student who got his M.D. nine years ago in Africa.

Dingani Nkosi grew up in the shadow of Africa's AIDS epidemic. He took a chance on FSU to work toward his goal of developing tests and early screening tools so diseases don't reach the advanced stages he often saw as a resident physician in his home country of Malawi in southern Africa. 

"I grew up saying I wanted to be a doctor because by the time I was in grade 7or 8 is when the HIV/AIDS epidemic was devastating," he said. "At that time, there wasn't much treatment around and you would see friends' parents and family members succumb to the disease. I lost a few relatives."

Soon, he'll be heading to the University of Rochester Medical Center in New York where he matched into a pathology residency program and will continue to work toward improving disease diagnosis.

"I'm trying to combine my clinical experience and my research experience. So now I want to be more like a physician-scientist, trying to diagnose different diseases and doing research to see if we can detect them earlier," said Nkosi, who has conducted virology research in the lab of David Meckes at FSU since late 2013.

Throughout his childhood and his M.D. training, Nkosi witnessed the strain the AIDS epidemic put on the health system in Malawi – and the limitations of clinical care.

"The health system there is a bit different from here. Patient-to-doctor ratio is very high because there are so few doctors and more people trying to seek help. The other part is the socioeconomic impact of things," he said. "For [patients] to come to a bigger hospital means they have to travel from whatever village they are in, and by the time you're seeing them … their diseases are getting worse."

After attending medical school at the University of Malawi, Nkosi was a resident at Queen Elizabeth Central Hospital's oncology unit in Blantyre, Malawi. It was there that his interest in conducting molecular research grew.

"When I was seeing cancer patients, most of them had advanced diseases and immunodeficiency due to HIV," he said. "So, you're starting to ask yourself, 'What else can we do? What's behind this?'"

His path to FSU began through a connection with Claudius Mundoma from FSU's Institute of Molecular Biophysics. In coordination with EducationUSA Malawi, Mundoma was looking for scholars in Africa who would be interested in doing research or getting a Ph.D. 

"I told him my biomedical research interests and we started exploring all the possible avenues, but by the time I got my papers he said, 'You can come here and at least stay for a month at my place until you get your feet on the ground. Then you can find your own things to do,'" said Nkosi, who was awarded a Diversity Immigrant Visa in 2013 at age 26.

"I resigned from work – I told my supervisor, 'I'm going to go check this out' – emptied my house and came to the U.S.," he said. "I had never met this man. I had only connected with him through emails, and I was like, 'I hope you get me at the airport, or else I'll be stuck,' but he came through and picked me up and showed me a few things around."

After settling in and looking into opportunities at FSU, Nkosi found the Meckes lab. "He was looking at viruses and cancer and it was one of the areas I was interested in, so I asked him if I could join his lab just to volunteer. Then we sort of clicked, he took me in, and the rest is history," Nkosi said.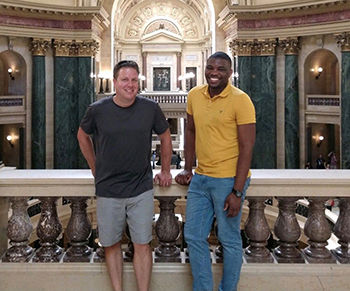 His research in the Meckes lab explores how cells communicate with each other in response to viruses or cancer. The signals coming from a healthy cell are part of what allows life to flourish. The signals being sent by infected cells are a possible source for the spread of cancer and other diseases.

"It's like decoding a message," Nkosi said. "For cells to communicate, they have to release messages from one cell to another through vesicles. When there's an infection and one cell is infected, it has to alert the other cells that it's infected and something might be coming."

By deciphering the messages, researchers can figure out what's happening in the cells in order to find biomarkers or targets for medications.

Since finding the Meckes lab and working toward his Ph.D., Nkosi is well on his way to fulfilling the goals he left Malawi with. He's quick to thank the professors and mentors who've helped him find his way.

"The greatest thing has been the mentorship – people there to guide me all the way through," he said. "David believed in me from the get-go, and he took a leap of faith on me. Over the years, I ask myself, 'If this person didn't do this, where would I have been?'"

In a letter of recommendation, Meckes wrote, "In my career, I have trained and mentored other junior scientists in the laboratory and Dr. Nkosi ranks near the top when it comes to dedication, dependability, and strong work ethic."

Though he'll be in Rochester, Nkosi hopes his work and research will have an impact on Malawi – and other countries worldwide.

"Growing up, one of the things I've had to sort of struggle with is sometimes when you're trained within a country, you're thinking within the limitation of, 'I'll help out my people. I'll help out people in this country,' but sometimes you have to get out of the country and think beyond that," he said. "Cancer is the same in each and every country. If you don't treat it, people die. If you don't diagnose it, people die.

"Not many people have access to these things, and there's a lot of suffering out there. Can we make these things freely available so that we help out the cancer diagnostics and make it sort of universal? That's the area I look to improve or have an impact in."