Cylena Stewart is college's 10th NHSC scholar
×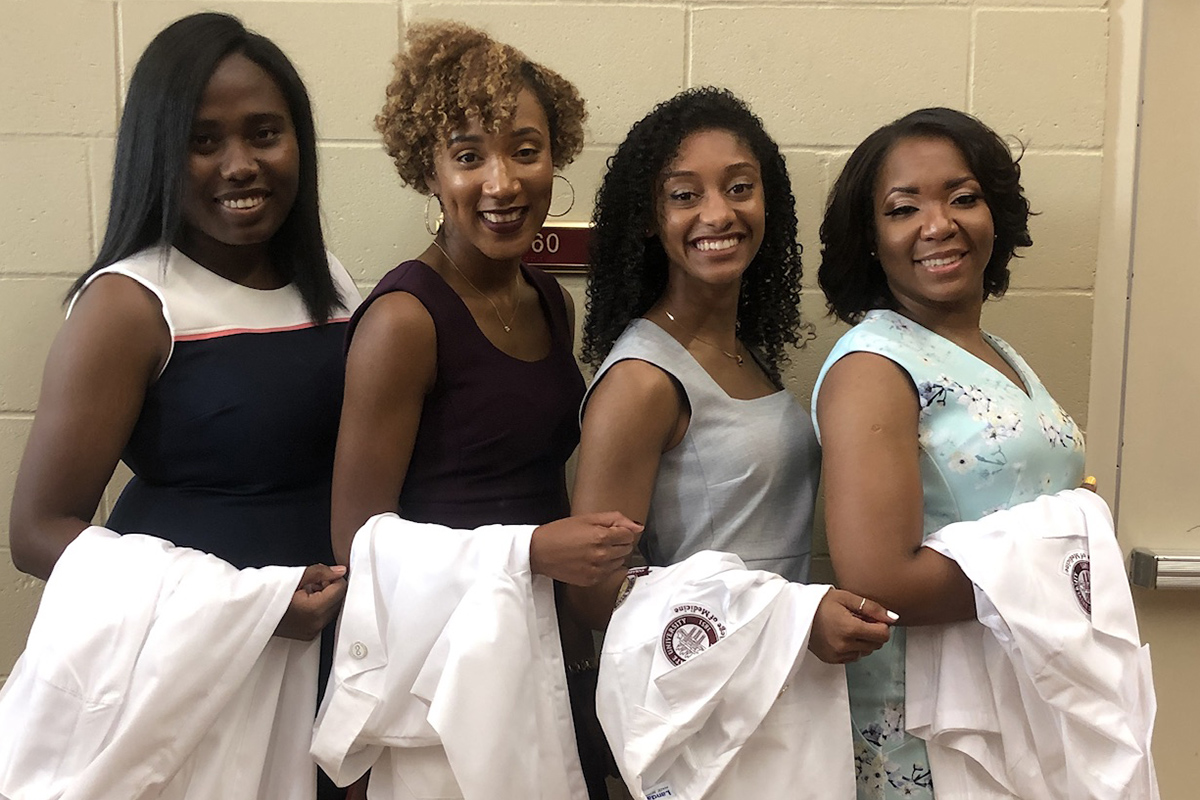 A first-year med student and single mom is the College of Medicine's latest National Health Service Corps scholar.
Cylena Stewart, who grew up in Miami, is the college's 10th NHSC honoree. She has promised to practice primary care for at least four years in a medically underserved community – rural, urban or inner-city. In return for that commitment, she gets a free ride through medical school.
"They will pay all my tuition and fees, and I'll get a monthly stipend," Stewart said. "They also pay other things like relocation fees, traveling fees for residency, board testing, supplies and textbooks if they're mandatory, and little odds and ends."
Roughly 10 percent of those who apply receive scholarships. Stewart happened upon the application by chance. Might as well try, she told herself.
"The worst they can tell you is 'No,'" she said. "I never in a million years thought that I was going to get an email telling me 'Yes.'"
Moving to a financially struggling community won't be a hardship for Stewart.
"Coming from an under-resourced family, school system and community, I know firsthand some of the issues that my patients and students face, like not being able to find a free clinic with appointments in the near future, or being told that 'students like you will never make it anywhere in life,'" she wrote in an application essay. "… My service to my community, and communities similar to it, goes beyond the four-year service requirement set by the National Health Service Corps. Instead, it is the reason I decided to practice medicine, and this lifestyle will last a lifetime."
Stewart impressed those who witnessed her work in Miami. This is an excerpt from a letter of recommendation, written by a reading teacher at a Title 1 middle school there: "As a product of a Title 1 school, Ms. Stewart chose to give back to under-resourced communities like her own. Over the years I have seen many educators, specialists, and interventionists come and go due to an inability to connect to students, but that was not the case for Cylena – connection came naturally."
These days, parenthood also seems to come naturally for Stewart. Her son, Kai, is 2, and the two of them have developed a routine.
"He goes to day care, so I normally drop him off about 8 o'clock," Stewart said. "Then I come to school, I study, I go to my classes, and then I try to pick him up around 5:30. Between 5:30 and 8 o'clock it's Kai time. We go to the park; if he wants, we watch a show; we eat dinner; he has a bath; we read a story; he goes to bed. Then I try to study until around 11 p.m. or midnight. Then I go to bed, wake up, make him breakfast, and then just do the whole thing again."
She wishes her family lived closer than Miami. But when she was accepted by FSU, with its mission to serve the underserved, she and Kai made the long drive to their new home.  
The National Health Service Corps is part of the Bureau of Health Workforce, within the U.S. Department of Health and Human Services. The bureau's goal is to improve the health of underserved and vulnerable populations by strengthening the health workforce and connecting skilled professionals to communities in need. NHSC scholars choose from a list of approved Health Professional Shortage Areas.
"There's actually a place in Miami a few miles from my house," Stewart said. "I would like to go back home, but I also wouldn't mind going to another, bigger city and working in the inner city.
"I'm from an inner city. I'm comfortable with the people. I'm not scared to walk down the streets in Miami. That's where I was born. I was raised there. I enjoy going back home. Plus, I know the need is there."
The NHSC defines primary care as family medicine, internal medicine, obstetrics-gynecology, pediatrics and psychiatry. Generally speaking, physicians who practice primary care make less money than those in other specialties. Students who finish with massive academic debt often feel they can't afford to practice primary care, even if that's where their heart lies. For Stewart, that's no longer a concern.
"If I'm graduating with little to no debt, then me getting a job just to pay off my debt isn't really an issue," she said. "This has opened the doors for me to do whatever I want to do."
These are the College of Medicine's previous NHSC scholars:
Class of 2010 – Tanya Anim, Brittany (Foulkes) Crenshaw.

Class of 2011 – Komal D'Souza.

Class of 2014 – Alyson (Lewis) Sanchious, Brett Thomas.

Class of 2017 – Paulin Gotrace.

Class of 2019 – Acton Pifer, Tiffany Smith-Sutton.

Class of 2020 – Eric Walker.
Photo above, from left: Cylena Stewart and classmates Tayeisha Nelson, Dominique Williams and Valerie Thimothee.