Milestones celebrated at White Coat, GHHS induction Ceremony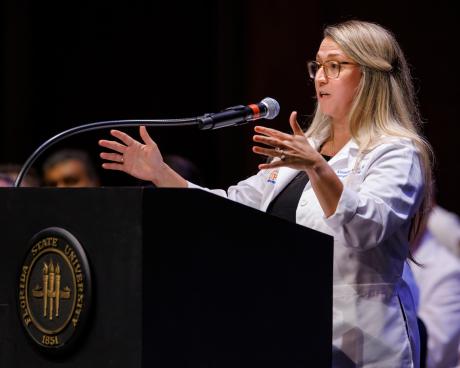 ×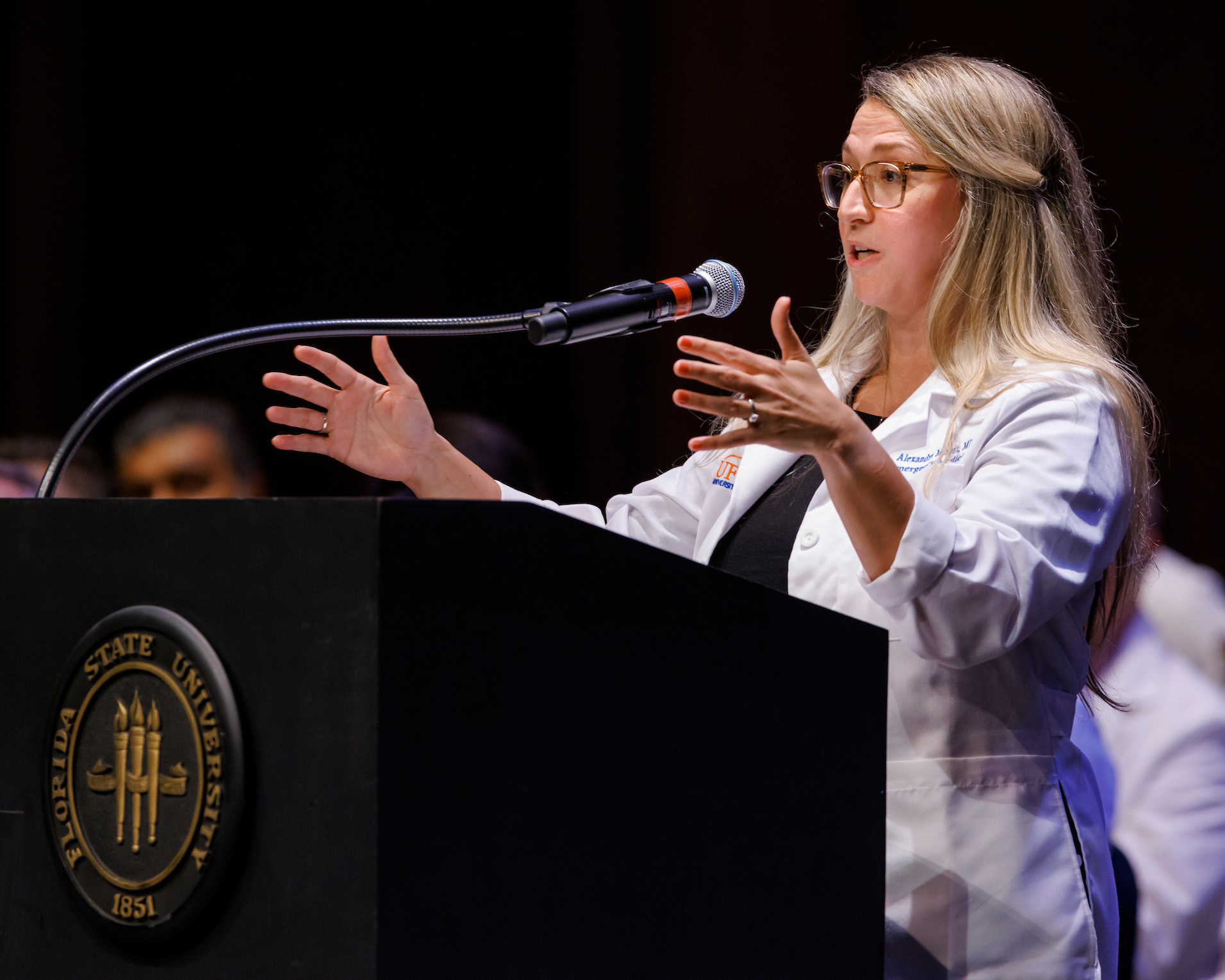 Florida State University College of Medicine students celebrated major milestones in their journey Friday at Ruby Diamond Concert Hall, as 119 members of the M.D. Class of 2027 shared their first Diamond moment at their White Coat Ceremony while family and friends cheered.
Earlier in the program, 11 members of the M.D. Class of 2024 were inducted into the FSU Chapman Chapter of the Gold Humanism Honor Society (GHHS).
As Interim Dean Alma Littles explained in her welcoming remarks, it was not a coincidence that the two are held together.
"We hold these inductees up to you, first-year medical students, as an example of what we hope you will strive for," she said. "…As you watch the Gold Humanism pinning ceremony, keep in mind that medicine is about more than just science and knowledge. At its best, medicine is defined by compassion and service to your fellow human beings."
Membership in GHHS is capped at 10-15% of a medical school graduating class, meaning inductees are the best of the best. They are nominated by faculty, staff and fellow students and selected by committee.
---
The absence of the late Daniel Van Durme, M.D., MPH loomed large at White Coat, GHHS induction ceremony.
---
Keynote speaker Alexandra "Lexie" Mannix (M.D. Class of 2014 and a GHHS member), assistant professor of emergency medicine and assistant director of residency and clerkship at UF Health-Jacksonville, told the first-year students to take time to celebrate the milestone of earning a white coat.
"FSU College of Medicine will foster your dreams the way it has supported mine," she said. "And through your hard work and dedication, you will one day do something wonderful that you never thought you could do."
She shared four "invaluable lessons" she has learned in her career:
* Find yourself in medicine. Embark on a "profound exploration of yourself, your values, your purpose… Remember that finding yourself in medicine is not a destination. It is a lifelong journey. It is an ever-evolving process of self-discovery, personal growth, and professional development."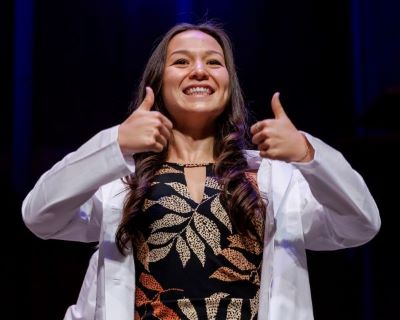 * Use your privilege. Slipping into the white coat "confers upon you a unique power. The world will now perceive you differently. Your voice and opinions will carry greater weight, shaping the lives of those you encounter… As medical students and soon-to-be doctors, you have the power to advocate for change, to challenge biases and inequities, and to work towards creating a more just and inclusive health-care system."
* Just care. Care for your patients, your classmates, your colleagues, and practice self-care. "Care so much that you let empathy be your guiding light as you navigate through the complexities of a career in medicine."
* Be like Brad. Bradford Maguire Jr., a collegiate quarterback and a member of FSU's M.D. Class of 2018, was two days from completing his residency in emergency medicine when he died in a car accident. The stories shared at his memorial service demonstrated how he touched the lives of everyone he met, "making them feel special, important, valued, seen, and loved. He brought out the best in everyone through his genuine care and devotion."
"I know he would want me to tell you this on this important day," Mannix said. "Brad took almost a year off from residency, to focus on bettering himself for his son, Cal. He knew the importance of self-care and prioritized his well-being above all else. His legacy serves as a powerful reminder that even those of us who seem the strongest and brightest still need support… Strive to be like Brad – caring, compassionate and unwavering in your pursuit of excellence."
Once the future doctors had been "coated," Littles returned to the podium and said, "Suddenly, you look so doctorly!"
Jack Kramer, president of the Medical Student Council, then led the Class of 2027 in the Student Oath.
After recognizing the second-year medical students who served as tutors for the Class of 2027 this summer, as well as the standardized patients who helped them learn how to interview and interact with patients, Littles had some encouraging words for the sea of brand new white coats.
"One semester down, only 10 semesters to go," she said. "We'll see you in 10 days."
What follows is a series of vignettes from the White Coat and GHHS Ceremony: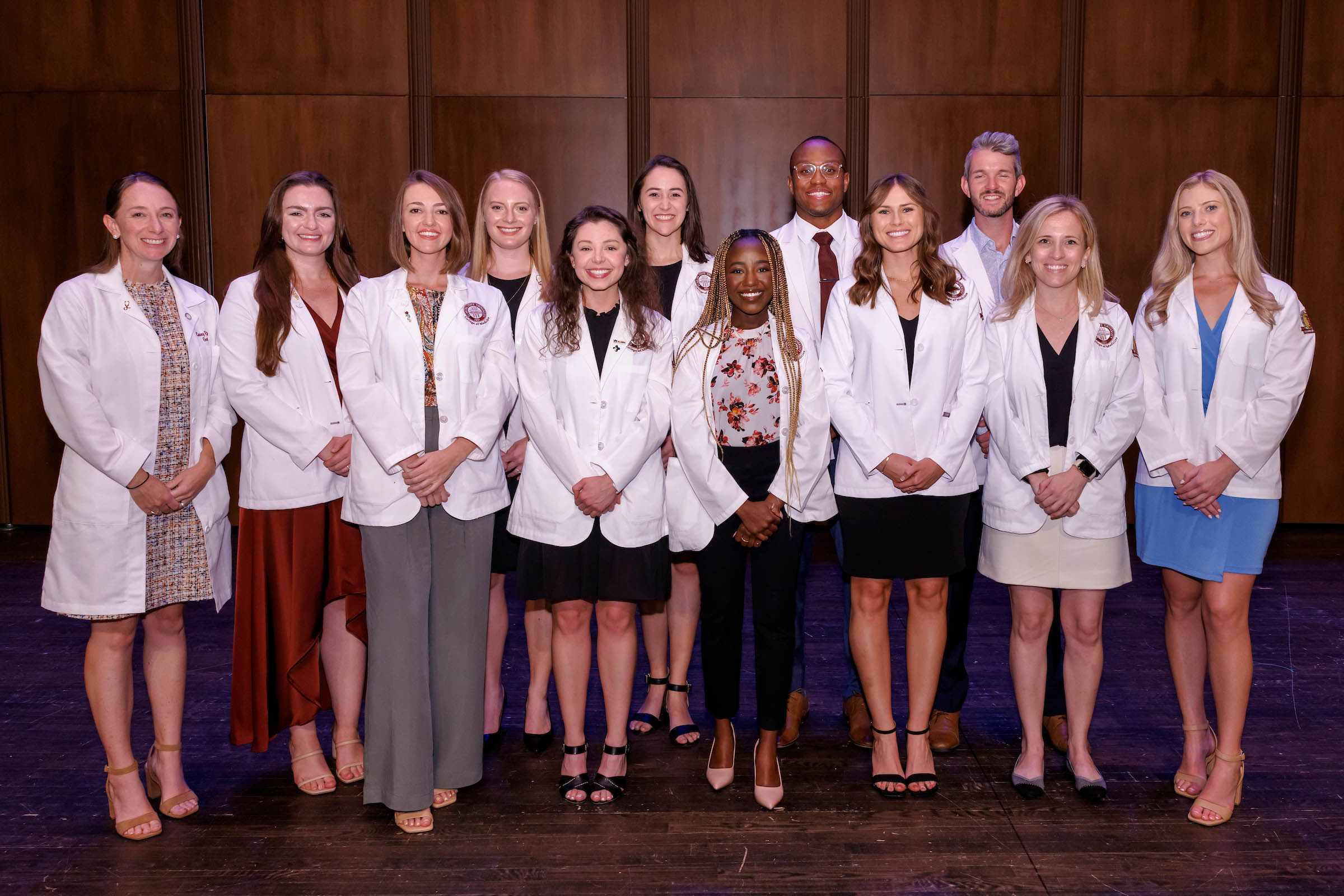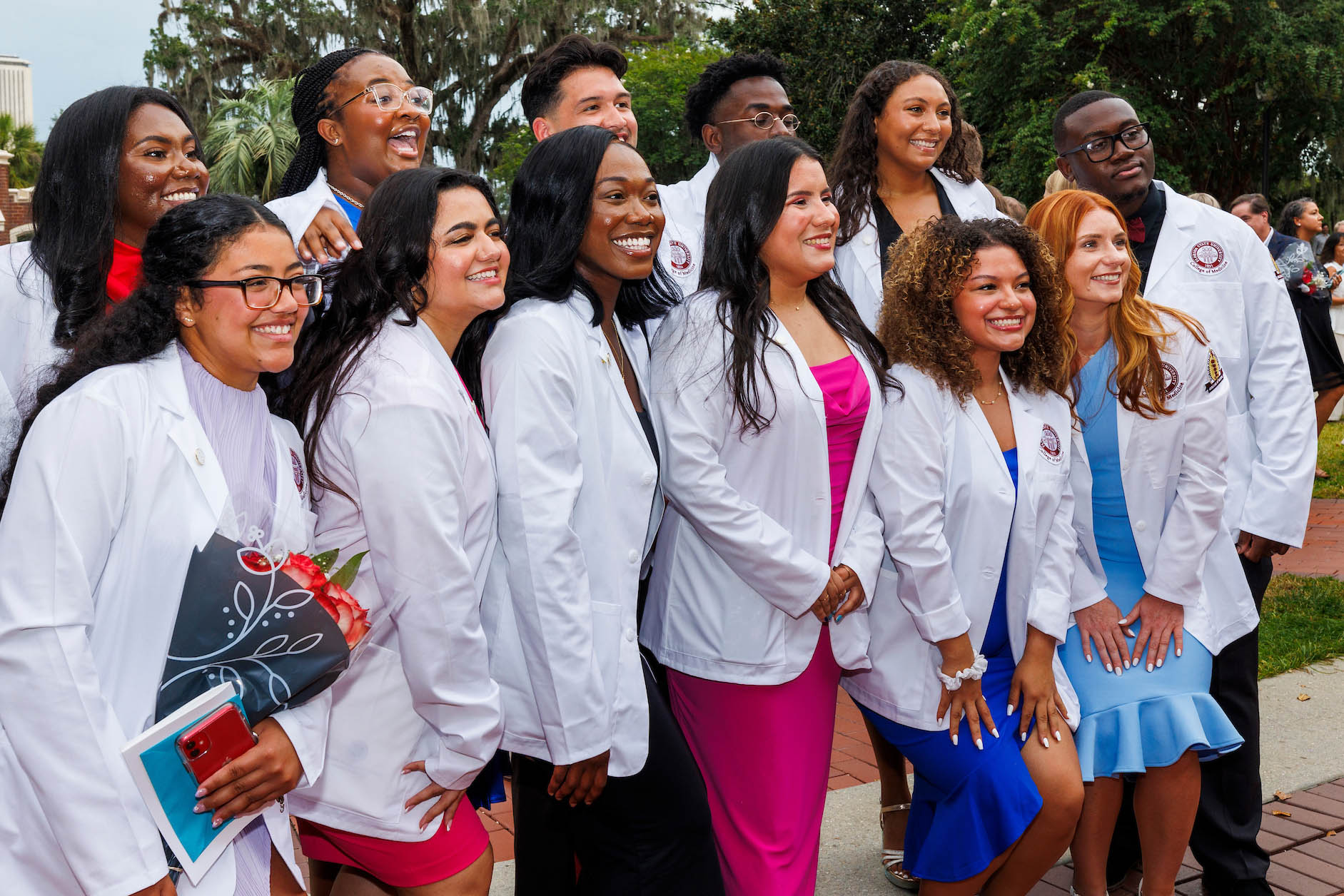 A Bridge to lifelong friendship
It has been a little less than three months since the M.D. Class of 2027 began its collective journey through medical school, but it was obvious that strong bonds have already formed. Students voiced their support in hoots and hollers as classmates donned their white coats.
Those noises paled in comparison to the sound generated for the 12 members of the M.D. Class of 2027 who graduated in May with a master's degree in the Bridge to Clinical Medicine program. They are a tight-knit bunch, having spent the past year as medical school applicants with great potential who needed a bit more schooling before being admitted.
Gathered near the Westcott fountain after the White Coat Ceremony, they gathered for a group photo, a "Bridge Reunion," for family and friends to photograph.
"I think this group was one of the most cohesive we've ever had and it really showed, both inside and outside of the class," said Anthony Speights, M.D., senior associate dean for interdisciplinary medical sciences and director of the Bridge program. They've already stepped up as leaders, he added, mentoring the newest Bridge Class and fostering the same kind of cohesiveness.
Split decision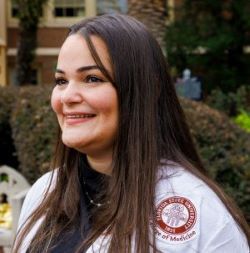 Elisabeth "Libby" Smith's parents were torn between two milestone events, and the Daytona Beach chocolatiers needed to be two places at once.
Libby's White Coat Ceremony was being held at the same time her sister, Yesmine Smith, was graduating from the University of North Florida with a bachelor's degree in nursing. What to do?
The parents decided to divide and conquer. Dad, Charles "Chuck" Smith, cheered on Yesmine in Jacksonville while mom, Hannah Smith, cheered on Libby. Hannah's brother, Henry Yonan, who made the trip from Chicago, photographed Libby's big moment from the foot of the stage, then wrapped her in a bear hug when she came down the steps to return to her seat.
Hannah described the day as "surreal."

Years in the making
James Stanley spent years preparing to don his white coat.
The Crestview native was invited to be a part of the first College of Medicine pipeline program in Okaloosa County as an eighth-grader. SSTRIDE, Science Students Together Reaching Instructional Diversity & Excellence, identifies students with an aptitude for and interest in science and health care-related fields. He stayed with the program through graduation from high school and moved into FSU's USSTRIDE program as an undergraduate major in exercise science.
His graduate program at the University of South Florida's Morsani College of Medicine and seven years as a certified clinical medical assistant further cemented his desire to become a physician and bridge the gaps in health-care access in rural areas.
After the ceremony, he smiled and said, "I feel official."
 



A family affair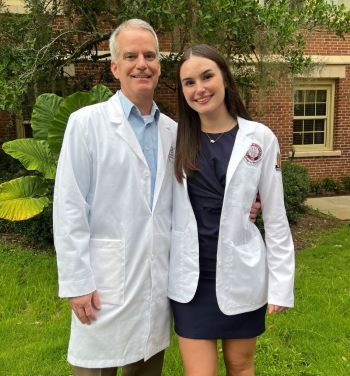 Abigail Watson strode onto the stage, third in her group of four, to discover her family had been keeping a secret from her. Instead of one of her Foundations 1 instructors helping her into her new white coat, her father was there to do the honors. Dr. Dean Watson, vice president and chief integration officer at Tallahassee Memorial HealthCare, is on the clerkship faculty at the College of Medicine.
"I didn't know that he was coating me," she said. "It was a surprise."
After he helped her into her coat, the two embraced and he kissed her cheek. Asked afterward what the moment was like for him, he said, "heart-warming and a bit overwhelming."
His connection to the college dates to when it was first created, he said. He was the original clerkship director and education director and co-authored the curriculum in internal medicine.
Abigail is the only one of his four daughters who is following him into medicine. "He's my role model."

 


Parental pride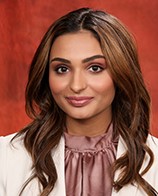 Kayanaat Grewal's parents made their second trip in three months from their home in northern Virginia to Tallahassee, this time for her White Coat Ceremony.
They were here in May for her brother's graduation from FSU's College of Medicine. Dr. Kabir Grewal is now doing his residency at MD Anderson Cancer Center at the Baylor College of Medicine in Houston, Texas.
Their mom, oncologist Dr. Ravneet Grewal, is thrilled both her children have found their calling and are following in her footsteps.
"It's not a profession," she said. "It's a calling, a way of life."



Fun facts
Dr. Alma Littles shared several demographic facts about the M.D. Class of 2027 and reminded the Class of 2027 that they were chosen.

* "We selected you … from among nearly 7,000 applicants and made 179 offers from among the 275 interviews we did."

* "In keeping with a strong trend at both FSU and nationally, the class is majority female – 80  females to 40 males."

* "All qualifying on your own merits, you bring wonderful diversity to our school, with 33 students who are Spanish, Hispanic, Latino, Puerto Rican, Mexican or Mexican-American; 37 who are Asian or Asian-Indian and 10 who are Black or African-American."

The mission of the FSU College of Medicine is to serve the underserved, particularly minority, elderly and rural populations with patient-centered care that is responsive to community needs.

Watch the White Coat and GHHS Induction Ceremony. / Listen to the Florida State Headlines Story 
Contact Audrey Post at audrey.post@med.fsu.edu
Photo at top right:
Alexandra "Lexie" Mannix (M.D. Class of 2014 and GHHS member) delivered the keynote address at the Class of 2027 White Coat Ceremony and GHHS Induction.
Photo in middle on left: LiAna Patterson gives two thumbs up to the audience after getting her white coat.
Spotlight photo on Home page: Members of the M.D. Class of 2027 recite the Student Oath.
(All three photos by Colin Hackley for the FSU College of Medicine)