College of Medicine gets almost $600,000 from Dance Marathon for pediatric outreach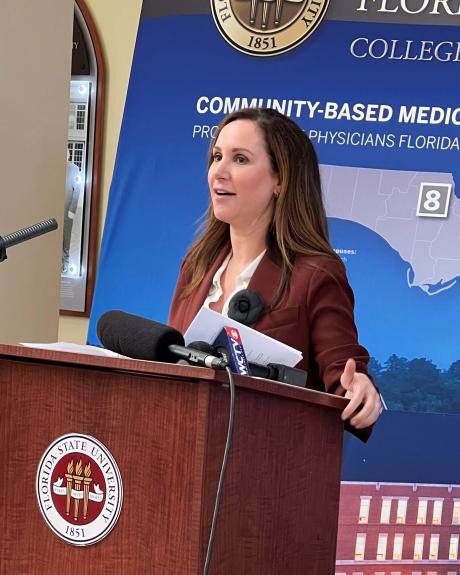 ×
Dance Marathon is personal for Amy Hecht, Florida State University's vice president for student affairs.
In 2019, her newborn daughter, Izzy Macchio, was diagnosed with a heart defect. The family spent three weeks at UF Health's Shands Children's Hospital while Izzy underwent two cardiac catheterization procedures. Four months later, Izzy's big sister, 4-year-old Josie Macchio, was diagnosed with leukemia. Over the next two years, "she had lots of chemotherapy," the grateful mother shared. "Today, at 4 and 8 years old, they're doing great."
Hecht was one of the speakers at Monday's check presentation at FSU's College of Medicine, where Dance Marathon, UF Health and the Children's Miracle Network presented a check for $598,451 to the college for local pediatric outreach programs. The amount represents almost half the $1.3 million raised by Dance Marathon at FSU (DM-FSU) earlier this year.

WATCH THE HIGHLIGHTS | LISTEN TO FSU HEADLINES | WATCH THE VIDEO STORY
"I cannot thank you enough for all you do for the kids," Hecht said, echoing the trademark phrase "For the Kids" adopted by FSU's largest student-run philanthropy. Also present for the ceremony hosted by Interim Dean Alma Littles were DM-FSU's executive board and its faculty advisor, Emily Porter; several dignitaries from UF Health and the Children's Miracle Network; Dr. Myeshia Carroll, College of Medicine faculty and a nurse practitioner at the Gadsden County Schools' clinics; and representatives of several of the college's outreach partners throughout the Big Bend.
The Gadsden County Schools Clinics is the largest recipient of the DM-FSU funding. It is a partnership among the College of Medicine, Gadsden County Schools and the Gadsden County Department of Health. The school-based primary care health clinics are located at five schools, and they are not your usual school clinic, the dean explained in her welcoming remarks.
"It's a genuine lifeline, because it's the only access to health care that a lot of these kids have," said Littles, who grew up and practiced family medicine in Gadsden County for many years before joining the College of Medicine faculty when the school was first created.
Carroll explained the clinics serve pre-kindergarten through 12th grade students, including providing mandatory physical examinations for new students and annual sports physicals for student athletes. Many families could not afford the physicals if they had to pay for them.
"The parents are appreciative," she said. "We also assist in training our first- and second-year medical students, who assist us in the clinics."
David Labissiere, president of the medical students' Pediatric Interest Group known as PIG, worked with Gadsden School Clinics during his first year of school and so impressed the principal at Shanks Middle School that he was invited to be the commencement speaker at the fifth- and eighth-grade graduation ceremony in May. He and several PIG members also attended the ceremony.
The college's FSU PrimaryHealth clinic in southwest Tallahassee also receives some of the DM-FSU funds.
"So many children in that area are medically underserved and health-care needs are so great," Littles said. "With the help of Dance Marathon funding, we are able to support clinicians dedicated to the well-being of children and families."
There is strong collaboration between licensed clinical social worker Cori McGooden and pediatrician Ramiz Kseri, fostering a team approach to working with kids and their families, especially those at nearby Sabal Palm Elementary School, the college's Community Partnership School.
Dr. Rashmin Savani, chair of the UF College of Medicine Department of Pediatrics and physician-in-chief for Shands Children's Hospital, talked about the "ripple effects" that Dance Marathon creates, particularly in developing new treatments. In particular, Shands and UF Health developed a new treatment for previously untreatable brain tumors that is heading into clinical trials at Shands and other locations. The immunotherapy regimen calls for an antigen to be injected that allows the immune system to recognize previously unrecognizable cancer cells and target them, while leaving surrounding healthy cells alone.
"This has been 10 years in the making," Savani said. "A new treatment for Type 1 diabetes was 20 years in the making, and Type 1 diabetes is an epidemic in pediatrics."
He also praised the six middle and high schools in the county that together raised more than $400,000 for DM-FSU.
"We experience the joy of watching all these young people work to make the world a better place for other people," Savani said.
Abbie Hynes, executive director of DM-FSU this year, said there are plans to expand middle and high school student participation, to get students involved so they are already immersed in Dance Marathon by the time they get to college.
"It is the people in this room who make these miracles come to life," she said.
Partner agencies who also received DM-FSU funding in 2022 through the College of Medicine had representatives there to explain how their programs use those funds:
Bond Community Health Center was able to secure federal funding to develop a dental center in the same neighborhood as FSU Primary Health, providing the first dental care to many kids.

The Tallahassee Memorial HealthCare Medical Music Therapy Program provides a full-time music therapist for premature infants in the Neo-Natal Intensive Care Unit.

FSU's Center for Prevention & Early Intervention Policy's Early Head Start program in Gadsden County provides children with transportation to medical appointments, health screening and health-care coordination, and a nurse educator for pregnant and parenting teens throughout the Big Bend.

The Hang Tough Foundation engages and supports families throughout the Big Bend during their journeys through childhood illness and special needs.

Big Bend Hospice provides grief counseling to children and youth in an eight-county region who have lost a loved one .
Dena Strickland, president of the Big Bend Foundation, sought out Vice President Hecht as the ceremony-turned-celebration segued into the Dean's Ice Cream Social.
"Thank you for sharing your story," Strickland said. "You touched my heart."
 
Contact Audrey Post at Audrey.Post@med.fsu.edu
Photo at top right: FSU Vice President for Student Affairs Amy Hecht shares how her two young daughters were treated at Shands Children's Hospital beginning in 2019.
Spotlight photo on Home page: Members of the Dance Marathon at FSU executive board join DM-FSU Executive Director Abbie Hynes, fifth from left, College of Medicine Interim Dean Dr. Alma Littles, Dr. Rashmin Savani of UF College of Medicine and Shands Children's Hospital, and David Labissiere, president of the student Pediatric Interest Group at the FSU College of Medicine.
All photos by Bob Thomas of the FSU College of Medicine.