For College of Medicine family, another unforgettable Match Day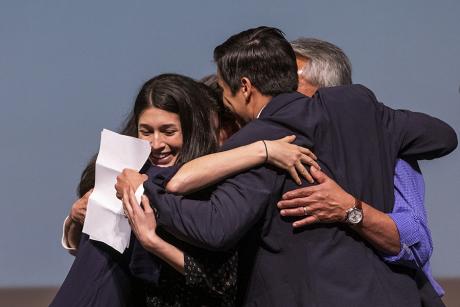 ×
By the time Kristen Laster's infant nearly leaped out of her arms while reaching for Orlando Regional Campus Dean Mike Muszynski, it was clear that the babies had tried to steal the show at the College of Medicine's 2019 Match Day Ceremony.
Those of us trying to keep a running tally lost count around a dozen babies – some of them incredibly tiny. Then again, every Match Day is not only a celebration of medical students' achievements and next steps – but also an introduction to their babies, spouses, families and various support systems that brought them to this point.
Match Day 2019 took place today in Ruby Diamond Concert Hall. Like other fourth-year med students throughout the country, these FSU students found out which residency programs they'll join for the next phase of their medical training.
"Our students continue to match with wonderful programs in Florida and throughout the country," said Dean John P. Fogarty. "I'm also pleased that as we continue to support the creation of more residency slots in Florida, we'll be able to keep more graduating Florida medical students in the state. With our focus on primary care, that means more doctors for Florida in specialties where there is a significant need."
A quick look at the numbers:
Of the 114 students from the Class of 2019 who entered the match, 63 chose primary care (family medicine, internal medicine, obstetrics-gynecology or pediatrics).

The No. 1 specialty for this class was internal medicine (28), followed by family medicine (18), general surgery (11), OB-GYN (9) and a four-way tie involving anesthesiology, emergency medicine, pediatrics and psychiatry.

Other students matched in dermatology, neurological surgery, ophthalmology, orthopedic surgery, otolaryngology, pathology and plastic surgery.

A total of 41 students matched in Florida.

Among those, seven matched at UF Health-Gainesville, six at Orlando Health and six at the University of South Florida Morsani College of Medicine.

Four students will remain in Tallahassee for residency training. Three matched at Tallahassee Memorial's Family Medicine Residency Program, and one at the College of Medicine's General Surgery Residency Program at TMH.

After Florida, the states where the most Class of 2018 students matched were New York and Louisiana (tied at six), North Carolina (five) and a four-way tie involving Alabama, California, Georgia and Kentucky (four apiece).

Students heading out of state matched with superior residency programs, such as Wake Forest, Mayo Clinic in Rochester, Minnesota, and many more.

Five students participated in a separate military match.
Here's how the nationwide match works: Through the computerized National Resident Matching Program, students electronically rank the residency programs where they interviewed, and residency program directors rank the students to whom they wish to offer a position. Residency training, which lasts at least three years depending on the specialty, is the rigorous and required next step for M.D. students who want to become practicing physicians.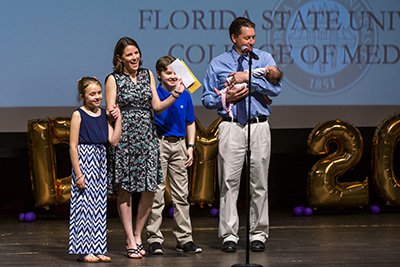 Though the College of Medicine's Match Day ceremony lasted more than an hour and a half, the heart of the action once again took place in about three minutes of chaos, when many students opened their envelopes to find out where they had matched. Shouts rang out, tears flowed, cameras flashed, hugs abounded. Later, one regional campus at a time, most of the students went onstage to reveal their residency destination. Some increased the suspense by waiting until they got onstage to read their match letter.
Kevin Hill was among the brave but nervous few who waited to open their envelope – and then discovered how cantankerous those envelopes can be. One student's mom even bent down to pick up the scraps resulting from an envelope battle.
Students thanked parents ("I owe everything to them"), spouses, boyfriends, girlfriends, God and "this wonderful country of opportunities." At least two grandmas took the stage. At least two students introduced "my new husband of two weeks." One student actually brought eight people onstage with her. Another brought three "gal pals" from Chicago. Someone else came all the way from Italy. Another family was watching from Brazil.
One man choked up and gave his daughter a big hug after reading her letter aloud. Another dad was holding his phone just right so the student's sister could watch live – from Ireland. Another dad grabbed his daughter and spun her around a couple of times, overjoyed by the news of her match. Another student referred to his dad "smiling down from heaven."
The quietest moment came when Ludonir Sebastiany delivered a halting, emotional tribute to his dad ("You always told me to do my absolute best"), his mom ("You prayed for this day as long as I can remember – don't stop praying for me") and a beloved mentor who had died of breast cancer before she could see this day.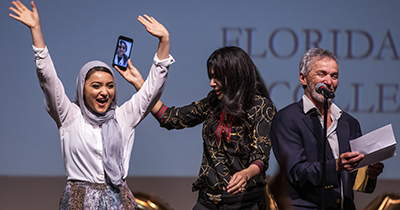 One family wore matching Hawaiian shirts. Three men in another family had matching plaid shirts. 
Garrett Brown, who graduated in 2013, opened the match letters for his brothers, twins Jackson and Stuart. Some students brought out their College of Medicine "family" – fellow students who've provided support through the years.
And Stefano Leitner spoke for all of his classmates, no doubt, when he said: "It's a pleasure to share this terrifying moment with you."
The theme for this year's Match Day celebration was Willy Wonka. The med school's video geniuses had created onscreen spoofs of the med-school experience featuring Dean Fogarty and other faculty and staff members.
And thanks to Class President Bryno Gay, the ceremony closed with a roof-raising Seminole war chant. That's Match Day with a Florida State flavor.
To see Class of 2019 matches: https://med.fsu.edu/alumniFriends/whereTheyMatched
To see where past College of Medicine graduates are practicing: https://public.med.fsu.edu/alumni/alumni.aspx