Class of 2020 - virtually together again for a joyful Match Day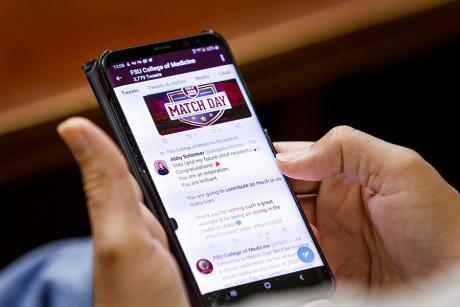 ×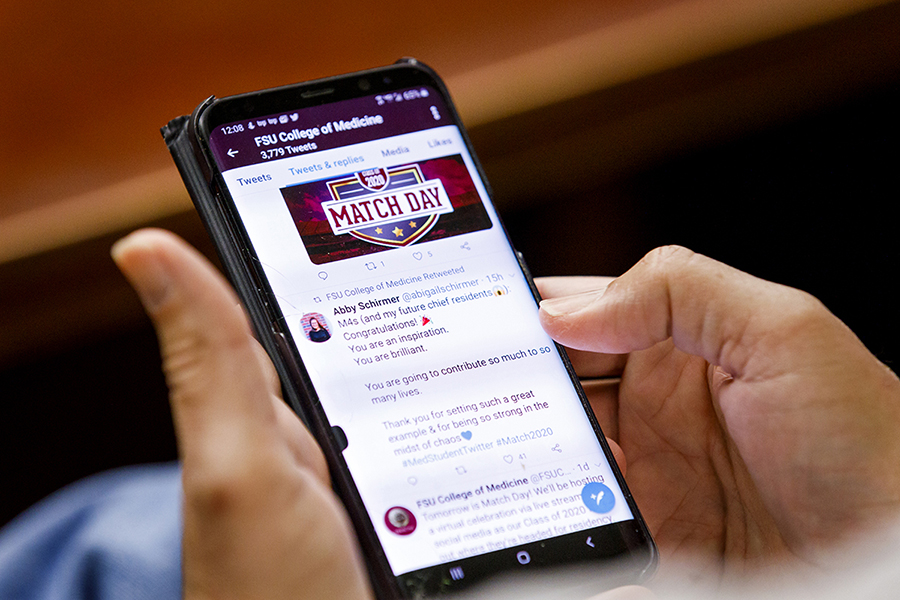 Match Day at the Florida State University College of Medicine ordinarily triggers breathtaking embraces, knuckle-jarring handshakes and wince-inducing high fives. It's a day when already close classmates get even closer.
In 2020, amid a global pandemic brought on by the COVID-19 virus, the rule of the day was social isolation.
That doesn't mean there were no celebrations on Friday.
Instead of exchanging hugs and high fives in a packed Ruby Diamond Concert Hall, FSU's graduating medical students reached out to each other through text messages, social media posts and Facetime chats.
Some cried tears of joy as they watched online and saw where their classmates had matched.
"What it taught me is that love is all around us," said Eric Walker, who "self-quarantined" at home in Orlando and was alone when he found out he had matched with the family medicine residency program at Jackson Hospital in Miami.
"The person doesn't have to be physically next to you for you to feel their love and support," he said. "Even though my family and friends weren't physically with me, I still felt like they were right there and we were able to share in this moment together, so I really had a good experience."
Walker wasn't alone – figuratively speaking.
"This was an unusual Match Day, but it also was a fantastic match outcome with our students doing exceptionally well in the programs they ended up with," said College of Medicine Dean John P. Fogarty.
It was Fogarty who had to make the difficult decision to cancel the large gathering in the concert hall on campus. Instead, 2020 students were treated to a virtual ceremony online – complete with a Match Day video that has become a staple of the traditional event.
And instead of kicking off the ceremony by announcing from the stage for students to "open their envelopes," Fogarty instructed them from a streaming video to open their emails.
At 12 p.m., more than 19,000 graduating medical students nationwide got a message in their inbox from the National Resident Matching Program. The message contained the news about where they will continue their medical education for the next 3-5 years.
"I opened my email and basically shouted and fell out on the floor in a pool of tears with my family. It was great. It was wonderful," said April Graham, who was at home in Fort Lauderdale when she found out she had matched nearby in Miami (internal medicine at Jackson Hospital).
Derek Schwabe-Warf was at home near Fort Pierce with his girlfriend, Dori, and his "rescue mutt," Ellie.
"We were kind of hanging out, dog on the bed, chatting and the email came up on the monitor," he said. "We went over there and opened it and there it was – kind of a shock."  Schwabe-Warf learned he is headed to the Rutgers Robert Wood Johnson Medical School in New Jersey for internal medicine.
It was his top choice among the 13 programs he had ranked in an interview-and-selection process that stretches across many months and hangs over just about everything a fourth-year medical student does.
"I think a number of people were disappointed initially because they wanted to be around their family and friends and have a formal celebration," he said. "But most people that I've talked to were in the same thought pattern as I was: We need to make sure that everybody stays safe and limit the spread of this as our first and foremost priority; especially going into medicine – the safety of our patients and family needs to be on the front of our mind."
In Tallahassee, Reema Tawfiq got her email early.
"I expected to see it at 12, but it popped up at 11:58," she said. She opened it immediately because she had been up since 4 a.m. in anticipation.  While her parents also live in Tallahassee, they could not be with her because they had been sick for two weeks and were keeping themselves quarantined.
Tawfiq quickly shared with them the news that she had matched in internal medicine at Mayo Clinic School of Graduate Medical Education in Rochester, Minn.
Class President Jordan Carbono, who was in self-quarantine in Orlando because he had recently returned from an FSUCares trip to Panama,  also got his email at 11:58. But he waited until 12:03 to open it so he could share the experience (virtually) with his dad.
"We did a Facetime when he had a lunch break," said Carbono, who had purchased an Orlando Health jersey because that was his top choice of residency destination. And that's where he matched – in internal medicine.
Casey Mason and classmate Erin Petrie were together with their families in Orlando and opened their emails simultaneously to learn that they'll soon be parting ways: Petrie to the University of Alabama in Birmingham for internal medicine and Mason for pediatrics at Columbia University in New York City.
"I was with my best friend. We've gone to high school together, college together and now medical school together – so to be able to open it with her and the rest of our family surrounding us as well was amazing," Mason said.
Olivia Donnelly was in her family's living room in Tampa with her laptop out and was communicating via texts and calls with two close friends when she learned she had matched in obstetrics-gynecology at Sacred Heart Hospital in Pensacola. Her mother shared the news with everyone else and her grandparents were watching the webcast.
"I think FSU did a great job of trying to get us all to pull together," Donnelly said. "I think every single one of us appreciated that. I enjoyed the more intimate setting with my family. We got to celebrate together.
"For the class, there was the initial shock of not having the ceremony together, especially because we haven't seen some people for two years, so Match Day was something we had looked forward to, for reconnecting. But I think when all is said and done, we sort of banded together knowing that it had to be different this year for a good reason. And we continue to use social media to communicate with each other."
The Class of 2020 still faces uncertainty about previously scheduled regional campus graduation dinners and the commencement ceremony tentatively planned for May 16 in Tallahassee. All of those gatherings, just like their remaining clinical rotations, are on hold for now.
More pressing is the medical landscape in front of them as they begin life as a physician this summer.
Michael Tandlich, who matched in emergency medicine at Northwestern University in Chicago, embraces the awaiting challenge.
"Emergency medicine is all about uncharted waters. It's about dealing with the unknown," he said. "I think a coronavirus epidemic beginning to hit the United States pretty hard is pretty apropos. I mean, it's probably as great as the irony gets – going into a field where this is kind of the bread and butter. Of course, there are reasons to be concerned, but this is kind of what my job is for."
"My biggest thing is just being able to help in any way, shape or form – whether it's educating people on something as simple as hygiene or just being there wherever I'm needed. This is what FSU trained us for," Carbono said.
"I'm just incredibly thankful for the FSU College of Medicine and for their support throughout these four years. As a Hispanic student coming in from an underserved population, the people at FSU have chosen to believe in me, and I'm just incredibly thankful because today I got to show through FSU that they were right in choosing me. And my goal is to continue to serve my community."
Fogarty, who watched the video and webcast from a conference room at the central campus, closed out the virtual ceremony with more words of encouragement for a class he may not get to address again in person.
"We don't know how this impacts our  graduation dinners and maybe even our graduation ceremony, but just for today –  I want you to all take on the day, enjoy everything you've learned, be happy with the family members you're with, stay healthy and stay safe."
"I would love to see all of my classmates together again one more time," Tawfiq said. "That was the most exciting part to look forward to for Match Day – truly, getting to see some of my classmates I haven't seen in months and years from other regional campuses. It would be really heartbreaking to end the year that way without a graduation ceremony, but I can also understand the reality of the situation we're in.
"My message to my classmates? That it was honestly a wonderful journey to be on with all of them. I got to know a diverse group of people through varied and different experiences; it was so great today to see where everyone is ending up and I wish everyone the best.
"I can see everyone doing such amazing things and I'm excited to see where we all go from here."
College of Medicine Match results
News:College of Medicine announces 2020 Match Day results
See social media posts from Match Day