Berne-Anderson wins FSU's MLK Award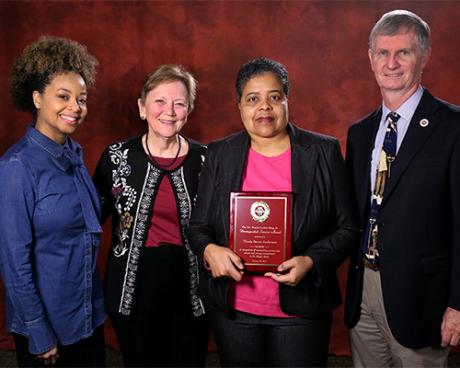 ×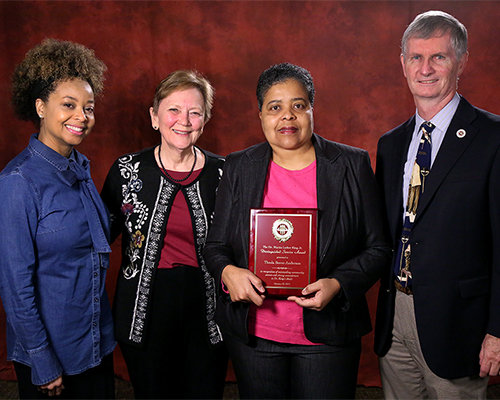 Februrary 2019

To live up to its mission, the FSU College of Medicine strives to recruit a diverse array of promising students from rural, minority and other typically overlooked communities who are likely to return to those areas to practice. For years, Thesla Berne-Anderson has built pipeline programs and outreach initiatives to do just that.

On Jan. 22, she was recognized for her efforts. She received Florida State's prestigious Dr. Martin Luther King Jr. Distinguished Service Award. 

Berne-Anderson, the director of college and pre-college outreach, is the fourth College of Medicine faculty or staff member to receive the honor. It has been awarded since 1986 to FSU employees who demonstrate a longstanding commitment to King's ideals and further the university's commitment to diversity.

Early on, Berne-Anderson was creating initiatives to recruit and train students from diverse and underserved populations for FSU's first-year medical program called the Program in Medical Sciences (PIMS).

"Even before we had a medical school, Ms. Anderson was a driving force in developing very successful outreach programs that would seek out and develop students from early in junior high school who exemplify our mission," read a nomination letter from John P. Fogarty, dean of the College of Medicine. "She has mentored a generation of students who are not only first in their family to go to college, but certainly the first to go to medical school."

Due in large part to Berne-Anderson's efforts, Fogarty noted, the College of Medicine has received the Health Professions Higher Education Excellence in Diversity (HEED) Award from INSIGHT Into Diversity magazine each of the last two years.

Berne-Anderson designed and implemented the College of Medicine's best-known pipeline program, SSTRIDE, to identify underserved, high-achieving students interested in pursuing careers in science, technology, engineering, math or medicine. SSTRIDE provides students with the education, tutoring, advising, experiential activities and support they need to succeed.

With Berne-Anderson at the helm, the program has been established in middle and high schools in eight counties – including rural Madison, Gadsden, Okaloosa and Collier. It also has an undergraduate component at Florida State. 

Of the Undergraduate SSTRIDE students able to be tracked, 87 percent have enrolled in a graduate program, and 61 percent of those have gone on to medical school. Of the pre-college SSTRIDE students being tracked, 97 percent have entered college, with over half choosing a science-, math- or health-related major. 

"Ms. Anderson has dedicated her life to our programs," Fogarty wrote. "Having attended a number of SSTRIDE and Minority Association of Premedical Students graduations here in the past 10 years, I always see the genuine affection and appreciation that each of the students have for Thesla."

One of those is Joseph Chen, now a third-year medical student.

"Ms. Anderson was one of the biggest influences in my life, in undergrad and in medical school as well," he said once in an interview about SSTRIDE. "So Ms. Anderson has been a part of my life since I first stepped on campus here at FSU."


Joedrecka Brown Speights, chair of the Department of Family Medicine & Rural Health, received the MLK Award in 2018. Past recipients also include former College of Medicine faculty members José E. Rodríguez (2008) and Kendall Campbell (2013).