Autism Institute honored for cost-saving productivity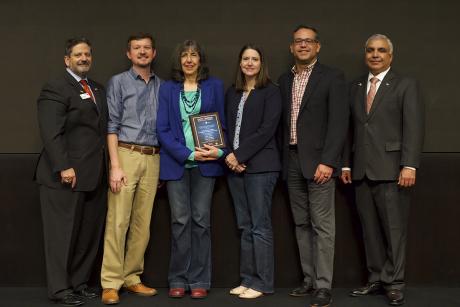 ×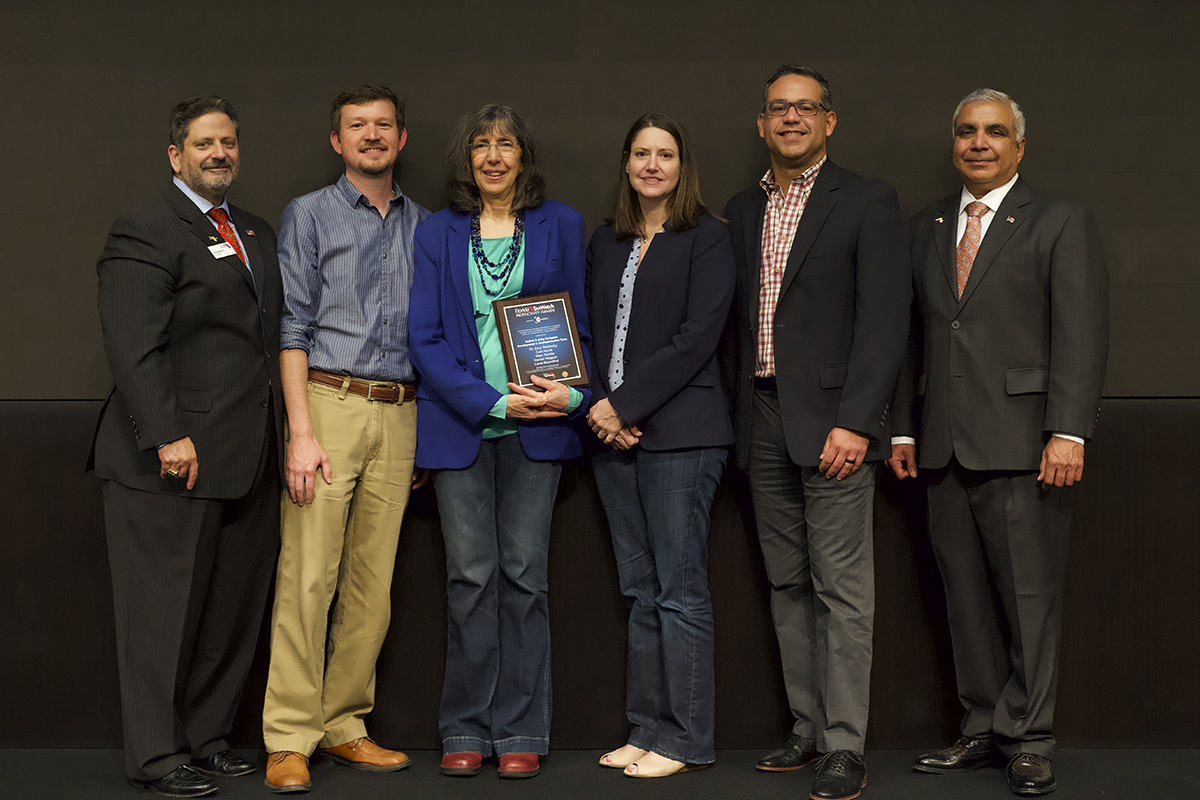 Amy Wetherby, the Distinguished Research Professor best-known for groundbreaking work on early detection of autism, received recognition of a different kind in September. She and her Autism Institute team took home a Florida TaxWatch Productivity Award.
In fact, nine of those awards went to FSU this year.
"We greatly appreciated being recognized," Wetherby, the Autism Institute's director, said after the Sept. 11 ceremony at the Turnbull Center.
She and her colleagues routinely point to the potential economic benefits of their work. If they can screen every child by 18 months, Wetherby says, they can catch 80 to 90 percent of the autism cases. Quick and effective follow-up can save kids from the intellectual damage that undetected autism can do – and can save the state millions of dollars that it otherwise would pay for the care of autistic adults who couldn't become contributing taxpayers.
The TaxWatch Productivity Awards recognize and reward state employees and workgroups who find ways to improve services, increase efficiencies and save Florida taxpayers millions of dollars each year.
The Autism Institute team specifically was recognized for Autism Navigator and Baby Navigator, two web-based programs that make it easier for medical professionals as well as parents to assess children's communication skills. In addition to Wetherby, that team comprised Cara North, Marc Nottke, Hector Holguin and Laura Rosenthal.
Asked on the Productivity Awards entry form to describe what it had achieved as a direct result of those programs, the Autism Institute replied, in part:
"First, we have increased the knowledge and skills of professionals and families. We have enrolled the following numbers of professionals and families in our web-based courses:

Autism Navigator About Autism in Toddlers – 37,834 global users from 157 countries (launched in 2015).

Autism Navigator for Primary Care – 1,847 users (launched in 2016).

Autism Navigator How-To Guide for Families – 673 users from 6 countries (launched 2018).

Autism Navigator for Early Intervention Providers

course – 3,633 users from 7 countries (launched in 2014).

"Second, we have developed the Smart ESAC – which will be renamed as the SoCo CheckUp – screener for communication delay and autism and screened over 9,210 children: 2,394 in 2017; 4,605 in 2018; and 2211 to date in 2019."
Asked to provide a cost savings estimate for the past year, the Autism Institute replied:
"The lifetime cost for one child with autism is estimated at between $1.4 and $2.4 million, with higher costs for individuals with autism and intellectual disabilities. Early detection can prevent or minimize the intellectual disabilities associated with autism, which can save at least $1 MILLION PER CHILD in the costs of special education and care through adulthood.

"Our primary short-term aim is to improve early detection of autism and communication disorders and increase access to early intervention. The long-term aim is to increase the number of students with autism, communication disorders, and language-learning problems who are ready to learn and can succeed in mastering the State Standards in General Education Kindergarten.

"This can save $6,000 to $10,000 in the cost of special education per student for each year of education from Kindergarten through 12th grade and can lead to better outcomes after graduation. Since states shoulder the burden of the cost of education, the potential impact can be far reaching for the State of Florida."
Asked whether their programs were scalable and could be used by other departments or agencies, the team replied:
"All of the tools, courses, and materials available through Autism Navigator and Baby Navigator are portable, scalable, and accessible anywhere and anytime. We have integrated innovative technology at multiple levels to provide support and services to families, primary care providers, and early interventionists throughout Florida, the United States, and globally. Because we have received funding to develop the courses and tools from the State of Florida – through the Communication/Autism Navigator grant – all courses are free in Florida."
This year's Florida TaxWatch Productivity Awards program received hundreds of nominations, and TaxWatch presented nearly 200 awards to approximately 550 employees and 17 large teams from 25 agencies for their achievements and efforts. Florida TaxWatch is an independent, nonpartisan, nonprofit government watchdog and taxpayer research institute. Its research recommends productivity enhancements and explains the statewide impact of fiscal and economic policies and practices on citizens and businesses. Florida TaxWatch is supported by voluntary, tax-deductible donations and private grants, and does not accept government funding.
The four people in the center of the photo are Autism Institute honorees. From left: Marc Nottke, Amy Wetherby, Cara North and Hector Holguin. (Laura Rosenthal is not pictured.) At the far left is Dominic Calabro, Florida TaxWatch president and CEO; at the far right is Piyush Patel, president and CEO of Kyra Solutions, a sponsor of the awards program.