Atrium abuzz with discovery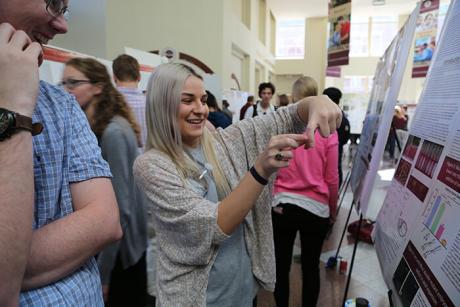 ×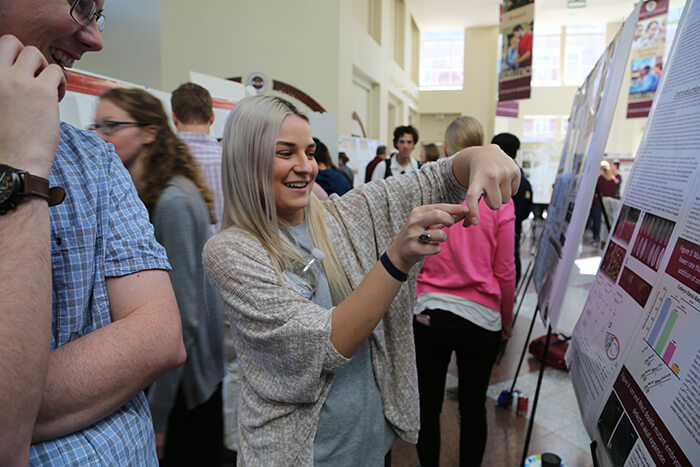 February 2018
On Feb. 16, faculty, staff, students, inquisitive minds and biomedical research hopefuls swarmed the College of Medicine's atrium, which was filled to the brim with research posters for the 14th Annual Research Fair.
Nearly 70 posters entered by medical students, graduate students, medical residents, postdoctoral associates and faculty members were on display to showcase the work being done at the College of Medicine.
"Our research impact is evident, and we had an even larger attendance than in years past," said Senior Associate Dean for Research and Graduate Programs Jeffrey Joyce. "This year, the Research Fair was held in conjunction with the interview visits by the applicants for our Biomedical Sciences Graduate Program. It provided a great opportunity to show the strength and breadth of our research programs. I am proud of what we do, and the students were very impressed."
The event showcased the diversity of research being conducted at the college with presenters from the main campus as well as regional campuses.
For many, such as second-year med student Megan Rivera, it was just one of multiple opportunities to present their research.
Rivera was one of 28 students who received a stipend to conduct Ph.D.-level research in biomedical and clinical sciences last summer as part of the college's Summer Research Fellowship program. Rivera conducted her summer research at the Immokalee Health Education Site and first presented her findings in October.
"I think it's really great to have an opportunity to present in two entirely different atmospheres and talk to other people in the department that maybe don't know a lot about our work," said Rivera, who continues to study potential biomarkers that could be used to study levels of toxic stress in children.
"Being around professors and colleagues and other students in this environment makes us all more excited to continue our research. I see things that are related to my project and other topics that we're interested in, and it just shows how much discovery is still there to be made. It's motivating."
In addition to a handful of potential future Ph.D. students, Summer Research Fellowship applicants were in attendance, seeking inspiration and faculty mentors for their own research projects.
Current researchers also find the open-forum fair to be a beneficial opportunity to exchange ideas and perspectives.
"It's really helpful and nice to get other people's input, which often happens at these events," said Caitlyn Blake-Hedges (pictured above), a second-year Ph.D. student in the Timothy Megraw lab. "Other scientists might tell me, 'You should look at this,' which is how I got the idea to [expand my study]."
A full list of poster presentations is included below.
RESEARCH FAIR PRESENTERS
(Arranged alphabetically by last name of presenter. Faculty advisors or corresponding labs listed in parentheses.)
Biomedical Sciences Graduate Program and Postdoctoral Presenters

1. "D-serine's therapeutic potential as an anti-epileptic agent mitigating TLE-related pathology in the Medial Entorhinal Cortex," Stephen Beesley (Sanjay Kumar)
2. "Centrocortin regulates actin-related processes in the early Drosophila embryo including axial nuclear expansion in an Rho1-dependent manner," Caitlyn Blake-Hedges (Timothy Megraw)
3. "Activation of the centrosome's microtubule-assembly activity by the Zika virus (ZIKV)," Rebecca Buchwalter (Timothy Megraw)
4. "Tyrosine Phosphorylation of the Transcription Factor Yin Yang 1," Susan Daraiseh (Myra Hurt)
5. "Aberrant Cardiac Muscle Mechanics in a Hypertrophic Cardiomyopathy Troponin T Ile79Asn Transgenic Mouse," Karissa Dieseldorff (Jose Pinto)
6. "Consequences of prenatal exposure to valproic acid in prairie voles," Lindsay Elvir (Mohamed Kabbaj)
7. "Cdc48/Npl4/Ufd1 Complex Alleviates Proteasome Stress Caused by Misfolded Proteins," Ryan Higgins (Yanchang Wang)
8. "Genome-wide screen identifies proteasome subunit alpha 1 as a suppressor of alternative proteasome formation," Lauren Howell (Robert Tomko)
9. "Genes to Behavior: Lessons from Drosophila," Hongru Hu (Michelle Arbeitman)
10. "Clinical and Biophysical Characterization of a Mutation in the N-Helix Region of Cardiac Troponin C: Evidence for an Allosteric Mechanism of Contractile Dysfunction," Jamie Johnston (Jose Pinto)
11. "Intracranial EEG in freely moving mice to assess 14-3-3 FKO pathophysiology," Zachary Jones (Yi Zhou)
12. "Cardiac thin filament-mediated calcium sensitization modulates cross-bridges kinetics," Maicon Landim Vieir (Jose Pinto)
13. "Selective loss of dopamine D2 receptors in GABAergic interneurons modifies cerebral cortical architecture and motor behaviors," Gloria Lee (Gregg Stanwood)
14. "Developmental nicotine exposure and subsequent consequences on the GABA system," Melissa Martin (Pradeep Bhide)
15. "Genomic and neurogenetic approaches reveal a role of dpr- and DIP-expressing neurons for courtship behaviors," Nicole Newell (Michelle Arbeitman)
16. "Mechanistic insight into ATP-dependent activation of the 26S proteasome for substrate degradation," Randi Reed (Robert Tomko)
17. "Novel Survival Factor for Infiltrating Macrophages in the Injured Spinal Cord," Alyssa Rolfe (Yi Ren)
18. "Rab21 and Rab31 Control Epstein-Barr Virus LMP1 Exosomal Packaging and Tetraspanin Localization," Allaura Sherman (David Meckes)
19. "Alcohol intake affects ketamine self-administration in a sex-dependent manner," Caroline Strong (Mohamed Kabbaj)
20. "The Parasubiculum and its Role in Temporal Lobe Epilepsy," Thomas Sullenberger (Sanjay Kumar)
21. "Incorporating a Functional Mutation into a Symmetric Scaffold as Proxy for Functional Adaptation via Rearrangement of its Folding Nucleus," Connie Tenorio (Michael Blaber)
22. "Genetic screen for centrosomin synthetic lethality reveals novel proteins required for acentrosomal cell division," Marisa Tillery (Timothy Megraw)
23. "Postsynaptic FMRP knockdown leads to developmentally transient dendritic alterations and long-lasting synaptic deficits in the developing cochlear nucleus," Xiaoyu Wang (Yuan Wang)
24. "Ceramide- and CD63- dependent trafficking of Epstein-Barr virus LMP1 to extracellular vesicles," Sara York (David Meckes)
25. "Using novel mouse models to investigate the role of 14-3-3 dysfunction in psychiatric disorders," Jiajing Zhang (Yi Zhou)
26. "A novel perinuclear non-centrosomal MTOC in Drosophila fat body cells is tethered with LINC complex to maintain proper nuclear positioning," Yiming Zheng (Timothy Megraw)
27. "Engulfment and autophagic clearance of myelin debris by microvascular endothelial cells promote angiogenesis, inflammation and fibrotic scar formation after spinal cord injury," Tian Zhou (Yi Ren)

Faculty/Staff Presenters

28. "Aurora A Phosphorylation of YY1 during Mitosis Inactivates its DNA Binding Activity," Beth Alexander
29. "Molecular mechanisms underlying pair bond maintenance in the socially monogamous prairie voles," Florian Duclot (Mohamed Kabbaj)
30. "Cognitive and antidepressant alterations following GLP-1R activation," Devon Graham (Gregg Stanwood)
31. "Perceived Stress, Allostatic Load, and Mortality," Katelyn Graves
32. "Finding Resources and Developing Partnerships for Mental Health through a School-Based Clinic for At-Risk Children," Susan LaJoie
33. "Molecular, cellular and behavioral improvements after treatment of rodent traumatic brain injury with human mesenchymal stem cells," Cathy Levenson
34. "Transgenerational transmission of reversal learning deficits in a mouse model of paternal nicotine exposure," Deirdre McCarthy
35. "FGF-1 as a therapeutic intervention for chronic wound care in aging patients," Alana Mellers (Michael Blaber)
36. "Conformation-state-dependent eviction of the Nas6 assembly chaperone from the proteasome is mediated by the Rpn5 lid subunit," Antonia Nemec (Robert Tomko)
37. "Exploring Relationship Satisfaction in Older Adults with Diabetes Using Descriptive Epidemiology," Alexandra Nowakowski
38. "Smoke-Free Policies in the United States: Assessing the Landscape," Alexandra Nowakowski
39. "Using pattern detection in large datasets to identify 'switched' transcripts in four brain regions of adult mouse brain," Richard Nowakowski
40. "Investigating the Activation Mechanism(s) of the Oncogenic Kinase TOPK," Raed Rizkallah
41. "Phospho-Regulation of YY1: Investigating the Implications for Cancer Cell Proliferation and Resistance to Therapy," Raed Rizkallah
42. "The creation of a structured curriculum outline for the expansion of a rheumatology practice to include nurse practitioners and physician assistants," Benjamin Smith
43. "Minding the Gap: An Opportunity for Physician Assistants to Affect the Rheumatology Workforce Shortage," Benjamin Smith
44. "Stanwood Lab," Gregg Stanwood
45. "Discovery and validation of potent antifibrotic drug with unique mechanism of action," Branko Stefanovic
46. "Autophagic clearance of the 26S proteasome requires the conserved sorting nexin Snx4," Robert Tomko
47. "Reducing Risk Progression by Extending Obesity Care Beyond the Office Doors Using Telemedicine Health Coaches: A pilot test randomized trial," Lloyd Werk
48. "Autogenous Regulation of the Fragile X Mental Retardation Gene During Embryonic Development of the Auditory Brainstem," Diego Zorio (Yuan Wang)

Medical Student Presenters

49. "Acetylation of Cardiac Troponin C in Porcine Left Ventricular Myocardium," Ashraf Abdulhalim (Jose Pinto)
50. "Association of Method and Amount of In-Hospital Formula Use with Breastfeeding Duration," Courtney Alexander (Ann Kellams, University of Virginia Health System Department of Pediatrics)
51. "Instructed Arm Swing Improves Walking Performance and Decreases Fall Risk in Individuals with Parkinsonism," Evan Fitzgerald (Robert Watson)
52. "Removal of LBBB as a STEMI criterion does not affect patient outcomes: Analysis of a prehospital agency STEMI activation transported to Tampa General Hospital," Quinn Frier (University of South Florida Emergency Medicine)
53. "Recognition of Human Trafficking in Emergency Departments: Assessment of Regional Educational and Resource Needs Regarding Victim Identification and Appropriate Response," Jacob Hentges (Jessica De Leon, Suzanne Harrison)
54. "Gait Analysis in Multiple Sclerosis Under Conditions of Low-Contrast Sensitivity with and without High-Contrast Lenses," Shannon Lyons (Charles Maitland)
55. "Faith-Based Cognitive-Behavioral Interventions for African-American Dementia Caregivers: Pilot Study Qualitative Findings," Cordy McGill-Scarlett (Robert Glueckauf)
56. "The effects of chemotherapy on cognitive behavior and neurogenesis in an animal model of pre- and post-menopausal females," Samantha Pavlock (Pradeep Bhide)
57. "Statins and the Elderly: Variation among experts in the absence of evidence," Michael Penfold (Paul Katz)
58. "Built Environment & Obesity: A Participatory Needs Assessment," Alexa Rivera (Javier Rosado)
59. "Identification of a Biomarker in Children Exposed to Toxic Stress," Megan Rivera (Elena Reyes)
60. "Preventive Care Assessment in a Florida Food Desert," Ellen Ann Sockman (Karen Myers)
61. "Outcomes of Non-Stenting Choanal Atresia Repairs in Infants and Children: A Case Series," Brittany Tanner (James Kosko, Michael J. Muszynski)
62. "Cutaneous Mucormycosis Infection Following a Motor Vehicle Accident: A Case Report," Grant Wallenfelsz (Andrew Wong)

Medical Resident Presenters

63. "Diagnostic and Therapeutic Laparoscopy in Trauma," Emanuela Alvarenga
64. "Laparoscopic Splenectomy for Splenic Abscess after Failure of Interventional Radiology Treatment," Emanuela Alvarenga
65. "Misdiagnosis of Splenic Lymphoma: An Interesting Presentation of Sarcoidosis," Zareen Vaghaiwalla

Undergraduate Presenters

66. "The role of adiponectin in exercise training-induced vascular adaptation," Jaime Sepulveda (Judy Delp)