Arts in Medicine volunteer program creates opportunities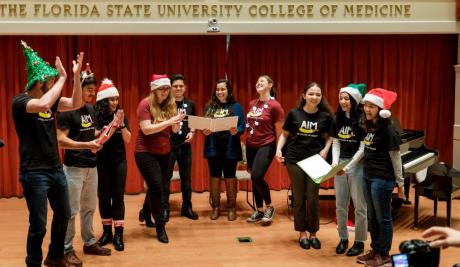 ×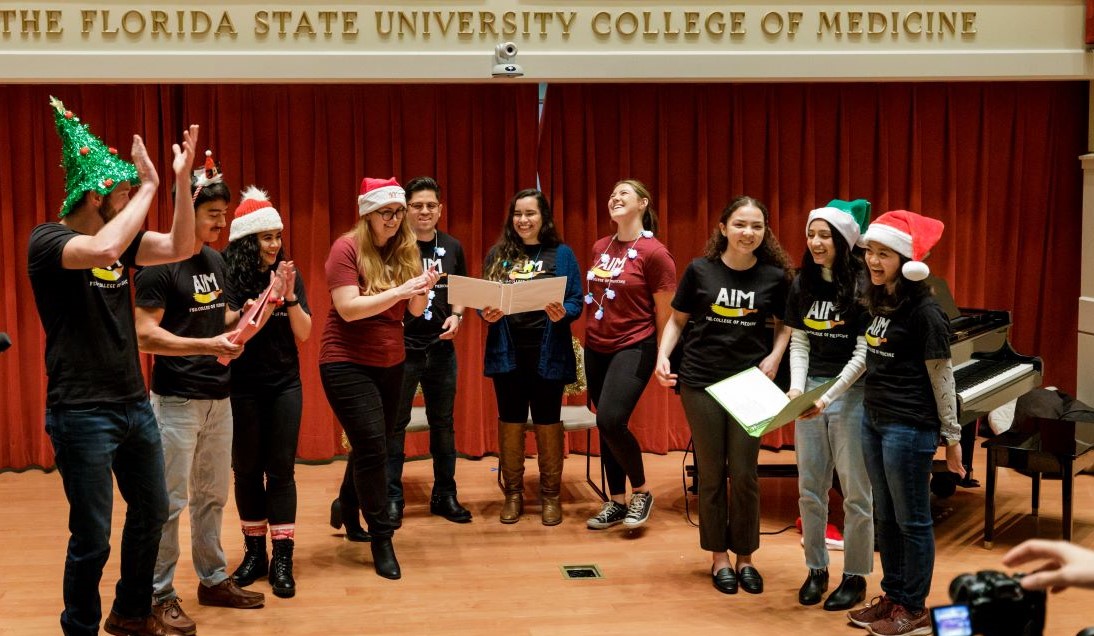 The patient-centered and community-based focus of the Florida State University College of Medicine is an innovative model of medical training, giving students more opportunities for direct interaction with patients than traditional medical schools do. Patient-centered education, at FSU, also includes opportunities focused on getting to know and understand people outside of the clinical setting.
That's especially true with the student-run community outreach program Arts in Medicine (AIM), whose purpose is to help students develop into better and more well-rounded physicians.
The value of arts in the healing process has long been established, as evidenced by art therapy and music therapy programs. Operating under the umbrella of the Chapman Humanities & Arts Program (CHAMP), the AIM volunteer program uses dance, music, and visual arts to enhance the well-being of specific patient groups in the Tallahassee community, while also giving students a lens through which to see patients as people, first and foremost.
Aanchal Shah, a second-year medical student, serves as AIM president and leads the dance component. She volunteered in an Arts in Health program while an undergraduate student at the University of Florida and wanted to keep doing it, but FSU had no such program. She worked with CHAMP Director Tana Jean Welch to create one.
"Dance is incredible and can help with balance, coordination and motor skills, " Shah said. "We worked with the Parkinson's Outreach Alliance, which is now under Elder Care Services Inc. The idea is to challenge patients while providing a fun and engaging community environment."
Since it was formed a year ago, AIM projects in all three sectors had to be conducted remotely, usually via Zoom. As the College of Medicine returned to the new normal, opportunities to interact with patients in person have increased. There are also research opportunities in many of these projects.
"All the existing research on using dance to help people with Parkinson's with their balance has been with live classes," Shah said, adding she is working with a few AIM board members and Professor Gerry Maitland on a proposed study of the efficacy of virtual workshops.
Shah recently became the first Indian American to be named Miss Orlando, and she has used to her title to promote skin cancer prevention and to amplify the mission of Arts in Medicine.
The concept of humanism in medicine has been around for decades but has really blossomed over the past 10 years, said Welch, who serves as associate professor of medical humanities. A poet herself, Welch teaches "narrative medicine," which is based on the concept that if you understand the tenets of narrative writing, you can better understand the patient's story.
"The practitioner can also write about their experience with the patient, and this narrative process in turn helps the practitioner to think deeper about the patient situation and the patient-doctor relationship," she said.
Clinical Sciences Professor Robert Watson, who is trustee of the Jules B. Chapman and Annie Lou Chapman Private Foundation, said the fund supports humanism projects at FSU, UF and the University of Central Florida.
"Humanism in medicine is about listening, about providing humane, empathetic care for your patients," he said. "The only way to be a great physician is for your patient to trust you, to know that you are willing to make the whole journey with them."
To build that kind of trust, the physician must know and understand the person who is more than just a patient, he said. The arts create a great opportunity to increase awareness of cultural, religious, socio-economic and ethnic diversity, as well as learn strategies for handling stress and avoiding burnout.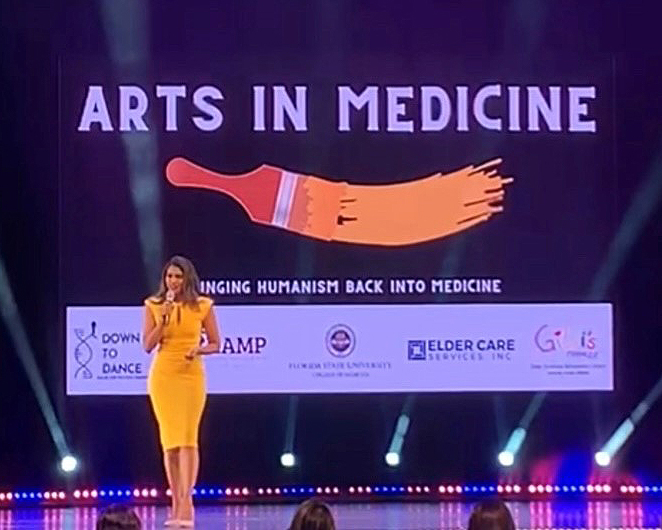 Shah had completed the Dance in Medicine certification program through the Center for Arts in Medicine while at UF, and she shared what she had learned with other student volunteers.  She has always loved dancing – her mother ran a Bollywood dance studio when they lived in New York and opened another one when the family moved to Jacksonville during Shah's freshman year of high school. And Shah performed a traditional Indian dance at the Miss Florida competition, in which she hailed her finish in the top 10 as a victory for diversity and inclusion.
"Learning Bollywood dancing helped me feel connected to my roots as well as my extended family in India," she said, "but my undergraduate experience also completely solidified the track I want to take in medicine. My great-grandparents lived in a rural area and struggled to get access to health care."
Katarina Forsthoefel and Cameron Gerhold, both second-year medical students, direct the visual arts component, which recently worked with the Tallahassee Memorial HealthCare Foundation to create art kits for patients in pediatric units, cancer centers and rehabilitation centers. Research has shown that participating in visual arts can decrease depression and promote wellness.
Erika Boone and Lilly Kraft, also second-year medical students, direct the Music in Medicine Program, believing that both music and medicine can help people heal, and they hope to share their love of music with the wider Tallahassee community.
Shah noted that running the AIM outreach program is a team effort and "would not be possible without the wonderful executive board of second-year medical students." They are Alex Tolbert (external outreach director), Ariana Genovese (dance in medicine facilitator), Cameron Gerhold (visual arts in medicine director), Catherine Maige (internal affairs director), Delaney Rahl (marketing director), Erika Balazs (dance in medicine facilitator), Nicole Batista (secretary), Monica Vemulapalli (volunteer coordinator), Nate Steineck (multimedia director), Nikki Sangha (dance in medicine facilitator), as well as Forsthoefel, Gerhold, Boone and Kraft.
AIM welcomes all students to share their talents.
"It's a time commitment," Shah said, "but when it's something you're passionate about, and you can see the true impact it is making on patients in the community, it never feels like extra work."
Contact Audrey Post at audrey.post@med.fsu.edu
Spotlight photo of Aanchal Shah by Colin Hackley for the FSU College of Medicine
Photo of the AIM Christmas concert by Colin Hackley for the FSU College of Medicine
Photo from the Miss Florida Pageant provided by the Shah family.