Art connecting College of Medicine researchers, students and the community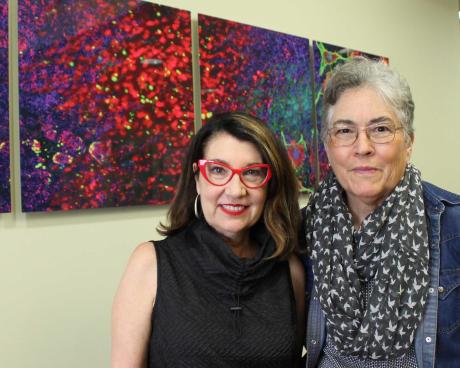 ×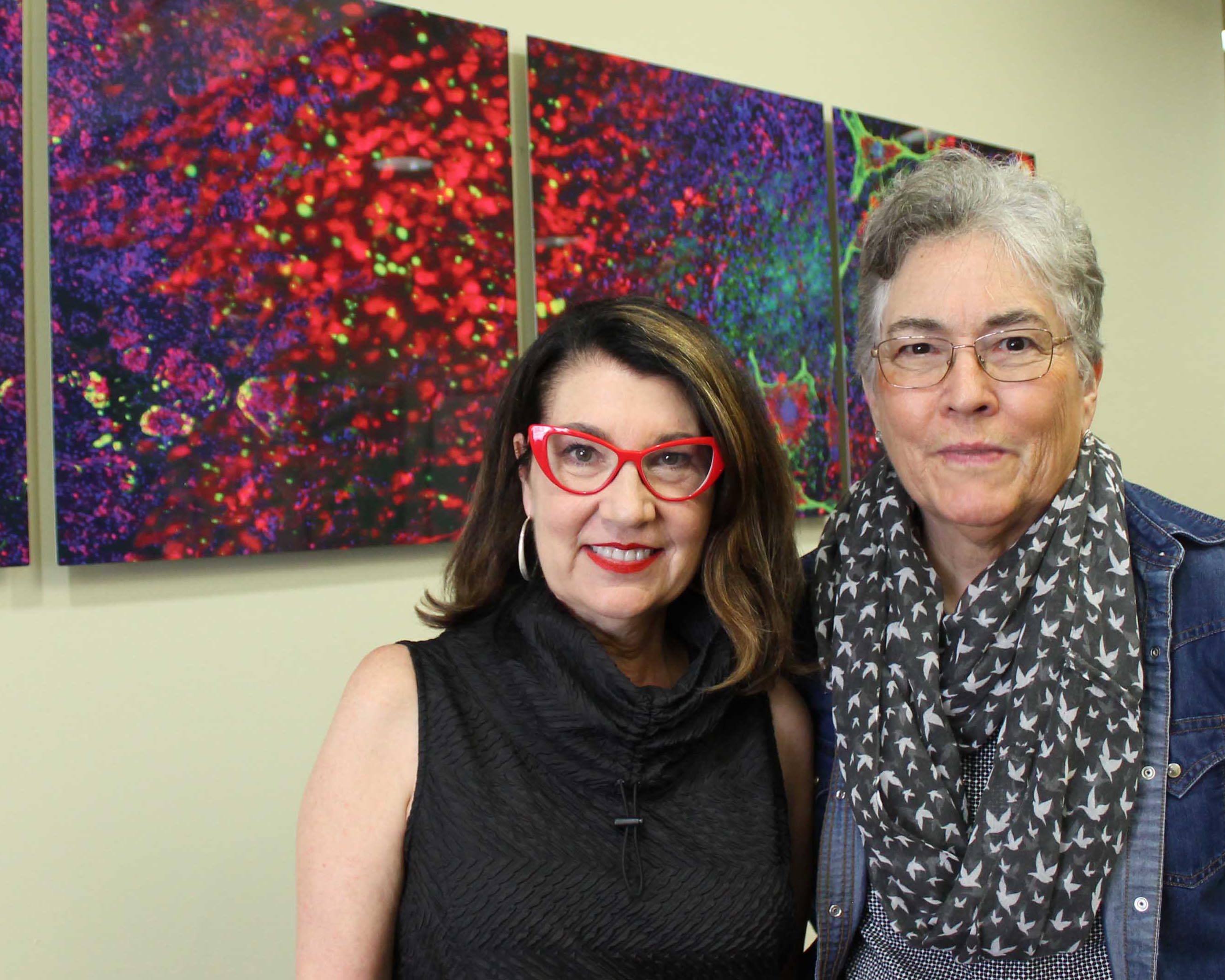 You can trace some of the earliest connections between art and medicine to the 16th century work of Leonardo da Vinci, whose anatomical drawings are still in use at some medical schools.

Five centuries later, the FSU College of Medicine is utilizing more contemporary styles to connect the two, and share with others.

Cathy Levenson, professor and vice chair of the Department of Biomedical Sciences, hosted a Dec. 6 reception for the formal unveiling of two large scale works created by FSU Art Professor Emeritus Mary Stewart. Her work is permanently on display in the lobby of the college's research wing, and it incorporates more than 30 photomicrographs of research submitted by faculty and graduate students.

Visitors are immediately greeted by "Celestial Bodies: As Above, So Below," a stunning, 17-foot print on fabric on the semi-circular wall inside the main entrance. The piece weaves together intricate biological images from the microscope lenses of College of Medicine researchers, with a vastness of the universe seemingly from the lens of NASA's Hubbell telescope.

A second piece, "Celestial Bodies: Red Sea," is printed on four high-gloss aluminum panels which span eight feet. High-resolutions details in vibrant colors capture cellular life at it most brilliant.

"We are indebted to everyone who contributed images and to the donors who supported the project financially," Levenson said, "but most especially to Mary Stewart for her vision, creativity and generosity, which has turned our science into world-class works of art."

Partnering with the College of Medicine's Arts in Medicine (AIM) program, the Office for Clinical Research Advancement (OCRA) is the beneficiary of the talents of a group of medical students who use dance, music and visual arts to help patient populations in the Tallahassee community.

Six AIM students and faculty representatives recently dedicated a colorful new wall mural hanging in OCRA's Clinical Research and Trials Unit, which is located at Innovation Park. AIM faculty advisor Tana Jean Welch tapped into the student group, which in turn asked clients from Elder Day Stay – a Tallahassee-area senior program for those with cognitive and physical limitations – to illustrate "What makes you happiest?" on paintable ceramic.

Medical students Katarina Forsthoefel and Cameron Gerhold, AIM's visual arts directors, led the project, which produced 24 titles of rainbow-colored brush strokes, depicting an assortment of images including hearts and flowers, bicycles in motion and a flag from one artist's homeland. The FSU Master Craftsman Studio assembled and framed the titles into a 4-foot by 3-foot mural, appropriately named "Happiness."

The AIM program at FSU was started by second-year medical student Aanchal Shah and is sponsored by the Chapman Humanities and Arts in Medicine Program (CHAMP). Created to work directly with patient populations, AIM encourages activities to reflect on core human values in medicine that are essential to providing humanistic, empathetic and ethical care.

"AIM students engage the arts to promote health and wellness throughout Tallahassee's healthcare and community settings," said Welch, associate professor of medical humanities and director of CHAMP. "Research shows the arts can enhance the well-being of patients, but AIM's art, music, and dance activities also connect students to the community which in turn reinforces the concept of the patient as a unique person rather than a disease or case to be solved.

"Our art programs with Elder Stay, for example, have dispelled assumptions students may have had about the capabilities of people in this population group."
 
CHAMP educates College of Medicine students on the value of art and creativity as a catalyst for achieving healthier lifestyles for both patients and health care professionals.
 Contact Robert Thomas at robert.thomas@med.fsu.edu