Yasmin Ali to Attend CUPID Summer Transitional Oncology Program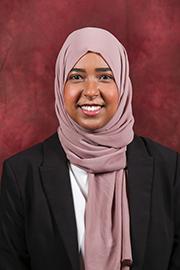 ×
Yasmin Ali, a first-year medical student at the FSU College of Medicine, has been accepted into The Cancer in the Under-Privileged, Indigent or Disadvantaged (CUPID) Summer Translational Oncology Program at Johns Hopkins University.
The mission of CUPID is to address the impending shortage of practicing oncologists within the US, and to cultivate an interest in cancer treatment and research among medical students who have not yet fully defined their career plans.
This is a 7-week NCI-funded, bi-institutional oncology fellowship with an emphasis on laboratory-based research. The program includes formal lectures discussing health care disparities, general oncologic principles, and specific diseases prevalent in underserved populations.  The number of fellowships is limited and admission is highly competitive. One important goal of the program is to reach out to students at institutions that are not affiliated with an NCI-designated cancer center.