Thomas featured at Class of '22 White Coat Ceremony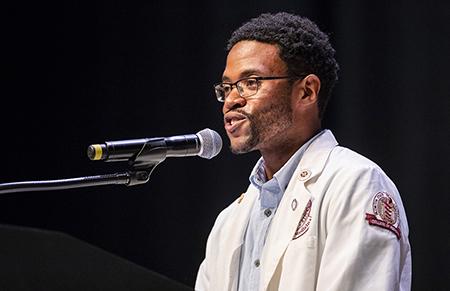 ×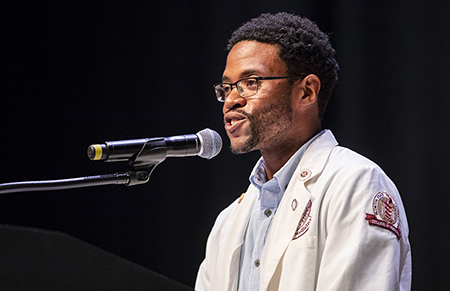 Aug. 10, 2018
"We are adding 120 additional 'lights' that will shine bright in offices, health fairs and even internationally through mission trips. There continues to be hope for our patients and communities through our new group of healers."
That's how Brett Thomas (M.D., '14) greeted the Class of 2022 at their White Coat Ceremony – with the sincerity he was known for during his years at the College of Medicine.

Dean John P. Fogarty introduced Thomas as a Bridge Program alumnus; former TA; former class president; Gold Humanism inductee; National Health Service Corps scholar; Tylenol Future Care Scholar; Herbert W. Nickens scholar, one of only five in the country in 2014; author of a research paper on successful African-American men in medical school, published in Academic Medicine; former chief resident at Wake Forest; and current medical director and interim chief medical officer at a Federally Qualified Health Center in Winston-Salem, North Carolina.
The focus of his talk was burnout in medicine.
"Over the last several months," he said, "I have been working through and healing from a season of work-related emotional exhaustion. I don't want to spend time discussing burnout prevalence and statistics. I know the stressors in medicine are very real and palpable to us. My main objective is to share pointers that I have relearned and begun to implement daily. I have a duty to do this because burnout without intervention can threaten your dreams, values and patient-centeredness. And I want to support every rising and current physician in this auditorium."
These were his prescriptions for the Class of 2022, inspired by Richard Swenson's book "In Search of Balance":
It's OK to say "No."
Reject perfectionism, and pursue character instead.
Change your hair color or get a new haircut today. ("Don't hold back, and truly live today like tomorrow is not promised.")
Cling to mentors and people who love you.
Sleep.
Practice meditation and reflection. ("I know all of you have made tremendous sacrifices to have a seat in this auditorium and wear this white coat. Don't let the dark seasons intimidate you. Revisit your personal statements. Reflect on your resume. Go revisit that neighborhood or community with health disparities that sparked something inside of you. Start a journal. Never forget who you are."