Picking up the pace in genomics research
Mar 09, 2015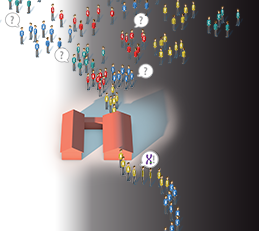 Scientists have come a long way since creating the first map of the human genome in 2003. Technological advances have accelerated DNA sequencing of the human genome – a process that once took a decade or more to complete – to the point that it can be done in a matter of days, even while yielding more information.
At Florida State, researchers are sequencing and mapping genomes for everything from fruit flies to humans, producing information that has led to numerous discoveries about the molecular basis of disease and sex differences, to give two examples.
With advances in the technology, however, come problems.
"It's just the middle part—getting a large sequence file into something intelligible. Most people don't have that skill set," said Michelle Arbeitman, associate professor of biomedical sciences at the College of Medicine.
Help is on the way in the form of a new Center for Genomics and Personalized Medicine at Florida State. The center, approved in December, is a joint effort of the College of Medicine and the College of Arts and Sciences and will be available for use by other university departments.
The center is expected to quicken the pace of genomics research at FSU, relieving a current backlog of information that needs analysis.
"Researchers will be able to take large sequence data files and work with the center to perform all downstream computational and statistical analyses," Arbeitman said. "Currently one of the major bottlenecks is that once they have the data the individual researchers don't necessarily have the expertise to know how to move forward with it. The center provides those services."
Planning has taken two years, spurred through weekly meetings involving the center's founder, Gary Tyson (computer sciences), David Gilbert (biology), Arbeitman and Biological Sciences Associate Professor Jonathan Dennis. Daniel Vera (formerly a postdoctoral researcher in Dennis's lab) has been selected as the center's director.
While it is operational, the center has not yet identified a location on campus for its central office. A great deal of the genome sequencing takes place in the College of Medicine's Translational Science Laboratory, which has an automated sequencer that can map an entire genome in a few days.
"Our lab produces approximately 16 trillion base pairs of sequence data annually for researchers at FSU and all over the world," said Roger Mercer, director of the Translational Science Laboratory. "That's the equivalent of about a hundred genomes, though much of our work is done in species other than humans."
The 'personalized medicine' aspect of the center meshes with the development of the College of Medicine's Clinical Research Network (CRN). The CRN potentially will harness information from more than 2 million patients treated by more than 2,400 community physicians who teach FSU medical students throughout Florida.
For now, there's a lot to be deciphered.
"For most researchers, what comes out during genome sequencing is like having a library filled with classical literature written in Italian – if you don't speak Italian," said Myra Hurt, senior associate dean for research and graduate programs at the College of Medicine.
"You know all the letters, but you need a translator to know the words. The new genomics center will translate the 'letters' into meaningful genetic information, leading to new discoveries."