Our Campuses at a Glance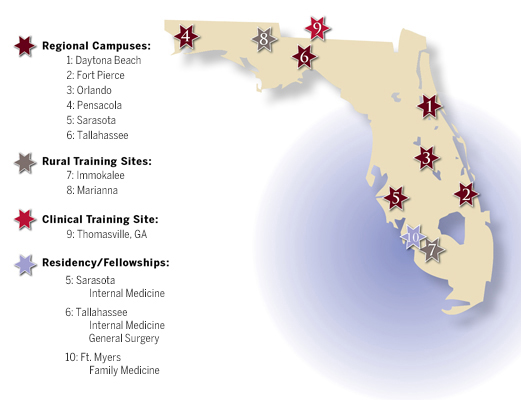 If you ask the deans of the College of Medicine's regional campuses why this new model for medical education has worked so well, they'll all say the same thing: the faculty.

It was a novel idea: have practicing physicians at our six regional campuses and three rural training sites take on third- and fourth-year students almost as apprentices at their offices, clinics and other venues, giving them the one-on-one wisdom and hands-on opportunities they wouldn't get at a large academic medical center. The only catch, of course, was whether these physicians would have the time.

Amazingly, as of 2012, nearly 2,100 have found the time. More important, they have become excellent teachers during students' required rotations in family medicine, internal medicine, pediatrics, surgery, obstetrics-gynecology, geriatrics, psychiatry and emergency medicine, plus electives. Thanks to them and to the clerkship directors, College of Medicine students have excelled on national exams of clinical knowledge and skills. And for their part, the faculty members say that teaching not only makes them sharper physicians but also rejuvenates their enthusiasm for practicing medicine.

The links below will take you to specific information about each of our regional campuses, including lists of those all-important faculty members mentioned above.