Maximizing Quality of Life During Late-Stage Dementia: Special Focus on Hospice Care
Start Date
Thu, 9/22/2022
Audience
Adults
Biomedical Graduate Students
Campus Faculty
General Public
Students
Presenter
Pastor Lenny Marshall and Pastor Tracey Mills
Event Host
Department of Behavioral Sciences and Social Medicine
Event Sponsor
African-American Alzheimer's Caregiver Training and Support Project 2 (ACTS2) and Resources & Education for Aging, Community and Health (REACH)
Introduction
Please join us for our next free Facebook Live Workshop, "Maximizing Quality of Life During Late-Stage Dementia: Special Focus on Hospice Care," 7:00 PM-8:15 PM (Eastern Time) Thursday September 22, 2022. This workshop provides important information about the spiritual, emotional and physical health benefits of hospice care for older adults with dementia and their family caregivers during the late stage of the condition. Caregivers typically receive little or no information about the impact of hospice on quality of life for their loved ones with dementia from their health care providers. Here's your opportunity to get the inside scoop! 
Description
Featured presenters, Pastor Lenny Marshall and Pastor Tracey Mills, hospice care leaders and clergy, will cover key topics, such as best methods for accessing hospice care for persons with dementia, spiritually and culturally responsive in-home and facility-based services, and how to obtain insurance coverage for hospice care. Syrita Frinks will discuss her personal experiences in using hospice for her grandmother with dementia and offer useful strategies for reducing distress in providing care to loved ones in late-stage dementia. Tomeka Norton-Brown will highlight opportunities for free skills training, problem-solving consultation, and support for family caregivers of older adults with dementia. 
Current and future caregivers, elder care professionals, and other interested community members are strongly encouraged to join the workshop. 
Please contact Tomeka Norton-Brown via email tnnorton@fsu.edu to register. After you have registered, we will send you written workshop materials. If you have questions or need additional information, please call toll-free 1-866-778-2724 or email tnnorton@fsu.edu. Sponsors for this workshop are the African-American Alzheimer's Caregiver Training and Support Project 2 (ACTS2) and Resources & Education for Aging, Community and Health (REACH). 
Contact Name
Tomeka Norton-Brown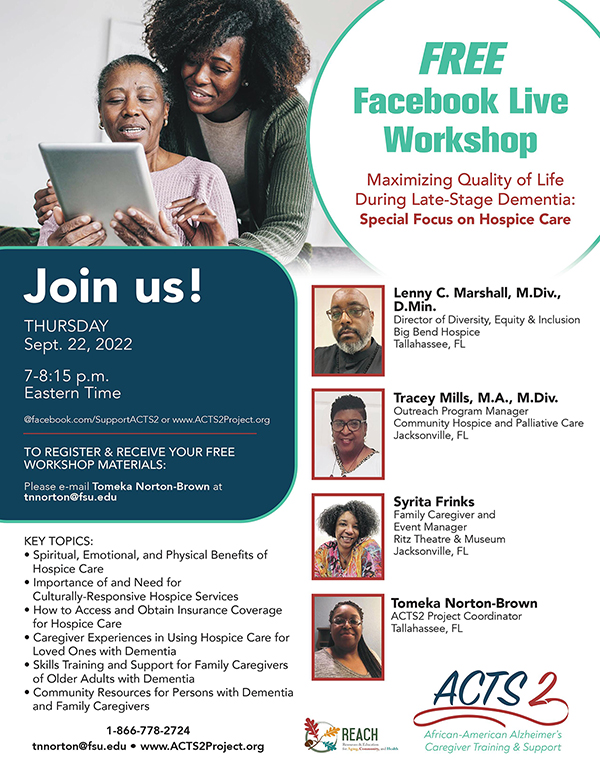 Add Event to Calendar
Thu, 9/22/2022 7:00pm
Thu, 9/22/2022 8:15pm
Eastern
Maximizing Quality of Life During Late-Stage Dementia: Special Focus on Hospice Care
---