BMS Seminar Series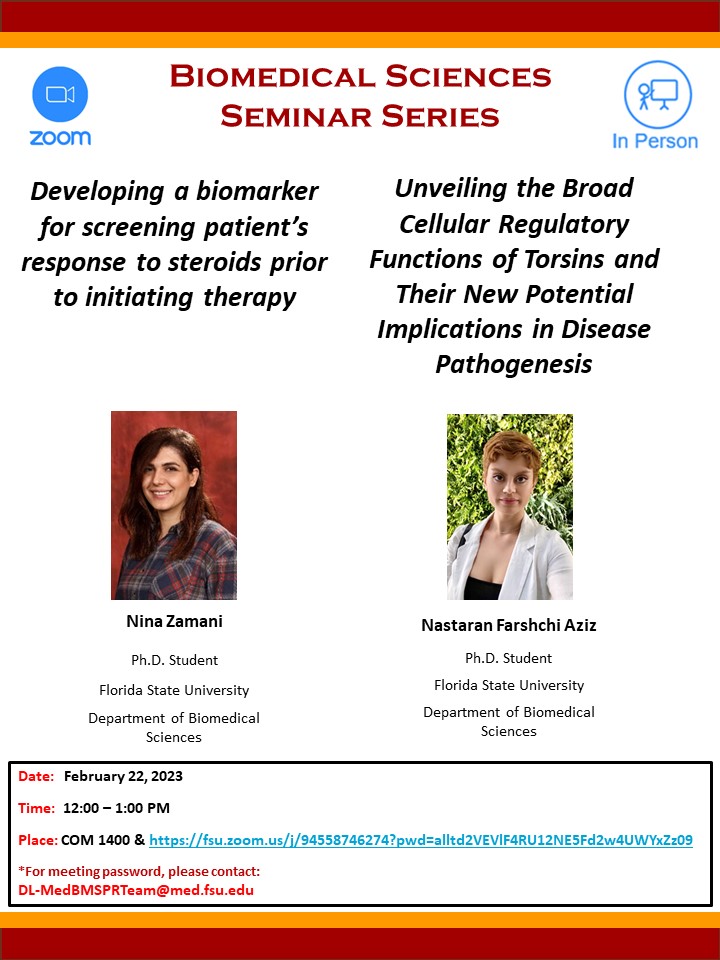 Start Date
Wed, 2/22/2023
Audience
Adults
Biomedical Graduate Students
Campus Faculty
Campus Staff
Presenter
Nina Zamani and Nastaran Farshchi Aziz
Event Sponsor
Biomedical Sciences
Introduction
Two Biomedical Sciences PhD students will present their research at this week's seminar. For login information, contact DL-MedBMSPRTeam@med.fsu.edu.
Description
Developing a biomarker for screening patient's response to steroids prior to initiating therapy
Nina Zamani
Keloid lesions are fibrotic scars on the skin that occur in susceptible individuals due to abnormal wound healing and are characterized by excessive collagen production. Corticosteroids are used as adjunctive therapy to surgical excision and have demonstrated a reduction in recurrence rates. However, some reports in the literature suggest that a significant number of keloid patients may be refractory to steroid therapy. After Completing primary study our lab identified 6 genes, namely MCAM, WFDC1, IGFBP2, RBM24, IGF1 and EYA4, whose expression patterns correlate very well with the response to steroids. This suggests that one or more of these could be used as biomarkers in a molecular test for determining response to steroids prior to initiating steroid therapy for keloids.
Unveiling the Broad Cellular Regulatory Functions of Torsins and Their New Potential Implications in Disease Pathogenesis
Nastaran Farshchi Aziz
Torsins are a family of AAA+ ATPases that play regulatory roles in several cellular processes, including protein folding, membrane trafficking, and nuclear envelope dynamics. The dysfunction of Torsins has been associated with Dystonia, a neurological disorder characterized by sustained muscle contractions and abnormal postures.
Recent studies have shown that the interaction between Torsins and NEP1R1-CTDNEP1 phosphatases is critical for the proper regulation of cellular processes, including protein degradation and nuclear envelope dynamics. While there is evidence that TorsinA mutations are linked to the onset of dystonia, the exact mechanisms through which this occurs are not yet fully understood.
In this seminar, we will discuss the regulatory roles of Torsins and their implications for Dystonia, as well as their potential role in Autophagy regulation; the latter has not been studied yet. We will also explore the interaction between Torsins and NEP1R1-CTDNEP1 phosphatases in both humans and flies, with a focus on the latest research findings. The seminar aims to provide an overview of the current understanding of the roles of Torsins in the regulation of cellular processes and their potential as a target for the development of therapeutic interventions for Dystonia.
Contact Name
Tiffany McNabb
Add Event to Calendar
Wed, 2/22/2023 noon
Wed, 2/22/2023
Eastern
BMS Seminar Series
---
COM 1400 & Zoom