BMS Seminar Series: Second Year Student Talks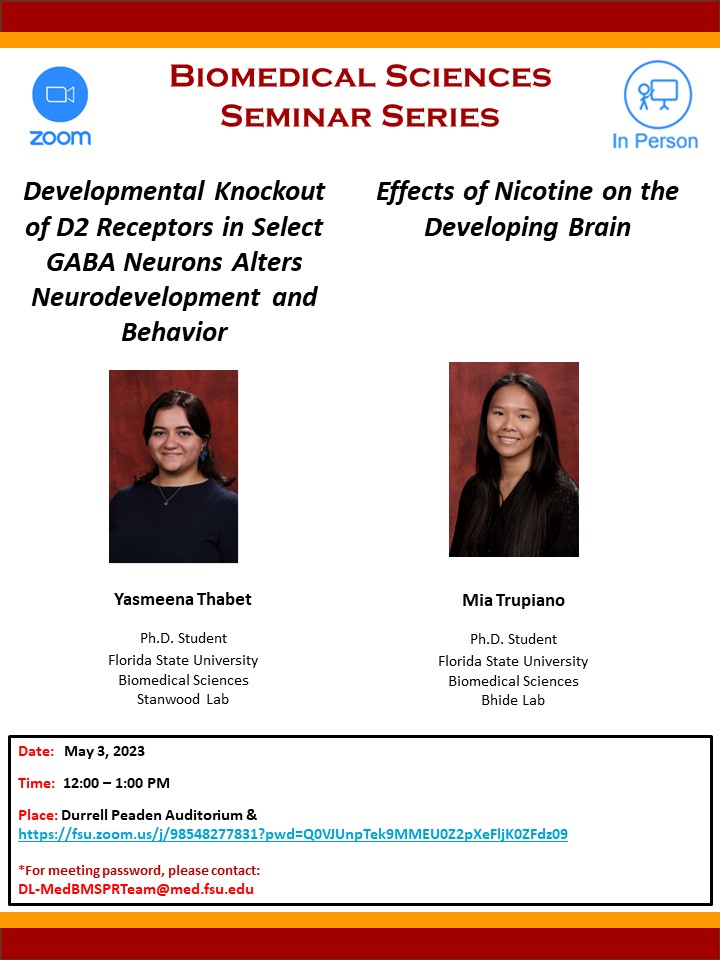 Start Date
Wed, 5/03/2023
Location
Durrell Peaden Auditorium
Audience
Adults
Biomedical Graduate Students
Campus Faculty
Presenter
Yasmeena Thabet and Mia Trupiano
Event Host
Gregg Stanwood and Pradeep Bhide
Event Sponsor
Biomedical Sciences
Description
Developmental Knockout of D2 Receptors in Select GABA Neurons Alters Neurodevelopment and Behavior
-Yasmeena Thabet, Stanwood Lab
The brain contains a wide variety of unique neurons based on location, gene expression patterns, morphology, and connectivity patterns. Inhibitory GABAergic interneurons in the medial frontal cortex (MFC) are an important neuronal subpopulation and are vital for controlling brain signaling; defects in those inhibitory interneurons can contribute to schizophrenia, epilepsy, Parkinson's, and major depression. The neurotransmitter dopamine modulates the activity of these neurons in mature circuits but also modulates their assembly during neurodevelopment. Moreover, D2 receptors targets of multiple environmental chemicals and drugs that negatively impact neurobehavioral development. We, therefore, deleted the dopamine D2 receptor selectively from these neurons; these conditional D2R knockout mice (D2R-GABA-cKO mice) take advantage of the fact that a transcription factor (Nkx2.1) is specifically expressed in the developing medial ganglionic eminence (MGE). Previous work in our lab documented resultant changes in learning, behavioral pharmacology, and interneuron differentiation using that model. Identification of mechanisms involved in these changes will help us better understand the pathophysiological basis of developmental brain disorders and the regulation of cerebral cortical development and plasticity.
Effects of Nicotine on the Developing Brain
-Mia Trupiano, Bhide Lab
Cigarette smoking and vaping during pregnancy are major public health concerns because they are associated with harmful effects on both the mother and the offspring. Adverse effects of developmental nicotine exposure include ADHD, autism, learning disabilities, depression, and epilepsy. Interestingly, all these disorders are believed to be associated with deficits in the GABA neurotransmitter system. Preclinical studies from our lab show that developmental nicotine exposure produces reductions in frontal cortical GABA-to-Glutamate ratio, suggesting downregulation of frontal cortical inhibitory tone. However, the mechanism associated with to these changes are unclear. For example, whether nicotine exposure of the developing brain can reduce GABA neuron production and/or perturb GABA neuron cell fate acquisition. Both these events occur during pre- and postnatal development and are vulnerable to developmental nicotine exposure. My overall hypothesis is that nicotine perturbs GABA neuron production as well as cell fate specification by influencing the expression of genes that are critical for these processes.
Contact Name
Tiffany McNabb
Add Event to Calendar
Wed, 5/03/2023 12:00 PM
Wed, 5/03/2023
Eastern
BMS Seminar Series: Second Year Student Talks
---
Durrell Peaden Auditorium