Facilities
About Sarasota Memorial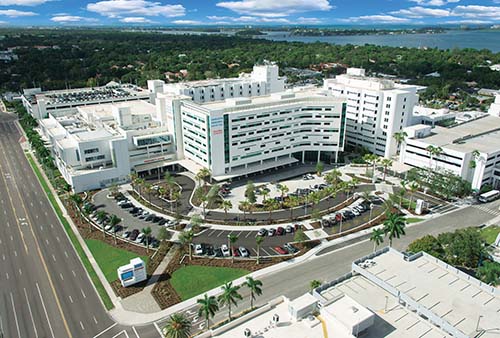 Sarasota Memorial Health Care System, an 819-bed regional medical center, is among the largest public health systems in Florida. With about 5,000 staff, over 900 physicians and 500 volunteers, it is one of Sarasota County's largest employers.
A community hospital founded in 1925, Sarasota Memorial is governed by the nine-member elected Sarasota County Public Hospital Board. It is a full-service health system, with specialized expertise in heart, vascular, cancer, and neuroscience services, as well as a network of outpatient centers, long-term care and rehabilitation among its many programs. Sarasota Memorial is the only hospital providing obstetrical services, pediatrics and Level III neonatal intensive care in Sarasota County.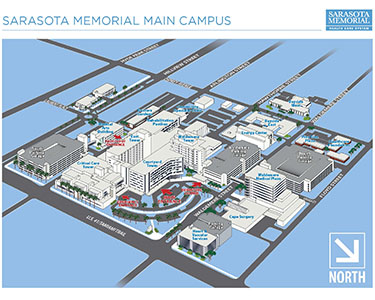 Sarasota Memorial ...
•Is ranked #1 on the Suncoast in the 2015-16 Best Hospitals report, U.S. New & World Report for overall quality, safety and care. The annual Best Hospitals rankings, now in their 26th year, recognize hospitals that excel in treating the most challenging patients. Over the past decade, Sarasota Memorial has been recognized nationally in multiple specialties and remains the only local hospital consistently ranked as the region's best.

In U.S. News' 2015-16 Best Hospitals regional rankings, Sarasota Memorial ranked:
• #1 in the Sarasota-Venice-North Port-Bradenton region
• Tied for #7 among all Florida hospitals for overall quality, safety and care
On a national level, the health system ranked as a "high performer" (top 10 percent in the nation) for the adult specialty Gastroenterology and GI Surgery and received "high performer" ratings in four of the five most common procedures/conditions needed by hospitalized patients that U.S. News evaluated:
-- Chronic obstructive pulmonary disease (COPD)
-- Heart failure
-- Hip replacement
-- Knee replacement

•Was singled out by Consumer Reports for leading the nation in avoiding hospital readmissions. In 2014 hospital rankings, Sarasota Memorial had the lowest (best) readmission rate of hospitals with at least 500 beds. The study ranked nearly 4,500 hospitals based on the most recent data available from the federal Centers for Medicare and Medicaid Services.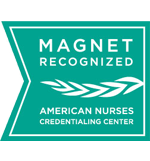 •Earned Magnet Nursing Services Recognition, the nation's highest honor for excellence in nursing, from the American Nurses' Credentialing Center. Sarasota Memorial was designated for the third time in 2014 — a rigorous challenge accomplished by just 1 percent of the nation's hospitals — after a lengthy application process that included detailed documentation and an on-site visit. The hospital is currently the only provider in the region with the designation.

•Is one of only 40 organizations worldwide that have earned the 2015 Gallup Great Workplace Award. The award was created to recognize organizations for their extraordinary ability to create an engaged workforce that drives quality, safety and superior performance.

•Achieved recognition from the following insurers:
-- Florida Blue Distinction for Cardiac Care, Spine Surgery, Hip/Knee Replacement.
-- Aetna Institutes of Quality for Cardiovascular Surgery, Cardiac Intervention, Cardiac Rhythm
-- Cigna recognition for Cardiac Care, Hip Replacement, Pulmonology, Stroke

•Earned the top spot in a BetterDoctor study published in July, 2015 because of its low mortality and readmission rates of heart attack patients and consistent use of best practices and standardized protocols for heart attack care.

•Received Comprehensive Stroke Center Certification from DNV Healthcare, one of the leading accrediting organizations in the nation.The prestigious certification shows that Sarasota Memorial meets the highest standards of stroke care, from diagnosis and treatment to research, rehabilitation and education.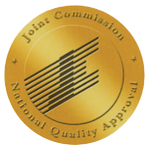 •Earned special Joint Commission certification for its congestive heart failure program and advanced re-certification for stroke care.

•Is state-certified as a Comprehensive Stroke Center. The designation demonstrates that our stroke care program follows standards and guidelines that can significantly improve outcomes for stroke patients. The hospital also has received the American Heart Association/American Stroke Association's Get With The Guidelines®-Stroke Gold Plus Quality Achievement Award and advanced certification from the Joint Commission.

•Was named a Consumer Choice Award winner for the Sarasota-Bradenton-Venice metropolitan area by the National Research Corporation (NRC) for the 16th consecutive year for 2013 - 20134. The award identifies hospitals that health care consumers have chosen as having the best overall quality, best doctors and nurses and image ratings in markets throughout the nation.

•Received full three-year accreditation for its Cancer Care Services from the American College of Surgeons' Commission on Cancer. Only one in four hospitals that treat cancer receive this special approval.

•Is accredited by the Commission on Accreditation of Rehab Facilities (CARF) for its Comprehensive Rehabilitation and Specialty Stroke programs. CARF accreditation is voluntary and is awarded only to those rehabilitation programs able to meet the commission's standards of excellence of patient care. Organizations must be re-accredited every three years.

•Has been awarded the Silver Beacon Award of Excellence, a national recognition from the American Association of Critical Care Nurses (AACN), for its Critical Care and Cardiac Acute Telemetry units. The prestigious honor recognizes unit caregivers who successfully improve outcomes and meet national criteria.

•Is grateful for the generosity of the Sarasota Memorial Healthcare Foundation Inc. Grants made by the Healthcare Foundation support patient care, research, education, technology and facilities at Sarasota Memorial Health Care System and throughout the community.

•Depends on its hundreds of volunteers, who donated more than a hundred thousand hours of devoted service to the organization. The hospital's Auxiliary has selflessly contributed millions of dollars through the years to hospital programs.

•Has a Diabetes Treatment Services that has received continued recognition from the American Diabetes Association for offering high-quality education services to patients.