Isabel Collier Read Remembered
Reprinted from the Summer 2008 issue of FSU MED magazine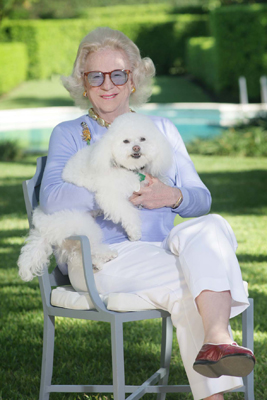 Nearly 200 guests gathered to celebrate the grand opening of the Isabel Collier Read Medical Campus in Immokalee March 18, 2008, and to remember the woman whose generosity and persistence ensured that the 29,000-square-foot medical clinic would exist to serve the rural, farmworking community northeast of Naples.

As a member of the family that developed Collier County, Isabel Collier Read, who passed away at her home in Palm Beach Feb. 5, 2008, at age 89, was a longtime champion of the Immokalee community.

In particular, Read was determined to ensure the availability of health care in Immokalee, whose population of 19,000 nearly doubles during the harvest season. In the 1990s, she donated land and money to build a clinic that would serve Immokalee's migrant workers and other low-income residents, but the building stood largely vacant for more than a decade.  

Richard Akin, president and CEO of Collier Health Services (CHS), recalled Read's admonition regarding the need to follow through on the development of a partnership with Florida State University for the operation of the clinic as a teaching site for medical and other health professions students.

"She said to me, 'Young man, I want to see action,' " Akin told the crowd gathered in front of the clinic, now home to a busy pediatric practice, with maternal/infant care scheduled to come on line in 2009.

Among those in attendance was Read's husband, William A. Read Jr., to whom she had been married since 1959. Mr. Read said his late wife had been pleased to see that the building was finally being used for the purpose for which she had originally intended it.

"I think the president of the university described things perfectly," Read said. "He said he was sure that Isabel was smiling down from heaven, and I think that's one of the best descriptions that you could come up with. The fact that Florida State was able to make one of its teaching facilities out of the place made her very, very happy."

The result of three separate gifts totaling $10 million, the project is the largest donor-funded initiative in the medical school's seven-year history. The building and land, valued at $7 million, were donated by NCH Healthcare, while Read endowed the medical education program with a $1 million gift. The Naples Children and Education Foundation then provided a $2 million grant for the renovation of the clinic and the build-out of about 13,000 square feet of shell space. In addition, Collier County provided a $250,000 community development block grant. With potential state matching funds of $2.75 million, funding for the campus could eventually total $13 million.

FSU President T.K. Wetherell said none of it would have happened without Read.

"She did a great thing not just for FSU, but for all of the children of Immokalee who will live healthier lives as a result," Wetherell said.

Students from the medical school's six regional campuses throughout the state will have the opportunity to fulfill several third-year required and fourth-year elective rotations in Immokalee, gaining a more complete understanding of rural medicine while contributing to the health of the community.

CHS, which relocated its Immokalee pediatrics practice to the Isabel Collier Read Medical Campus in early 2008, handles clinic management, including patient enrollment. In 2009, once the build-out of the shell space is complete, CHS will move its obstetrics/gynecology practice to the campus facility, which will have a total of 40 exam rooms.

"It's a wonderful legacy for Mrs. Read," said former College of Medicine Dean J. Ocie Harris.