Distinguished Alumni Award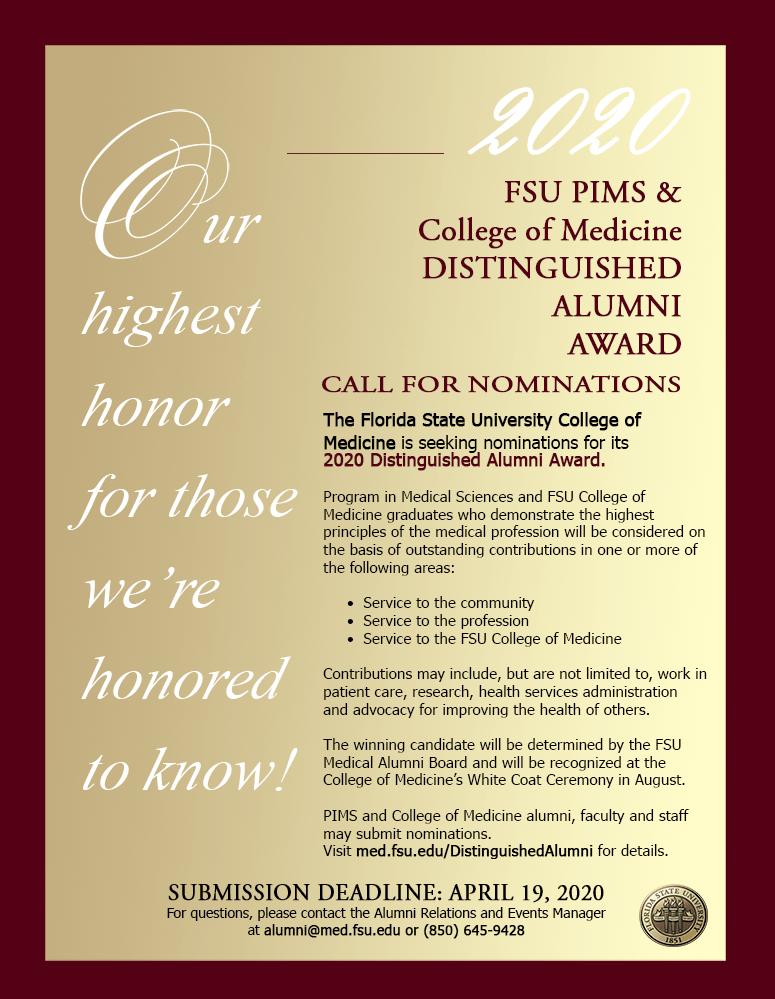 Purpose:
To recognize graduates of the College of Medicine and Program in Medical Sciences for their outstanding contributions to the health of all people through patient care, basic research, clinical research and/or health services administration and the demonstration of the high principals of the medical profession.
Nomination Process:
Candidates must be nominated by person(s) other than themselves.
Nomination letter may be sent via email, faxed, or mailed to the Alumni Relations Manager.
Nomination letter must contain:

Nominee's full name, graduation year, and current position.
Nominator's full name, current position, and contact information.

Discussion of the criteria listed below in as much detail as possible.
Indicate whether or not you would like this nomination to be considered for the next award if not chosen as the 2020 recipient.
Nominator must submit a complete nomination letter no later than April 19, 2020.
Criteria:
Service to the Community

The nominee has had an impact on the image of the FSU College of Medicine through leadership to alumni, students, and the community.
The nominee has improved a community in which they reside through activities and leadership.

Service to the Profession

The nominee has contributed to improvement or enhancement to the profession through developing program(s). Examples include, but are not limited to: education, research, patient care,and healthcare administration.

Service to FSU College of Medicine

The nominee advances the mission of the FSU College of Medicine through a combination of the following activities:

Support fundraising efforts.
Attend College of Medicine events.
Participate in student-alumni programs such as HOST and mentoring/shadowing programs.
Serve as faculty in a clerkship or other role.
Submit Complete Packets by April 19, 2020 to: 
FSU College of Medicine Alumni Relations Manager
1115 West Call Street
Tallahassee, FL 32306
Fax: 850-645-1420
Email: alumni@med.fsu.edu
The 2020 Distinguished Alumni Award recipients were revealed at the M.D. Class of 2024 White Coat Ceremony.
Former Distinguished Alumni Award Recipients
2019

Kerry Bachista, M.D. (Class of 2005)
Robert L. Brown Sr., M.D. (PIMS 1981)

2018

Matthew Lee, M.D. (Class of 2006)
Stephanie Lee, M.D. (Class of 2006)
Stephen Cummings, M.D. (PIMS 1976)

2017

Christie Alexander, M.D. (Class of 2005)
C. David Smith, M.D. (PIMS 1996)

2016

Garrett Chumney, M.D. (Class of 2005)
Michael Weiss, M.D. (PIMS 1991)

2015

Robin Albritton, M.D. (Class of 2007)
Frank Walker, Jr., M.D. (PIMS 1974)

2014

Mel Hartsfield, M.D. (PIMS 1978)
 
For more information about the FSU Medical Alumni Distinguished Alumni Award, please contact alumni@med.fsu.edu.