Legacy Celebration Program
Examples and more information about personalized bricks [pdf]
Locator Chart [pdf]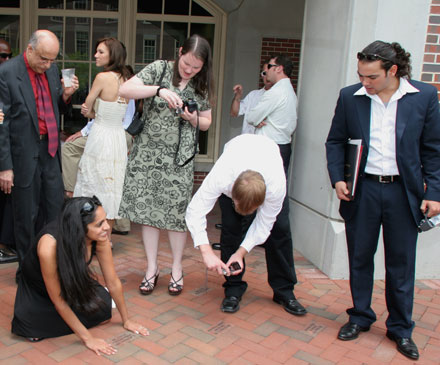 The walkway surrounding the College of Medicine courtyard is lined with personalized bricks. These commemorative bricks not only provide financial support for the college and its mission, but also create a lasting memorial to those honored by the inscriptions. Help pave the way for the future of medical education and pay tribute to a graduate, faculty member or perhaps the parents who helped cover the cost of medical school.
COURTYARD
4"x8" brick: Includes 3-line inscription, maximum 20 characters per line — $300.*
8"x8" brick: Includes 5-line inscription, with maximum 20 characters per line — $500.*
12"x12" blasted granite paver: Includes maximum 50 words, for $1,000.
12"x12" cast iron paver: Includes 50 words — $2,500.
5.5'x3.5' bench: Handcrafted using high-grade sculpting cement by FSU Master Craftsman Studio. Customizable 12"-diameter granite seal on backrest. FSU's three-torch seal on either arm — $10,000.
FRONT ENTRANCE 
4"x8" brick: Select number available directly outside College of Medicine's front entrance, one of the first things people see when they visit main campus. Includes 3-line inscription, maximum 20 characters per line—$500.
In addition, the college offers naming opportunities ranging from individual student lockers to auditorium seats and classrooms.
*Take-home replica: Replicas are available for purchase along with the purchase of a commemorative brick or paver.
$50 for each 4" x 8" replica brick
$100 for each 8" x 8" replica brick
$175 for each 12" x 12" replica paver