SSTRIDE©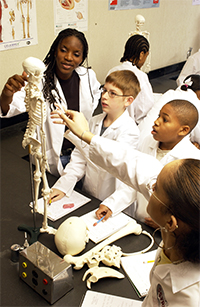 SSTRIDE©: Science Students Together Reaching Instructional Diversity & Excellence
SSTRIDE© is an outreach effort of the FSU College of Medicine.
SSTRIDE©'s Mission is to identify students who have a genuine interest in pursuing a career in science, engineering, mathematics, health, or medicine and to give those students the support services important for them to develop the sense of responsibility, focus and motivation necessary for success in their chosen fields.
SSTRIDE© has a college component for college and university students and a pre-college component for middle and high school students. 
The pre-college component is open to students from designated Florida middle and high schools in Collier, Gadsden, Okaloosa, Orange and Sarasota counties.  
SSTRIDE Schools by County
Collier County: Immokalee Middle School and Immokalee High School
Gadsden County: Gadsden Elementary Magnet School (GEMS), Gadsden County High School (GCHS)- USSTRIDE Outreach Program (mentoring and tutoring; virtual and in-school)  
Okaloosa County: Davidson Middle School, Shoal River Middle School and Crestview High School
Sarasota County: McIntosh Middle School and Sarasota High School, Booker High School - USSTRIDE Outreach Program (virtual Pre-Med Mentoring and Academic Enrichment Program) 
Previous SSTRIDE Schools
Leon County: Fairview Middle School, Afterschool Program Pick-up locations: Leon High School, Lincoln High School and Rickards High School (1994 - 2018)
Madison County: Madison County Central School, James Madison Preparatory High School (2014/2015) and Madison County High School (2003 - 2015)
Orange County: Memorial Middle School and Jones High School (2014 - 2019)
Walton County: Freeport Middle School and Freeport High School (2015 - 2018)
© Florida State University 1994-Present, All Rights Reserved.
---
Dreams Within Our Reach: The SSTRIDE Story
Learn about the SSTRIDE program, Science Students Together Reaching Instructional Diversity & Excellence, an outreach effort of the FSU College of Medicine.