News
Press Releases
3/19/2003 Medical School Launches Center for Rural Health with Gift From Blue Cross and Blue Shield of Florida
In the News
The Best Medicine
News From The Florida State University College Of Medicine
Art Clawson Directs BCBS Center for Rural Health, p. 5
Scholarships Bring Future Doctors Home to Practice, p. 6
Rural Physicians in the Making, p. 8
It Was Summertime But the Living Wasn't Easy
Center for Patient Safety to Focus on Preventing Medical Errors, p. 5
FSU Establishes Center on Terrorism and Public Health, p. 5
Television News
Peculiar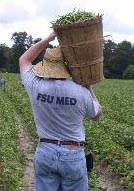 Pastime: Pea Farmer/Medical Student
August 13, 2003
Sarah Grady
You normally wouldn't think the farming industry and the medical profession would go hand in hand, but in this week's Peculiar Pastime they're like two peas in pod.
City sends residents to Med school [real player]
Joda Lynn, Josef Plum, Shannon Price
Regional News
A void exists in rural areas when it comes to medical care, but some programs are trying to address it.
April 12, 2004
By SARAH SKIDMORE
The Times-Union
Paul Payne's hometown of Crawfordville boasts about three stoplights and close to the same number of doctors.
When Payne finishes medical school at Florida State University, he will return to Crawfordville or a similar area to work. As a native of a rural area, he's seen firsthand the need for medical care there and is eager to meet it...
read the entire story