Two Florida State University College of Medicine Internal Medicine Residency Programs and a third-year medical student from the Sarasota Regional Campus turned in winning performances at a recent competition held by the Florida Chapter of the American College of Physicians (ACP).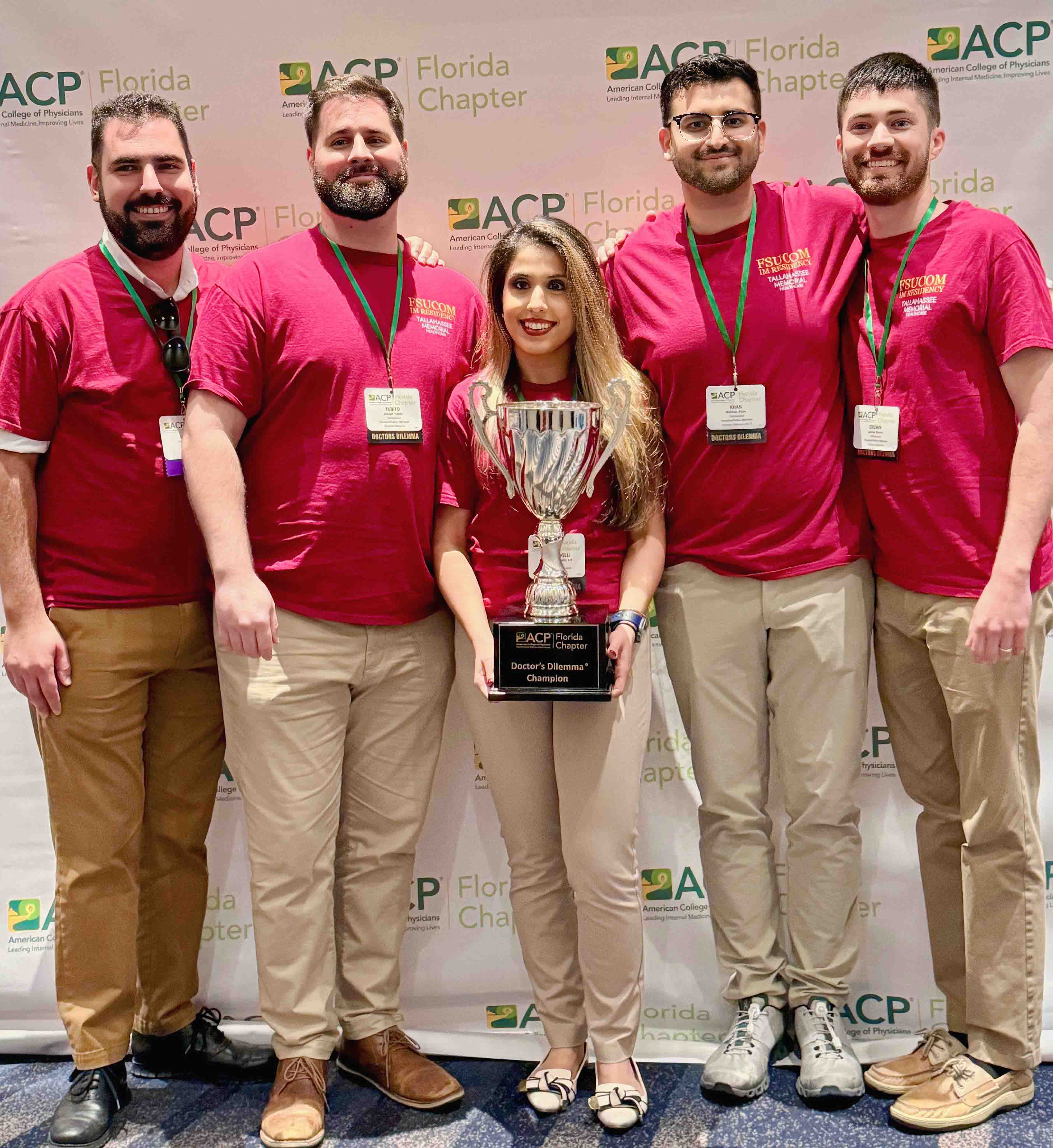 The internal medicine residency team at Tallahassee Memorial HealthCare, composed of Drs. Gizem Rehanoglu,  James Brown, Joseph Tubito, and Mohsan Khan, won the "Doctor's Dilemma" team competition, which tested their collective medical knowledge. They were under the guidance of program director Claudia A. Kroker-Bode, M.D., Ph.D., and Vincent Riesgo, M.D., who served as the team's coach and mentor.
Andrew Win, M.D., representing FSU's internal medicine residency program at Sarasota Memorial Hospital, collected top honors in the Resident Scientific Poster Competition. Win was the principal investigator on the project titled: Complete Blood Cell Count Parameters Differentiate Mortality Risk in Sepsis. Karen Hamad, M.D., is the Sarasota program director.
Brittany Long was the Medical Student Clinical Research Poster Session winner for her submission titled: "Two Minutes for Plants" – Changing the Health of Type 2 Diabetic Patients with a Brief Plant-Centered Intervention in a Non-Primary Care Practice. Long collaborated with Sarasota faculty member Allison Menezes, M.D., on the research project.
The TMH team, Win and Long advanced from regional competition as finalists for the Oct. 28-29 event, held in conjunction with the Florida ACP chapter's 55th Annual Scientific Meeting at The Grand Hyatt Tampa Bay. With their respective victories, they will represent the Florida Chapter at the ACP National Competition in Internal Medicine, scheduled for April in Boston.

(Caption: Left, Andrew Win, M.D., representing the internal medicine residency program at Sarasota Memorial Hospital, won the Resident Scientific Poster Competition. Right, third-year medical student Brittany Long, from the Sarasota Regional Campus, was the Medical Student Clinical Research Poster Session winner.)