Charles R. Matthews Scholarship Recipients Present Their Research on Prescribing Medications for Chronic Pain Management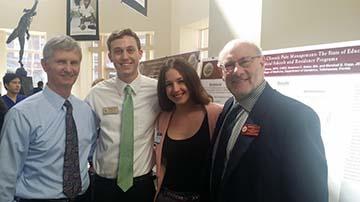 ×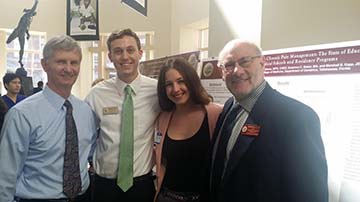 FSU medical student Wyndham Bonett and FSU law student Katherine Perdomo, recipients of the Charles R. Mathews Geriatrics Education and Research Scholarship presented their research at the 13th Annual Research Fair at the FSU College of Medicine on February 6th.

Their research project, Assessment of Chronic Pain Curriculum in Florida Medical Schools, was advised by Center Director Marshall Kapp and assisted by Suzanne Baker, M.A. Research Program Director in the Department of Geriatrics. The results were published in Florida Public Health Review, 2017; 14, 22-32 [pdf].

On October 25, Wyndham Bonett and Katherine Perdomo presented their research at the Health and Law Organization's (HALO) event on Prescribing Opioid Pain Medications .
 
To view their research poster, click here.