IMS Program Celebrates First Graduates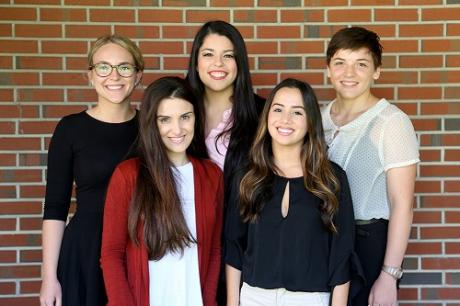 ×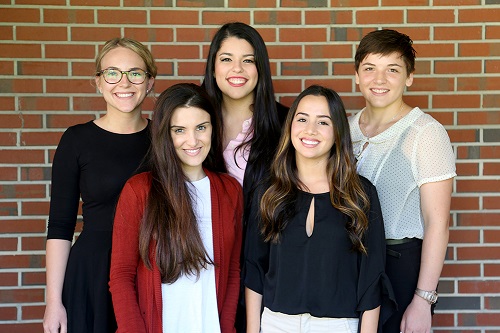 May 2018
Five members of the Class of 2018 are the first to complete Florida State University's newest academic program. Alexandra Duque, Rachel Gold, Katharyn Lindborg, Andreza Mellili and Marianna Silva are receiving a bachelor's degree in Interdisciplinary Medical Sciences.
The program provides a pathway into health-care careers and was the first of its kind when it welcomed new students in August 2016. IMS allows students to choose their own track and get real-world experience exploring options for a career in health care.
The five graduates represent all three majors within the program.
Duque, Gold and Mellili completed the clinical professions major – designed for those interested in medical school, dental school, pharmacy school, physician assistant programs and other health-care professions.
Gold will soon return to the College of Medicine, where the IMS program is based, but this time as a member of the second class of students in the School of Physician Assistant Practice.
"I feel so lucky to have had this program because I transferred here and was at orientation when I realized there was a new major that wasn't even posted on the website yet," said Gold. "I knew I wanted to go to either PA school or medical school and eventually realized that PA school would be the best fit for me."
In addition to course requirements, seminars and a capstone project, students are required to complete 256 experiential learning hours. To fulfill her requirement, Gold became a certified nursing assistant (CNA). Her experience working in a nursing home and assisted living facility helped the Niceville native find her niche.
"I really liked being a CNA and it definitely made me realize that I was on the right track and in the right program," she added. "I'm going to PA school in the fall and am thinking about pursuing geriatrics, maybe be a PA for some kind of long-term care facility."
The experiential learning hours are a vital component of the IMS degree requirements, and are part of what makes the program unique and exploratory.
"The program was designed to help students make more informed decisions about their careers, and the experiential learning is the most valuable part of the IMS experience," said College of Medicine Senior Associate Dean Myra Hurt, who conceived the idea for the IMS degree in 2012.
While a trio of graduates pursue clinical professions, Silva will be getting her degree in community patient care. Her track prepares students to work directly with patients in a variety of venues from health clinics to nonprofit respite providers.
Lindborg completed the third track – health management, policy and information, which prepares students for administrative and management roles in private and public health-care organizations.
She completed the majority of her experiential learning hours as an eligibility specialist at Shepherd's Hope, a medical clinic for low-income, uninsured patients.
"Shortly after I started at Shepherd's Hope, I stumbled across the IMS program and immediately switched into it," said Lindborg, who was recently named the College of Medicine's Undergraduate Humanitarian of the Year (read more).
"It was exactly what I was looking for – the perfect mix of science and policy. I have really enjoyed the variety in my schedule and being able to switch back and forth from studying molecules, to sociological theory."
The IMS program is a collaboration between seven different FSU colleges: Arts and Sciences, Communication and Information, Human Sciences, Medicine, Nursing, Social Sciences and Public Policy and Social Work.
The collaboration allows students to focus on core science courses – chemistry, biology and physics – while also offering electives and a flexible curriculum based on career aspirations.
The program may have only five initial graduates, but is attracting significant interest. Approaching its third year, IMS is preparing to welcome approximately 750 new students during the 2018-19 academic year.
To learn more about the Interdisciplinary Medical Sciences B.S. degree program at FSU, visit https://med.fsu.edu/index.cfm?page=IMS.home.
Photo (from left to right): Katharyn Lindborg, Andreza Mellili, Marianna Silva, Alexandra Duque, Rachel Gold