2018 President's Undergraduate Humanitarian of the Year Award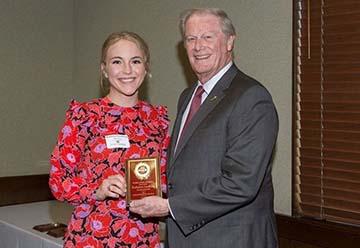 ×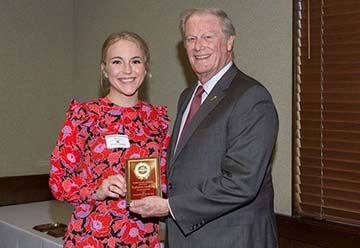 Katharyn Lindborg is a senior in the IMS Degree Program at FSU. She will be graduating this May with the first graduating class of the IMS Program, earning her degree in Health Management Policy and Information. Katharyn was honored at a special luncheon last week hosted by FSU President, Dr. John Thrasher. She was recognized as the 2018 President's Undergraduate Humanitarian of the Year for the College of Medicine, for her outstanding contributions to the community through her service and research.

         For the past four years, Katharyn has been committed to serving at IDignity, an organization that helps disadvantaged residents obtain their personal identification. She helps clients know which documents they already have and which ones they need, and she helps them order the documents that are lost or missing. Katharyn also spent the last two years volunteering at Shepherd's Hope, a medical clinic that cares for uninsured patients living in extreme poverty. There, she serves as an eligibility specialist, meeting with each patient to determine their eligibility for treatment, before they can be seen.

          As a result of her experiences, Katharyn decided to develop a research project for her Honors in the Major, examining the Real ID Act and the burdens it imposes on homeless and indigent populations. She will further investigate whether the Real ID Act limits access to medical care services.

           In reflection, Katharyn shared that her eyes have been opened to how things like government policy and access to health care can negatively impact underrepresented and disadvantaged populations. In addition to a plaque to commemorate her achievement, Katharyn will also receive a $200 donation to be given in her name, to the nonprofit organization of her choice. To learn more about the President's Undergraduate Humanitarian of the Year Award, visit here