Student awards cap a year of resilience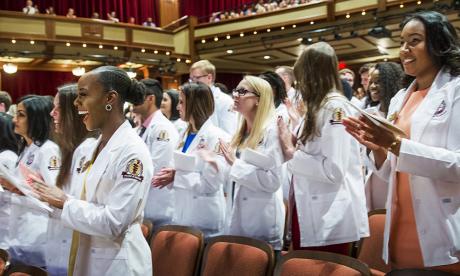 ×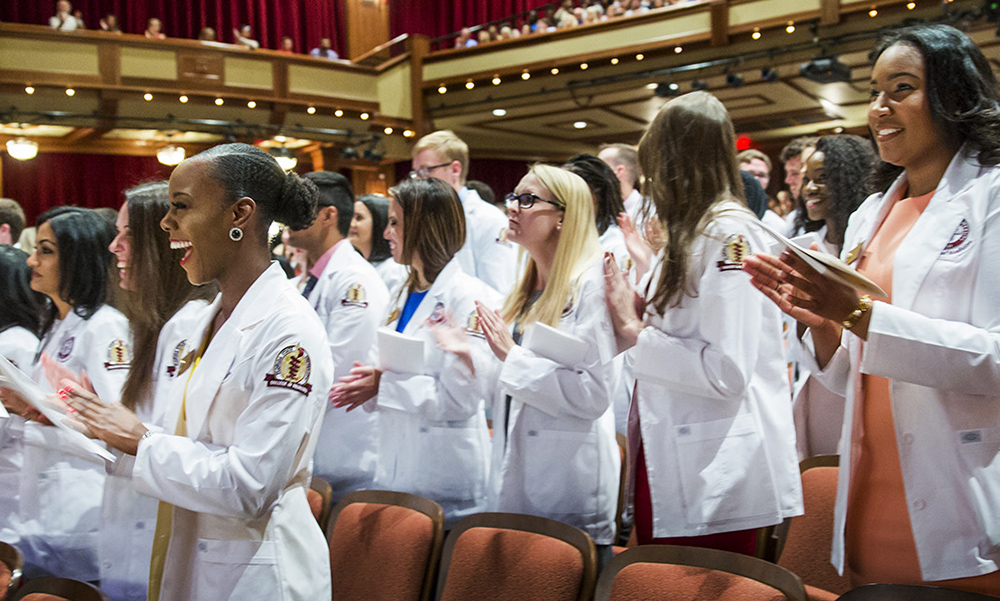 April 27, 2021
With the coronavirus pandemic continuing to alter routines around the world, including the way medical students learn to become our future physicians, it didn't stop the Class of 2021 from completing a successful fourth year. Nor did it diminish individual – and team – accomplishments. In some ways, the challenges spurred creativity and motivated students to go above and beyond in living the College of Medicine's mission.
Individual and class performance are highlighted in the tradition of year-end awards for the graduating M.D. class.
A total of 43 students finished with at least one honor inscribed beside their names in the Class of 2021 archives (in reality, 120 – see below). Those honors include College of Medicine awards, specialty awards, regional campus awards and honor society inductions for Gold Humanism and Alpha Omega Alpha (which were previously announced).
While there were numerous graduating students who won multiple awards, the most unique and memorable award-winning performance wasn't by an individual.  The College of Medicine awards selection committee this year is presenting the 'Individual Achievement Award' to the entire Class of 2021.
"This class spent most of the last two years doing their clinical education at our regional campuses during a worldwide pandemic. They showed remarkable resilience and desire to learn and help wherever they could," said College of Medicine Dean John P. Fogarty.  "This award really is a recognition of what a special class this is. We will not forget them."
Though there was no auditorium ceremony for student awards presentation due to continuing efforts to minimize the spread of the virus, the honorees' names will be included in the graduation program and on plaques positioned around the College of Medicine.
"As was the case last year, these awards carry an even bigger badge of honor than usual," Fogarty said. "The students, along with our faculty and staff, found ways to push on – in many cases reinventing the traditions associated with graduation. I could not be prouder of what this class has accomplished."
The M.D. Class of 2021 graduation ceremony is set for May 16 at the Tucker Center.
Below is the list of Class of 2021 honorees. For now, the names of students selected to receive regional campus dean's awards are being omitted. Those winners will be announced at regional campus graduation dinners that begin Thursday and continue through Monday.  Once those winners are announced, their names will be added to this story:
CLASS OF 2021 HONOREES
COLLEGE OF MEDICINE AWARDS
J. Ocie Harris Outstanding Student Award (named for the dean whose leadership allowed this young medical school to mature, and presented to one or more students who display characteristics such as academic achievement, leadership, dedication, social consciousness, high ethical and moral standards and more): Jason Rivera
Myra M. Hurt Leadership in Medicine Award (named for the person who had the most direct impact on developing this medical school's mission and vision): Gerry Samantha Eichelberger
Mission Award (presented to a student who embodies the college's mission of responding to community needs, especially through service to elder, rural, minority and underserved populations): Jessica Gonzalez and Kyara Marquez
Nobles/Brown Altruism in Medicine Award (named for Dr. Stephen Nobles, an unselfish physician whose life was cut short less than two years after he graduated from the College of Medicine, and Dr. Robert Brown, a Program in Medical Sciences graduate, who served his community and patients with great compassion before dying at age 55): Julianna Kacheris and Andrew Currieo
Student Research Award (recognizing a sustained interest and a record of experience and achievement in research through medical school): Ranbir Ahluwalia
Access to Care Award, in Honor of Robin McDougall (sponsored by the Capital Medical Society Foundation to honor the person who dedicated countless hours toward making the volunteer-physician We Care Network a success): Shelby Hartwell
Linda Stine Interprofessional Leadership Award (sponsored by former faculty member Curt Stine in honor of his late wife, a compassionate and patient-centered health professional): Ian Motie
Individual Achievement Award (presented only during those years in which a student demonstrates a truly extraordinary ability to overcome challenges): Class of 2021
 
SPECIALTY AWARDS
ACEP Medical Student Professionalism and Service Award (sponsored by the American College of Emergency Physicians and presented to a student who intends to pursue a career in emergency medicine and has demonstrated outstanding patient care and community involvement): Tyler Moriarty
SAEM Excellence in Emergency Medicine Award (sponsored by the Society of Academic Emergency Medicine and presented to a student chosen for excellence in the specialty of emergency medicine): Matthew Casarico
Outstanding Graduate in Family Medicine (presented on behalf of the College of Medicine's Department of Family Medicine and Rural Health, as well as the Florida Academy of Family Physicians): Julianna Kacheris and Jason Rivera
Florida Geriatrics Society Award for Outstanding Student (the Florida Geriatrics Society chooses an outstanding student in geriatrics at each of Florida's medical schools): Barry Bradley
Internal Medicine Award (presented on behalf of the College of Medicine's Clinical Sciences Department and the Florida Chapter of the American College of Physicians): Gerry Samantha Eichelberger
American Congress of Obstetricians & Gynecologists District XII Outstanding Medical Student Achievement Award (presented to graduates entering an OB-GYN residency who best represent the core values of ACOG): Kelly Mamelson (academic achievement) and Shelby Hartwell (advocacy for women)
Merritt Ryals Clements, M.D., Award for Excellence in Obstetrics and Gynecology (presented by North Florida Women's Care to a student who exemplifies Dr. Clements' tireless dedication, passion for best practices and joyful care of women throughout their lives): MaKayla Smith
Frank C. Walker Jr., M.D., Excellence in Pediatrics Award: Edward Corty
AACAP Psychiatry Award (presented by the North Central Florida Council of the American Academy of Child and Adolescent Psychiatry): William Butler
Edward L. Bradley, M.D., Excellence in General Surgery Award (named for a pioneering surgeon who was a member of the College of Medicine faculty): Katherine Foley

Ben J. Kirbo, M.D., Outstanding Student in Breast Cancer Reconstructive Surgery Award

(awarded to a student who has demonstrated a patient-centered approach to the treatment and recovery of patients with breast cancer, with attention to their post-surgical needs): Gabriella Glassman
Robert D. Snyder, M.D., Award for Outstanding Student in General Surgery with a Focus on Breast Cancer (presented as a lasting tribute to Dr. Snyder's compassionate care, funded through a generous gift from one of his grateful patients: Adam Bullock

American Medical Women's Association Glasgow-Rubin Achievement Citation (presented to the women in the top 10% of the graduating class):

Courtney Alexander

Yasmine Humeda

Tiana Kloss

Kathryn Chandler Langston

Kelly Mamelson
American Medical Women's Association Outstanding Graduate (presented to a student who has gone above and beyond to pursue AMWA's goal of advancing women in medicine, advocating for equity and ensuring excellence in health care): Samia Taoulost Malik
 
REGIONAL CAMPUS DEANS' AWARDS
(A tough choice for the campus deans: Who was the outstanding student at their campus?)
Daytona Beach: Gerry Samantha Eichelberger and Jason Rivera
Fort Pierce: Jessica Gonzalez and Kyara Marquez
Orlando: Ranbir Ahluwalia
Pensacola: Julianna Kacheris
Sarasota: Edward Corty and Shani Peter
Tallahassee: Jackie Hanners
 
HONOR SOCIETIES
Alpha Omega Alpha Honor Medical Society inductees (Alpha Omega Alpha is the only national honor medical society):
Ranbir Ahluwalia

Courtney Alexander

Beau Billings

Matthew Casarico

Laksmy Castillo

Edward Corty

Katherine Foley

Koleton Forehand

Ciara Grayson

Hunter Hamilton

Yasmine Humeda

Brian Kacheris

Kathryn Chandler Langston

Kelly Mamelson

Shani Peter

Kevin Reyes

Jason Rivera

MaKayla Smith

Alexander Vanfleet

Kaitlyn Withers


 
Gold Humanism Honor Society inductees (Gold Humanism inductees are selected based on "excellence in clinical care, leadership, compassion, and dedication to service"):
Laksmy Castillo
Edward Corty
Elizabeth Dennison
Gerry Samantha Eichelberger
Ciara Grayson
Shelby Hartwell
Julianna Kacheris
Evelyn Kassim
Richmond Laryea
Joseph Leonard
Kyara Marquez
Jasmeka McCord
Shani Peter
Jason Rivera
Berni Schor
MaKayla Smith
Edward Wu