Student awards cap one-of-a-kind year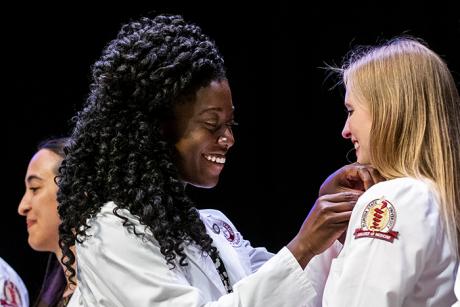 ×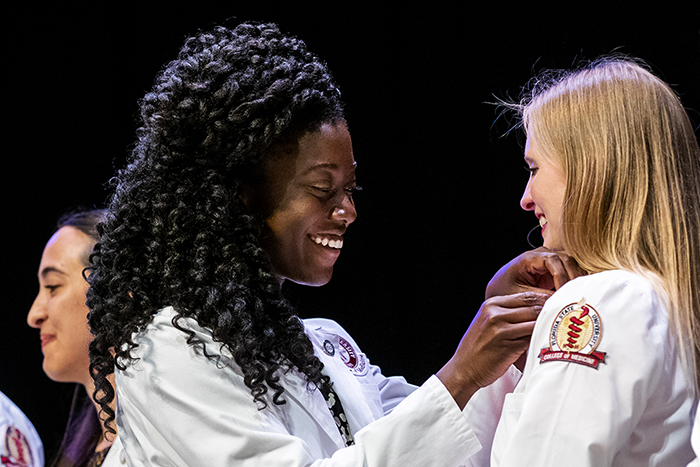 May 1, 2020
Even though the coronavirus pandemic upended routines around the world, it didn't keep the Class of 2020 from wrapping up a successful fourth year. Nor did it interrupt the tradition of year-end awards.
A total of 41 students finished with at least one honor inscribed beside their names in the Class of 2020 archives. Those honors include College of Medicine awards, specialty awards, regional campus awards and honor society inductions (which, as always, were announced earlier).
Leading the class, with six recognitions each, were Efe Cudjoe and Ally Davis (pictured right). Four of their classmates tied with four honors apiece: Divya Aickara, Paige Blinn, Casey Mason and Reema Tawfiq.
One honor that Davis received (along with classmate Michael Tandlich) was the J. Ocie Harris Outstanding Student Award, sort of the MVP award for each graduating class.
Though there was no auditorium ceremony because of the efforts to minimize the spread of the virus, the awards were as coveted as ever. Honorees' names will be included in the graduation program and on plaques positioned around the College of Medicine.
"This year's awards are even a bigger badge of honor than usual," said Dean John P. Fogarty. "The students, faculty and staff here soldiered on to complete the year against all odds, and reinvented the traditions associated with graduation. And now this entire class is prepared to enter the medical workforce when the world needs them more than ever. I couldn't be prouder of them."
Their virtual graduation ceremony is set for May 16.
Below is the list of Class of 2020 honorees.
(Photo: Efe Cudjoe pins Ally Davis during their Gold Humanism Honor Society induction ceremony in August 2019; photo by Colin Hackley)
CLASS OF 2020 HONOREES
COLLEGE OF MEDICINE AWARDS
J. Ocie Harris Outstanding Student Award (named for the dean whose leadership allowed this young medical school to mature, and presented to one or more students who display characteristics such as academic achievement, leadership, dedication, social consciousness, high ethical and moral standards and more): Alyssa "Ally" Davis and Michael Andrew Tandlich
Myra M. Hurt Leadership in Medicine Award (named for the person who had the most direct impact on developing this medical school's mission and vision): Jordan Carbono and Ryan Earwood
Mission Award (presented to a student who embodies the college's mission of responding to community needs, especially through service to elder, rural, minority and underserved populations): Shane Thomas Geffe
Nobles/Brown Altruism in Medicine Award (named for Dr. Stephen Nobles, an unselfish physician whose life was cut short less than two years after he graduated from the College of Medicine, and Dr. Robert Brown, a Program in Medical Sciences graduate, who served his community and patients with great compassion before dying at age 55): Efe Essumaba Cudjoe
Student Research Award (recognizing a sustained interest and a record of experience and achievement in research through medical school): Divya Joseph Aickara and Linh Nguyen
Robin McDougall Access to Care Award (sponsored by the Capital Medical Society Foundation to honor the person who dedicated countless hours toward making the volunteer-physician We Care Network a success): Kharian Burnett-Foster
Linda Stine Interprofessional Leadership Award (sponsored by former faculty member Curt Stine in honor of his late wife, a compassionate and patient-centered health professional): Paige Blinn

Individual Achievement Award (presented only during those years in which

a the awards committee recognizes a student who has demonstrated extraordinary accomplishment while overcoming challenges): Eric Walker
SPECIALTY AWARDS
ACEP Medical Student Professionalism and Service Award (sponsored by the American College of Emergency Physicians and presented to a student who intends to pursue a career in emergency medicine and has demonstrated outstanding patient care and community involvement): Megan Jean Rivera
SAEM Excellence in Emergency Medicine Award (sponsored by the Society of Academic Emergency Medicine and presented to a student chosen for excellence in the specialty of emergency medicine): Grant Wallenfelsz
Outstanding Graduate in Family Medicine (presented on behalf of the College of Medicine's Department of Family Medicine and Rural Health, as well as the Florida Academy of Family Physicians): Joseph Anthony Chen
Florida Geriatrics Society Award for Outstanding Student (the Florida Geriatrics Society chooses an outstanding student in geriatrics at each of Florida's medical schools): Reema Kamal Tawfiq
Internal Medicine Award (presented on behalf of the College of Medicine's Clinical Sciences Department and the Florida Chapter of the American College of Physicians): Alyssa "Ally" Davis
American Congress of Obstetricians & Gynecologists District XII Outstanding Medical Student Achievement Award (presented to graduates entering an OB-GYN residency who best represent the core values of ACOG): Efe Essumaba Cudjoe and Evan Schrader
Merritt Ryals Clements, M.D., Award for Excellence in Obstetrics and Gynecology (presented by North Florida Women's Care to a student who exemplifies Dr. Clements' tireless dedication, passion for best practices and joyful care of women throughout their lives): Kharian Burnett-Foster
Frank C. Walker Jr., M.D., Excellence in Pediatrics Award: Casey Mason
AACAP Psychiatry Award (presented by the North Central Florida Council of the American Academy of Child and Adolescent Psychiatry): Tarvis Michella Peacock
Edward L. Bradley, M.D., Excellence in General Surgery Award (named for a pioneering surgeon who was a member of the College of Medicine faculty): Paige Blinn
Ben J. Kirbo, M.D., Outstanding Student in Breast Cancer Reconstructive Surgery Award (awarded to a student who has demonstrated a patient-centered approach to the treatment and recovery of patients with breast cancer, with attention to their post-surgical needs): Clara Barranco
Robert D. Snyder, M.D., Award for Outstanding Student in General Surgery with a Focus on Breast Cancer (presented as a lasting tribute to Dr. Snyder's compassionate care, funded through a generous gift from one of his grateful patients: Taylor Maramara

American Medical Women's Association Glasgow-Rubin Achievement Citation (presented to the women in the top 10% of the graduating class):

Divya Joseph Aickara

Clara E. Barranco

Paige Blinn

Barbara Christakis

Efe Essumaba Cudjoe

Alyssa "Ally" Davis

Reema Kamal Tawfiq
American Medical Women's Association Outstanding Graduate (presented to a student who has gone above and beyond to pursue AMWA's goal of advancing women in medicine, advocating for equity and ensuring excellence in health care): Alyssa "Ally" Davis

REGIONAL CAMPUS DEANS' AWARDS
(A tough choice for the campus deans: Who was the outstanding student at their campus?)
Daytona Beach: Justin J. Kuhlman
Fort Pierce: Efe Essumaba Cudjoe and Derek Schwabe-Warf
Orlando: Casey Mason

Pensacola: 

Daniel Pierce

Sarasota: Divya Joseph Aickara and Wesley Parker
Tallahassee: Erika Dickinson

HONOR SOCIETIES
Alpha Omega Alpha Honor Medical Society inductees (Alpha Omega Alpha is the only national honor medical society):
Divya Joseph Aickara

Clara E. Barranco

Paige Blinn

Brian C. Bowden

Barbara Christakis

Efe Essumaba Cudjoe

Alyssa "Ally" Davis

Joshua Earl

Aman Kataria

Lauren Luscuskie

Shannon Celina Lyons

Casey Mason

Megan Jean Rivera

Evan Schrader

Derek Schwabe-Warf

Michael Andrew Tandlich

Reema Kamal Tawfiq

Tyler L. Teurlings

Ariana A. Trautmann

Grant Wallenfelsz
Gold Humanism Honor Society inductees (Gold Humanism inductees are selected based on "excellence in clinical care, leadership, compassion, and dedication to service"):
Alexander Baradei

Jordan Carbono

Joseph Anthony Chen

Barbara Christakis

Efe Essumaba Cudjoe

Alyssa "Ally" Davis

Olivia Glynis Donnelly

Ryan Earwood

April Saudonna Graham

Matthew Glenn Hager

Jim Jin

Justin J. Kuhlman

Casey Mason

Cordy McGill-Scarlett

Cilia Nazef

Scott Parker Nelson

Reema Kamal Tawfiq

Ariana A. Trautmann


SUMMARY OF CLASS OF 2020 STUDENT HONOREES (in alphabetical order)
Divya Joseph Aickara: Regional Campus Dean's Award (Sarasota), Student Research Award, American Medical Women's Association Glasgow-Rubin Achievement Citation, Alpha Omega Alpha Honor Medical Society

Alexander Baradei: Gold Humanism Honor Society

Clara E. Barranco: Ben J. Kirbo, M.D., Outstanding Student in Breast Cancer Reconstructive Surgery Award, American Medical Women's Association Glasgow-Rubin Achievement Citation, Alpha Omega Alpha Honor Medical Society

Paige Blinn: Linda Stine Interprofessional Leadership Award, Edward L. Bradley, M.D., Excellence in General Surgery Award, American Medical Women's Association Glasgow-Rubin Achievement Citation, Alpha Omega Alpha Honor Medical Society

Brian C. Bowden: Alpha Omega Alpha Honor Medical Society

Kharian Burnett-Foster: Robin McDougall Access to Care Award, Merritt Ryals Clements, M.D., Award for Excellence in Obstetrics and Gynecology

Jordan Carbono: Myra M. Hurt Leadership in Medicine Award, Gold Humanism Honor Society

Joseph Anthony Chen: Outstanding Graduate in Family Medicine, Gold Humanism Honor Society

Barbara Christakis: American Medical Women's Association Glasgow-Rubin Achievement Citation, Alpha Omega Alpha Honor Medical Society, Gold Humanism Honor Society

Efe Essumaba Cudjoe: Regional Campus Dean's Award (Fort Pierce), American Congress of Obstetricians & Gynecologists District XII Outstanding Medical Student Achievement Award, Nobles/Brown Altruism in Medicine Award, American Medical Women's Association Glasgow-Rubin Achievement Citation, Alpha Omega Alpha Honor Medical Society, Gold Humanism Honor Society

Alyssa "Ally" Davis: J. Ocie Harris Outstanding Student Award, Internal Medicine Award, American Medical Women's Association Outstanding Graduate, American Medical Women's Association Glasgow-Rubin Achievement Citation, Alpha Omega Alpha Honor Medical Society, Gold Humanism Honor Society

Erika Dickinson: Regional Campus Dean's Award (Tallahassee)

Olivia Glynis Donnelly: Gold Humanism Honor Society

Joshua Earl: Alpha Omega Alpha Honor Medical Society

Ryan Earwood: Myra M. Hurt Leadership in Medicine Award, Gold Humanism Honor Society

Shane Thomas Geffe: Mission Award

April Saudonna Graham: Gold Humanism Honor Society

Matthew Glenn Hager: Gold Humanism Honor Society

Jim Jin: Gold Humanism Honor Society

Aman Kataria: Alpha Omega Alpha Honor Medical Society

Justin J. Kuhlman: Regional Campus Dean's Award (Daytona Beach), Gold Humanism Honor Society

Lauren Luscuskie: Alpha Omega Alpha Honor Medical Society

Shannon Celina Lyons: Alpha Omega Alpha Honor Medical Society

Taylor Maramara: Robert D. Snyder, M.D., Award for Outstanding Student in General Surgery with a Focus on Breast Cancer

Casey Mason: Regional Campus Dean's Award (Orlando), Excellence in Pediatrics Award, Alpha Omega Alpha Honor Medical Society, Gold Humanism Honor Society

Cordy McGill-Scarlett: Gold Humanism Honor Society

Cilia Nazef: Gold Humanism Honor Society

Scott Parker Nelson: Gold Humanism Honor Society

Linh Nguyen: Student Research Award

Wesley Parker: Regional Campus Dean's Award (Sarasota)

Tarvis Michella Peacock: AACAP Psychiatry Award

Daniel Pierce: Regional Campus Dean's Award (Pensacola)

Megan Jean Rivera: ACEP Medical Student Professionalism and Service Award, Alpha Omega Alpha Honor Medical Society

Evan Schrader: American Congress of Obstetricians & Gynecologists District XII Outstanding Medical Student Achievement Award, Alpha Omega Alpha Honor Medical Society

Derek Schwabe-Warf: Regional Campus Dean's Award (Fort Pierce), Alpha Omega Alpha Honor Medical Society

Michael Andrew Tandlich: J. Ocie Harris Outstanding Student Award, Alpha Omega Alpha Honor Medical Society

Reema Kamal Tawfiq: Florida Geriatrics Society Award for Outstanding Student, American Medical Women's Association Glasgow-Rubin Achievement Citation, Alpha Omega Alpha Honor Medical Society, Gold Humanism Honor Society

Tyler L. Teurlings: Alpha Omega Alpha Honor Medical Society

Ariana A. Trautmann: Alpha Omega Alpha Honor Medical Society, Gold Humanism Honor Society

Eric Walker: Individual Achievement Award

Grant Wallenfelsz: Excellence in Emergency Medicine Award, Alpha Omega Alpha Honor Medical Society