Mission-driven eight inducted into Medical Alumni Hall of Fame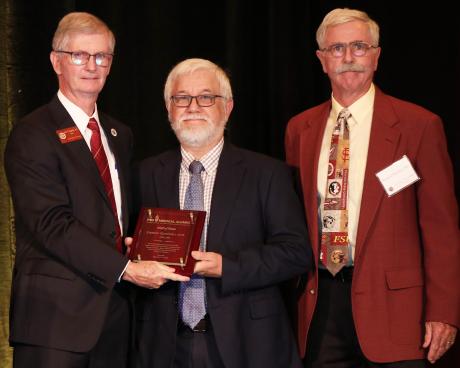 ×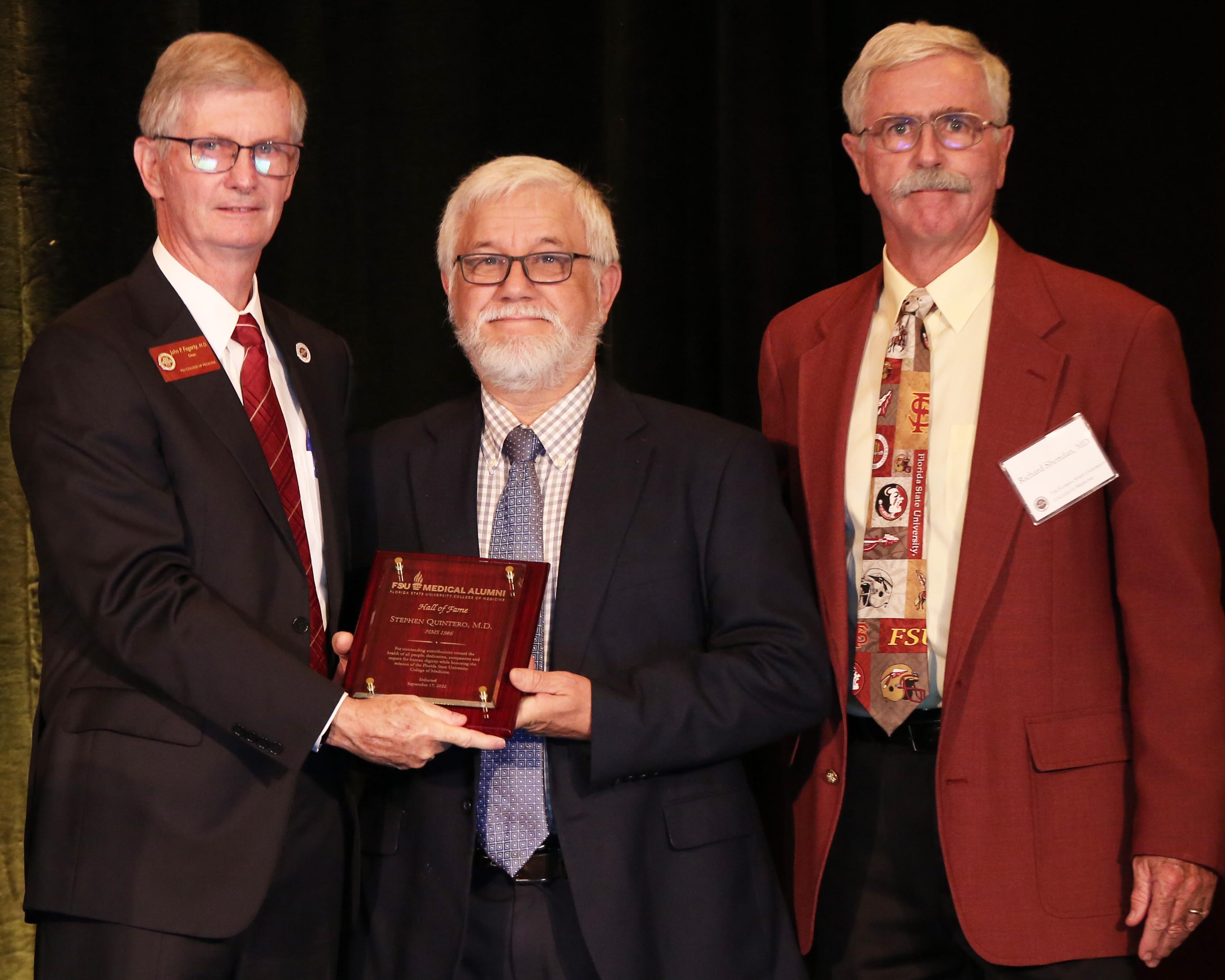 The eight new members of the FSU Medical Alumni Hall of Fame shared a common theme in their acceptance speeches during Saturday night's induction ceremony: They believe in the medical school's mission.

They've certainly lived it.

In different ways, each has made significant and lasting contributions in practicing specialties as diverse as emergency medicine, family medicine, cardiology and plastic surgery.

The 2022 inductees into the Hall of Fame are Julie Gladden Barré (M.D., '05); Kendall Campbell, M.D. (PIMS '97); Richard Jolkovsky, M.D. (PIMS '83); Lexie Mannix (M.D., '14); Sachin Parikh (M.D., '05); Stephen Quintero, M.D. (PIMS '86); Charles Ritchie (M.D., '08) and Stephen Viel (M.D., '09).

The alumni physicians were nominated by a combination of family, current medical students, faculty and staff and were chosen in a vote by the FSU Medical Alumni Board during its spring meeting in March.

The induction ceremony, held Sept. 17 during the FSU Medical Alumni Reunion at the JW Marriott Orlando, drew more than 150 people including M.D. and PA alumni, family members, faculty and staff.

Barré and Parikh were classmates in the first group of 27 students to graduate from the FSU College of Medicine, which replaced the Program in Medical Sciences (PIMS) in 2001.  The PIMS program began in 1971 as a way to bring more students to medical school from communities and populations underrepresented in medicine, including rural, Black and Hispanic. Students completed their first year of medical school in PIMS, then transferred to the University of Florida for the final three years.

Three new members of the Hall of Fame class are from the PIMS program, including former College of Medicine faculty member Campbell and current faculty member Quintero; both are family physicians who teach or taught in the Department of Family Medicine and Rural Health. Campbell is now chair of the Department of Family Medicine at the University of Texas Medical Branch in Galveston and was inducted into the prestigious National Academy of Medicine last year. Quintero has had a long career serving rural communities including Monticello, Carrabelle and Chattahoochee, as well as the urban underserved at Neighborhood Medical Center in Tallahassee.
 
The ceremony was a bittersweet occasion for the family of the third PIMS graduate honored this year, Richard Jolkovsky. He was killed in early February when the small plane he was piloting crashed. Numerous family members made the trip to watch his widow, Merryn, accept the award on his behalf.  Jolkovsky had been chief of staff at CentraCare Heart and Vascular Center in St. Paul, Minn., where he served as chief of cardiology for 26 years, leading a staff of more than 550 physicians.

"He epitomized the best of the PIMS Program and FSU College of Medicine goals for its alumni physicians: He embodied dedication to patients and community, lived life to the fullest and cared for everyone around him," said Dave Jolkovsky, DMD, who completed the PIMS program six years before his younger brother and nominated him for the Hall of Fame.

This is the third class to be inducted into the Hall of Fame. Previously, the college recognized one PIMS graduate and one College of Medicine graduate each year with Distinguished Alumni Awards.

Nominations for the class to be inducted in 2023 will be open Dec. 1 through Feb. 28.  A link to the nomination form will be distributed in November and more information is available by contacting alumni@med.fsu.edu.
The remaining five honorees range from two members of the College of Medicine's first graduating class to a member of its 10th graduating class.

Gladden Barré was credited with helping to keep her classmates focused on their academic goals during a tumultuous period in which the school fought a seemingly never-ending battle with the Liaison Committee on Medical Education (LCME). The LCME had never seen a community-based medical school like Florida State's, nor had anyone on its site-visit committee ever accredited a new medical school.

In fact, there had not been any new medical schools in the United States in nearly 20 years when the LCME first met Florida State, and LCME didn't think more were needed. The data it was using did not show that there weren't enough primary care physicians, or that physicians were disproportionately located in larger cities at the expense of small towns and rural areas. There also weren't enough physicians to care for people from the Black and Hispanic communities. LCMS denied the fledgling medical school accreditation progress on several occasions. It was frustrating, disappointing and at times discouraging, but she rallied her classmates with calm reassurance that it would all work out.

Equally important, Gladden Barré demonstrated the quality of FSU's program when she became the only female member of her orthopedic surgery residency program. Today, she is a College of Medicine faculty member with the Sarasota Regional Campus and a surgeon with Sarasota Orthopedic Associates.

Parikh was credited as one of the students who founded FSUCares during his time in medical school. The service-learning organization continues to be recognized 20 years later as the student group that best embodies the medical school's mission. His commitment to serve continues today as he provides his services as a dual-certified surgeon in facial plastic and reconstructive surgery pro bono to victims of domestic violence and other underserved communities, both locally in Palo Alto, Calif., and internationally.

Ritchie, an interventional radiologist at the Mayo Clinic in Jacksonville, began volunteering with the FSUCares spring break service trips to Panama while a medical student. Since graduating, he has devoted a week every year to returning to the small community of Filipina to provide medical care and help address other needs. His compassion and skilled teaching made such an impression on a current medical student on the March 2020 trip that she nominated him for the Hall of Fame. "His dedication to serving those in need is incredibly relentless," Natalie Correa (M.D., 2023) wrote. "Dr. Ritchie has provided me with experience, skills and knowledge that no textbook or lecture can ever provide."

Mannix's story resonates with many students admitted to the College of Medicine over the years.  She overcame significant family and financial challenges growing up and was recognized by the admissions committee as having a personal investment in the service calling of medicine.  Today, she is the assistant program director of the UF Health emergency medicine residency program in Jacksonville, where she provides mentorship, encouragement and a memorable personal example for students and residents from underrepresented backgrounds.

Viel is an example of the many College of Medicine alumni who return to practice near where they completed their third- and fourth-year clinical rotations at one of the six regional campuses. He's medical director of emergency services at Halifax Health in Daytona Beach, where he supervises more than 50 emergency physicians, physician assistants and nurse practitioners. He also coordinated a plan with a local partner to start opiate-dependent patients on Suboxone in the emergency department, to bridge them to additional outpatient therapy.
"Our mission has brought us wonderful students over the years, and it brought PIMS students to Tallahassee, where they set the standard that a future, four-year medical school at Florida State would strive for," said College of Medicine Dean John P. Fogarty, who presided over the ceremony.
"It's really rewarding to see how their careers have played out, the impact they are making in their communities and to see them now as part of our Hall of Fame."